I was so anxious, I couldn't sleep last night: Chanchal Chowdhury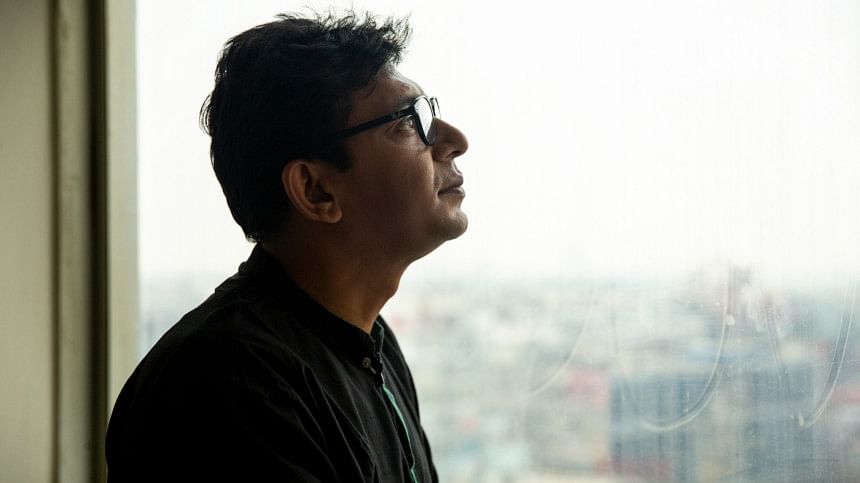 Noted actor Chanchal Chowdhury had recently left for Kolkata to shoot for renowned director Mrinal Sen's biopic "Padatik". Directed by Srijit Mukherji, the film has already completed three days of shoot, yesterday.
In a casual chat with The Daily Star, Chanchal Chowdhury shared his three day shooting experience from India.
"This is my first venture with Srijit Mukherji, and I have to say that he is an extremely talented director," shared the actor. "He has researched a lot on the renowned director. Almost every day, Srijit hands me a book or CD/DVD of Mrinal Sen. I am getting to know more and more about the legendary director."
"Mrinal Sen is counted as one of the three legendary Indian directors alongside Ritwik Ghatak and Satyajit Ray," added the "Hawa" actor. "As directors, their fame is not limited to just the Indian subcontinent but has reached worldwide acclaim."
"We have already finished three days of shooting and our director is giving it his all, for this biopic," he mentioned.
Mrinal Sen's biopic invoked quite a bit of expectation in the audience and the industry, of both Bangladesh and India. "To tell the truth, all of us are feeling the pressure, there are a lot of expectations for 'Padatik'," added Chanchal.
"And, that pressure has only increased after Amitabh Bachchab shared our poster," told the actor.
In between all the shooting and work, Chanchal did not forget to mention the generous hospitality and care he is receiving in the foreign nation. He shares, "The whole team is very supportive of me. From accommodation and meals, to even my commute, they've helped me out with everything."
 "Padatik is a challenge for me," claimed the "Aynabaji" actor who had recently lost his father. "I have been quite down emotionally for a few days. Still, I came to shoot this film."
"I knew I could do it and I believe my father's blessings are with me," said the actor. "The shoot is going on smoothly. Maybe my father is also watching over me from above."
So far, Chanchal Chowdhury's experience with his new team has been a marvellous one. "I am working with a new team on a big project here, and they have been very respectful with me."
"To be honest, I was a bit fearful at first," reveals the actor. "Mrinal Sen is quite a big name, and this is a film on his life. I was so tense over this that I couldn't sleep at all last night. Thankfully, that fear left out the window as soon as I was in front of the camera."
When asked about his shooting experience, Chanchal enthusiastically said, "These three days of shooting have been amazing. The audience will see me in three different get-ups this time, sometimes old, sometimes young or in some other look."
"I have to change my looks three to four times a day for the shoot, which is quite time consuming but I am happy," said the actor. "Because, at the end of the day, I'm an artist."
"If there aren't any legal issues, we hope to release this film in both nations simultaneously," concluded Chanchal Chowdhury.