I embraced life as it went on: Asaduzzaman Noor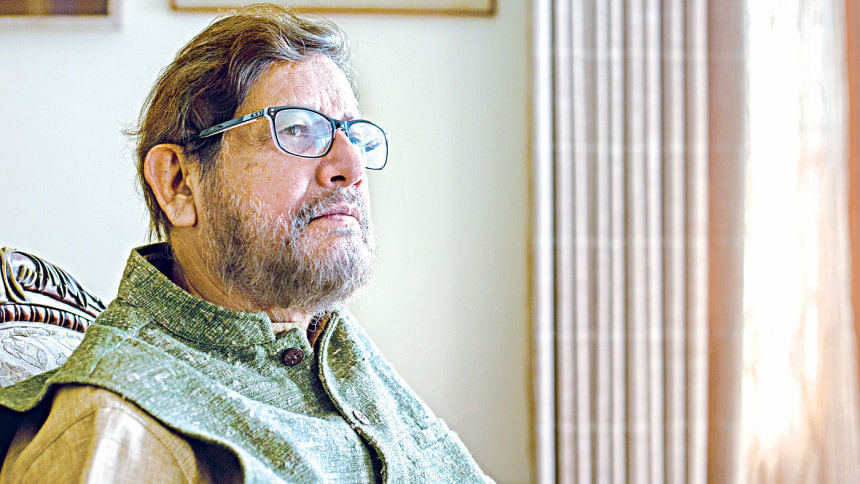 Eminent actor and Member of Parliament Asaduzzaman Noor is a powerhouse performer, celebrated for his illustrious career on the stage, television, and films. The passionate freedom fighter and politician has also served Bangladesh as the Minister of Cultural Affairs. He has been honoured with the Swadhinata Padak and National Film Award for his immense contributions as an artiste. Starting out in a small role in "Rongeen Fanush" on television, he has had a splendid trajectory as an actor. In a chat with The Daily Star ahead of his 75th birthday tomorrow, the actor gets candid about his journey so far, and more.
Asaduzzaman Noor has been a close collaborator of legendary writer and director Humayun Ahmed. Particularly, Baker Bhai in Humayun Ahmed's "Kothao Keu Nei" remains one of his most beloved roles even today.
"You see, a story on screen is nothing without the dialogues and acting. Humayun Ahmed's stories took their power from the dialogues, which is why they were so successful," he asserts.
"I thoroughly enjoyed playing Chhoto Mirza in Humayun Ahmed's 'Ayomoy' – It is one of my most favourite series," he further adds.
Asaduzzaman Noor also garnered audience praise for his role as Anis in "Bohubrihi", another hit series of Humayun Ahmed.
His darker roles as a murderer in "Matir Pinjira" and robber in "Neemphool" were much talked about. "I am immensely lucky to be able to play such a wide range of characters, and be a part of such good projects," adds the eminent actor.
While his performances as some of the timeless characters of television are unparalleled, Asaduzzaman Noor actually started out his acting career on the theatre stage, with plays like "Baki Itihaash" to his credit. He was a member of the prominent troupe Nagorik Natya Sampradaya since its inception after Bangladesh's independence. He performed in many popular productions by the troupe. He also directed a number of plays, including "Dewan Gazir Kissa".
"Aly Zaker inspired me to get into theatre. My love for him is endless," shares Asaduzzaman Noor. He regards "Nurul Diner Sharajibon" as one of his most favourite plays.
 The actor is also happy with his few appearances in films. His performance as a freedom fighter in Humayun Ahmed's "Aguner Poroshmoni" was quite a tear-jerker for moviegoers. His other notable films include "Shongkhonil Karagar" and "Dohon".  
"I definitely want to continue acting. But I do not want to play the roles of fathers or uncles anymore. I want characters for which the acting will take precedence," says Asaduzzaman Noor.
Upon asking about the reason behind his success, the actor gives a rather earnest answer. "The people's love has been my biggest achievement. I did not plan out anything, be it for acting, politics, or business. I just paved my path with time. I embraced life as it went on," he smiles.