Getting to know 'Gulti'
Stepping into the limelight with the Redoan Rony directorial film "Ice Cream", Nazifa Tushi's rise to fame with her performance in the film "Networker Baire", directed by Mizanur Rahman Aryan.
Taking tiny steps, she started taking up more OTT projects like the Shihab Shaheen directorial Chorki original web film "Syndicate", and the short fiction "Scooty".
The actress has returned to the silver screen with Mejbaur Rahman Sumon's "Hawa", one of the most awaited films to release this year. We talk to the actress to know more about her the film, which released yesterday.
Tell us something about your journey with Hawa.
I have been on-board "Hawa" for the last 3 years, and the journey has been amazing. At that time, I had just begun my journey in films and was very passionate about this profession -- I had no clue about the elements of acting.
Upon casting, we were informed that we have to do rehearsals and were not allowed to take up any new project. We were also strictly instructed to follow the norms of this productions, starting from the rehearsals to standing before the camera for the first take.
The story, based on myth and heritage, was very interesting and I wanted to grab this opportunity with open arms. It was an emotional experience, attending the premiere and getting so much love from the audience.
How did you prepare for the character of Gulti?
Becoming Gulti was very tough at that time. I had to undergo intensive grooming, but not the usual kind we come across for artistes. I had to live the life of a Bedini, dress like them, cook and do house hold chores, leaving behind my original being completely.
I remember how I had to wear a saree all throughout the day and night and even barred from sleeping on a bed as Bedinis don't live a luxurious life.
I had to become Gulti both in mind and body, before I was given the clearance to play her in front of the camera.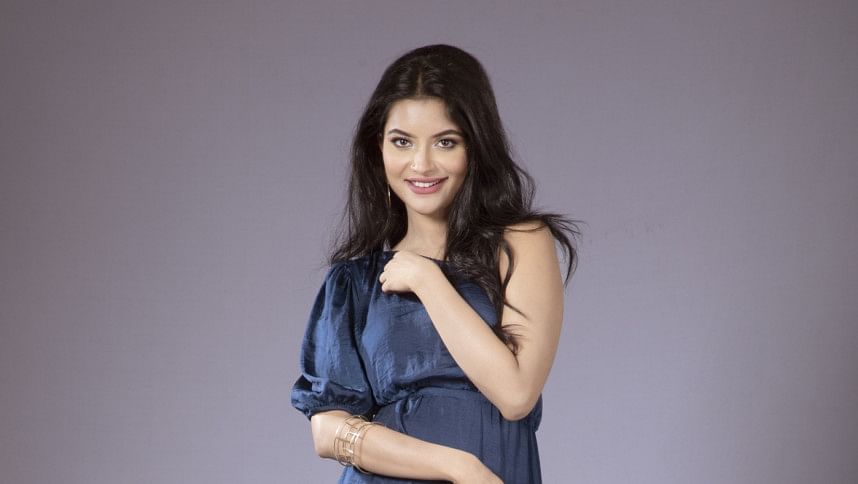 Do you remember any special incident from the set of "Shada Shada Kala Kala"?
Although I was not a part of the song, I remember how I watched Chanchal Da, Shohel, Razz, Nasir Bhai and all the artistes from other boats, singing their heart out while shooting for this number. A lot of thought and hard work has been invested in this song and I am glad that we were able to leave an imprint of "Hawa" through "Shada Shada Kala Kala".
How was your experience with "Syndicate"? What did you enjoy most about playing Jisha?
I was not prepared to play Jisha when I came across this role as I had just recovered from serious injuries from my accident. Throughout my journey so far, I have not played a role like Jisha – a timid and shy girl who falls into the trap of a big syndicate.
What are your upcoming plans?
I usually don't talk much about my upcoming productions before I am almost done shooting for it. Nevertheless, I will be taking a break after we release "Hawa". With the back-to-back promotions and shoots, I just need a little bit of breathing space before I decide to return to the sets.