Four stars share their childhood Eid experiences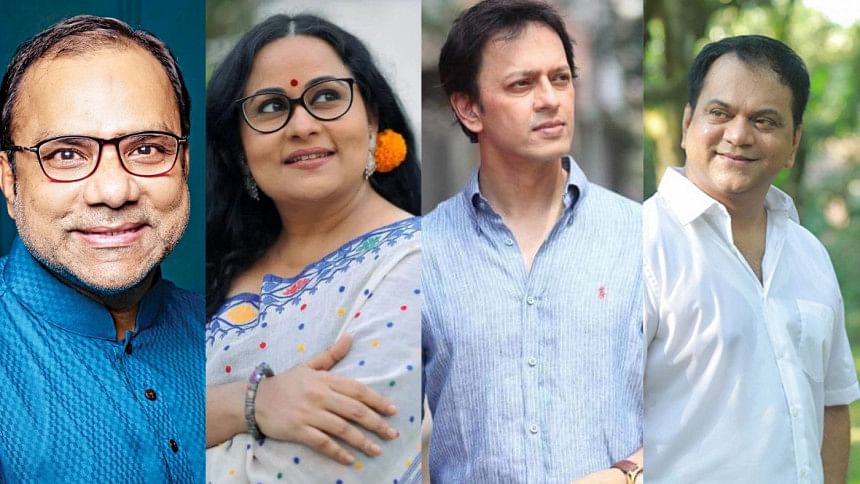 With Eid being just a day away, stars have also now taken to fondly reminiscing about their childhood Eid memories.
Amongst such individuals are four renowned actors; Afsana Mimi, Mir Sabbir, Noble and Misha Sawdagar.
In candid chat with The Daily Star, the celebrities shared a bit about their own childhood Eid celebrations.
Afsana Mimi: Whenever I think about my childhood Eid celebrations, all I can say is that I was filled with joy and happiness. We have made so many memories throughout our lives until today. But nothing really beats the childhood Eid memories.
Back then, I would get beautiful new clothes for Eid, which I loved the most.
Moreover, there would be many delicious treats on the table and then there was salami as well.
 The best part was the freedom we got on Eid day. After being busy with our studies all year around, we would get this freedom to do whatever we want, without any limits. That's why I made sure to fully savour the perks of Eid.
 This might be the reason behind why our childhood Eids were better.
Misha Sawdagar: I have grown up in Old Dhaka city, and all my childhood Eids were spent there. I still remember those sweet memories as if they were yesterday. I used to get a hefty amount of Eid salami which I would then spend with my friends.
 We would gather after the Eid prayers and roam around the neighbourhood. Later, we'd buy and eat chocolates, ice-creams, fuchka and so on.
When we were out of salami money, we'd visit a friend's house to get more. Those were truly colourful days that one would hold in their heart for a lifetime.
Mir Sabbir: Even a thousand more coming eids would not be the same as our childhood Eids—they would never be able to emulate the innocence of the childhood Eids. I think as we grow up, our hearts search for such jovial Eids like the ones from our childhood,more and more.
The new clothes, the food and the celebration back in those days had something really special hidden in them. 
During Eid, I would wear new clothes and say my Eid prayers. When I returned home from the prayers, delicious food would be waiting for me. Afterwards, I would meet up with my friends and go watch a movie together. We would spend the entire afternoon in our adda.
Noble: There were two main attractions in Eid to me, namely; the new clothes and spending time with my friends. I hail from Chattogram and have spent quite a few years growing up there. My friends and I would plan our activities for the Eid day just a night before the celebration. After saying our Eid prayers, we would spend the entire day in our Adda—not even noticing when the day turned into night. Those wonderful childhood memories are still alive in my eyes.