Over 100 theatres reopening for Eid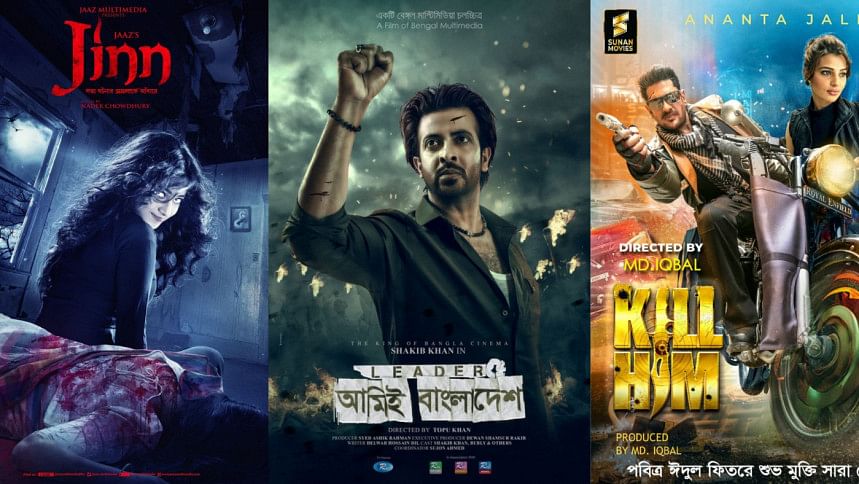 With Eid just around the corner, it has been anticipated that a total of nine films would be released on the occasion.
However, in the meantime, despite promotional campaigns, one of the nine films has withdrawn from the race to be released this Eid.
As of Wednesday afternoon, according to the Film Exhibitors Association, various production companies and distributors, it has been anticipated that "Leader Amie Bangladesh", "Shatru", "Local", "Jinn", "Kill Him", "Paap", "Adam" and "Prem Pritir Bandhan" will be the eight films released this Eid.
In the last couple of years, the number of films being released around the time of Eid is increasing. Some have said that releasing so many films at once has both positive and negative connotations. The existing number of theatres in the country can only handle three or four films releasing at the same time.
However, due to the release of so many films, more than 100 halls, that were previously closed, will be opened during Eid—outside the existing number of 60 halls in the country.
Apart from this, Star Cineplex (Dhaka, Chattogram and Rajshahi branches), Jamuna Blockbuster, Lion Cinemas, Chattogram's Silver Screen will be showing many of the films being released for Eid.
So far, according to the information available, Shakib Khan's "Leader Amie Bangladesh" is leading the booking numbers in theatres. "Leader Amie Bangladesh" will be screened in 98 halls, including single screens and multiplexes. In second place is "Shatru" (33), "Kill Him" (27), "Jinn" (15), "Paap" (15), "Prem Pritir Bandhan" (12), "Local" (10), "Adam" (5). However, these numbers might change at the last minute.
Madhumita Cinema Hall is not just a famous hall in Dhaka, rather it is considered to be an institution in its own right. This hall, which is located in the commercial area of Motijheel, was shut down for almost six months due to a lack of films. For a short time, after temporarily closing in November, it was opened for a period of only seven days.
It has been two decades since Star Cineplex was established. Now, they have opened branches in Chattogram and Rajshahi as well. For the most part, foreign films are screened in Star Cineplex. However, this time, six Bengali films will be released in the Star Cineplex halls. These films include, "Leader Amie Bangladesh", "Local", "Jinn", "Kill Him", "Paap" and "Adam".