Excited Arifin Shuvoo shows six-pack during 'Black War' screening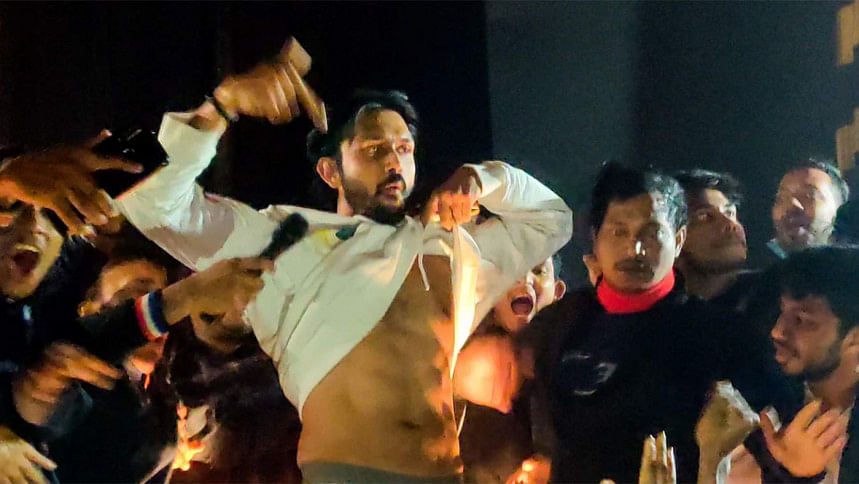 Arifin Shuvoo was present to watch his latest film to release, "Black War" along with fans at Madhumita Cinema Hall in Dhaka. After the film, fans demanded to see the hero's six-pack abs. Urged on by his loving fans, Shuvoo took off his shirt and let them have a look at his stellar six-pack.
"Black War" was released in 44 cinema halls across the country on Friday, January 13.
Speaking about the film, Arifin Shuvoo had said, "I worked really hard for over nine months on this film. All the injuries I suffered while working on 'Black War', I will have to suffer from them for the rest of my life. Even after the shooting. I felt a pain in my left leg. Before the release of the film, there were times I would be so exhausted that I would fall asleep with my phone on my hand. So, I want to request the audience to watch this film, if for nothing else, then for the pain we endured while making it. Only the audience can determine whether it has been good movie for our country."
The film has been jointly directed by Sunny Sanwar and Faisal Ahmed.
"Black War" is the sequel to "Mission Extreme".  Starring in the film will be Arifin Shuvoo, Taskeen Rahman, Jannatul Ferdous Oishee, Sadia Nabila, Sumit Sen Gupta, Misha Shawdagar, Hasan Imam, Fazlur Rahman Babu, Shahiduzzaman Selim, Shatabdi Wadud, Dilara Zaman, Laila Imam, Iresh Zaker, Maznun Mizan, Manoj Pramanik, Aref Syed, Khalid Hasan Rumi and Khashru Parvez, among others.