Eid Day 2: What your favourite stars are up to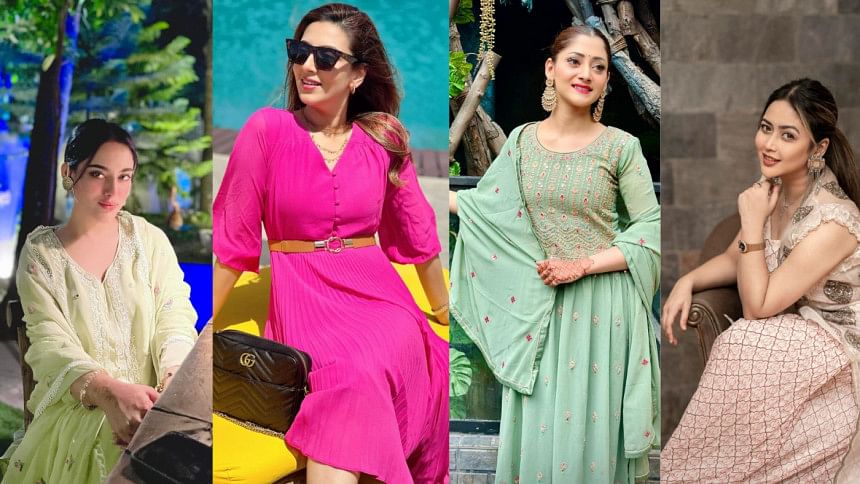 On the second day of Eid, celebrities have been busy spending quality time with their family, friends and loved ones. 
Even with the busy schedule, they didn't forget to update their fans and followers about how they are making their occasion special and showcasing their gorgeous outfits complementing the festive mood.
Let us have a look at their posts, to know what your favourite stars are up to on the second day of Eid-ul-Fitr.
Bold and beautiful actresses, including the likes of Azmeri Haque Badhan, Pori Moni, Bidya Sinha Mim, Ashna Habib Bhabna, Tama Mirza and Puja Chery have posted their lovely looks for Eid day-2.
Badhan, along with her daughter and close ones, posted pictures where they are twinning in the 'Boishakhi' look. They are wearing white kurti, red chunri print sharara and dupatta, which have a perfect summer look for this occasion. The "Rehana Maryam Noor" actor also attended Tanvir Tareq's show on the same day.
Meanwhile Pori Moni, Rajya were on a vacation in Kolkata. They returned to Dhaka this morning. Pori posted a picture of mother-son duo bidding goodbye to Kolkata. The "Swapnojal" actor also posted that she is missing her husband Razz.
"Poran" famed actor Bidya Sinha Mim loves sharing messages that contain peace, and communal harmony, especially when it is on festivals. On the second day of Eid-ul-Fitr, the actor posted pictures from Mumbai. Her post read, "Learn to enjoy every minute of your life .
Be happy now—Eid day 2." Mim is looking stunning in her magenta petra plated wrap dress, complemented with a golden colour leather waist belt and off white loafers.
Yesterday, "Bhoyonkor Shundor" actor Ashna Habib Bhabna posted a perfect family picture celebrating Eid-ul-Fitr with her parents and sister. A few hours ago, she posted her Eid look, looking gorgeous in a beige colour designer kurti with a printed long koti.
Tama Mirza posted her look today, wearing a lemon-coloured traditional salwar kameez. Her jewellery matched with her dress and shimmery pinking make-up suited the "Friday" actor to create a perfect Eid look.
Puja Chery, apart from celebrating Eid, is busy in the post-release promotional campaign for her freshly released film "Jinn". She posted pictures of her writing, "Eid day 2 with 'Jinn' promotion. Thanks to all lovely audience for loving us."
The actor is wearing a pista green anarkali suit, with sharara. Her jhapta jhumka, bindi and red lipstick, along with tied-up buns make her look elegant.