TV channels to celebrate Kazi Nazrul Islam's 124th birth anniversary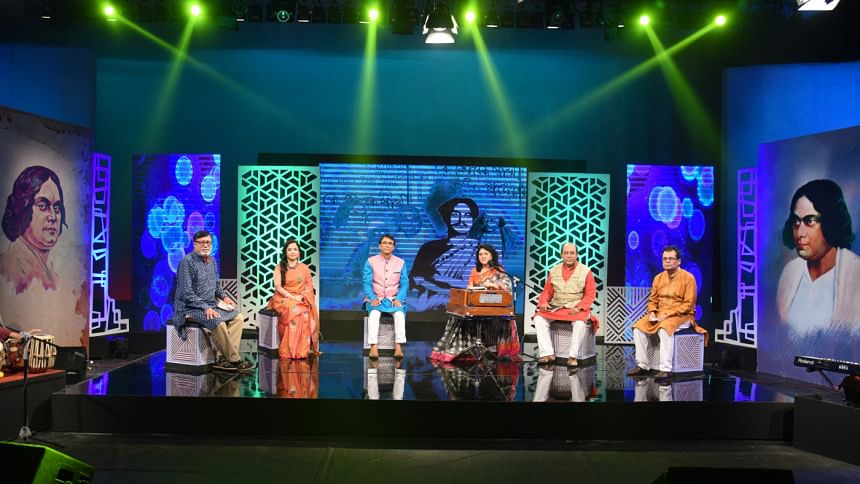 Celebrating the 124th birth anniversary of the National Poet Kazi Nazrul Islam today, television channels including Bangladesh Television (BTV), Channel i, and Maasranga Tv, amongst others, have prepared a multitude of special shows and programmes for the audience.
On this occasion, BTV is featuring two special shows titled, "Amare Debona Bhulte" and "O Bhorer Pakhi".
"Amare Debona Vhulte" will be highlighting poem recitals, songs, and a discussion revolving around the National Poet. The programme also features noted artiste Yasmin Mushtari, Chhanda Chakraborty, and Bhaskar Bandyopadhyay amongst others.
Meanwhile, hosted by Imam Hussain, "O Bhorer Pakhi" will be highlighting poem recitals of Kazi Nazrul Islam.
"Amare Debona Vhulte" will be aired today at 9:30 am, while "O Bhorer Pakhi" will greet the audience at 1:05 pm on BTV.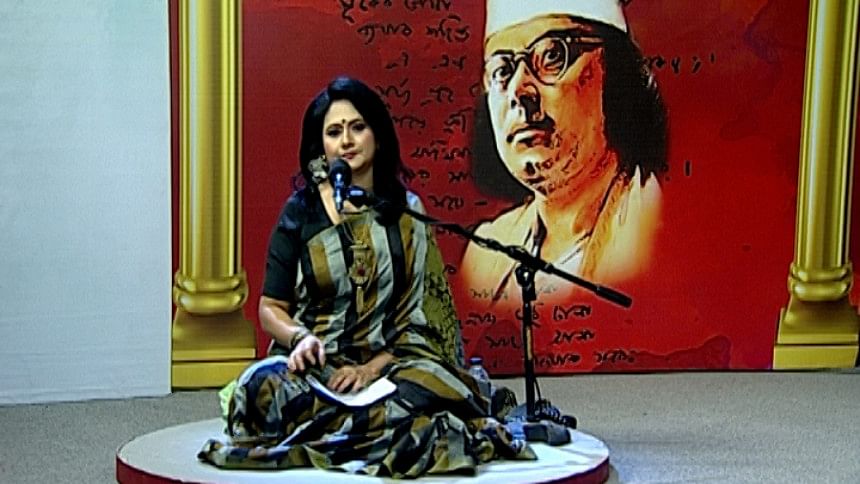 Similarly, celebrating the National Poet's birthday, Channel i will be airing "Leto Gaaner Ashor", directed by Rafiqul Bari Chowdhury at 11:05 am. Moreover, they channel will also air the Nazrul special programme "Cholochitray Nazrul" directed by Arun Chowdhury at 1:30 pm.
Channel i programme "Ebong Cinemar Gaan" will also be featuring a special episode with Kazi Nazrul Islam's film songs at 1:05 pm. Additionally, Channel i will also be airing a film made on Kazi Nazrul Islam's story titled "Priyo Tumi Shukhi Hou". Directed by Geetali Hasan, the film will be aired at 3:05 pm. Finally, at 11:30 pm Nazrul birth anniversary special show "Prokritir Alopon" will be aired.
On Banglavision, a special programme titled "Kuriye Tumi Nao" will be aired at 4 pm on the occasion of Kazi Narul Islam's birth anniversary. Noted Nazrul artiste Salahuddin Ahmed will be appearing at programme as special guest. Meanwhile, the audience will also get to enjoy Nazrul's poem recitals presented by Shakila Matin Mridula at the programme.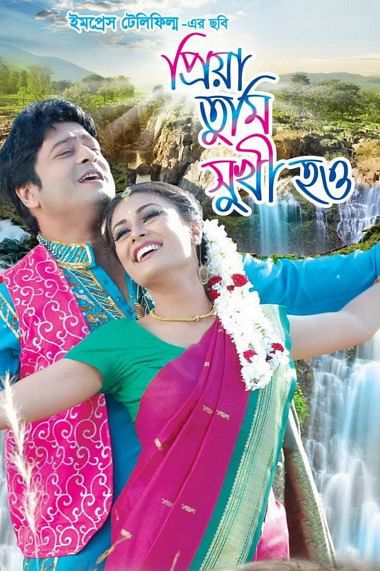 On another note, honouring the National Poet on his 124th birth anniversary, Maasranga Tv will be airing a special tele-fiction "Puber Janala Ruddho" directed by Prasanta Adhikary at 10:30 pm tonight.