The art of expression: Rakibul Anwar's 'Shonglogno'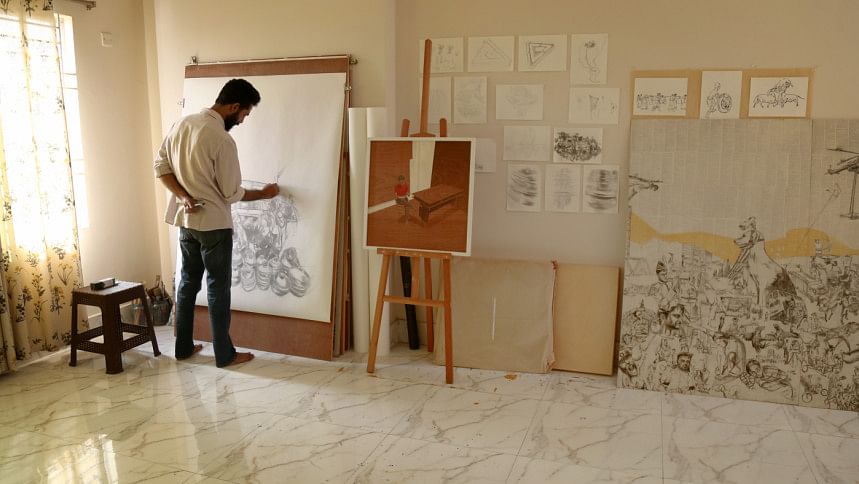 "Shonglogno", a solo exhibition featuring the works of Rakibul Anwar was recently displayed at La Galerie, Alliance Francaise, Dhaka. The exhibition was inaugurated on November 18, in the presence of Her Excellency, Marie Masdupuy, Ambassador of France to Bangladesh; eminent artist Professor Dhali Al Mamoon, and artist-critic Mustafa Zaman.
Rakibul Anwar is a visual-artist, based in Dhaka, who continues to produce art, while also participating in national and international exhibitions and artist residency programmes. To this end, he has participated in such programmes in Bangladesh, the UK, and Germany since earning his Masters of Fine Arts, from the Department of Drawing and Painting, Faculty of Fine Arts, University of Dhaka.
In his portfolio lies collaborations with various contemporary artists and art associations the likes of the British Council, Britto Arts Trust, Bengal Shilpalaya, Brihatta Art Foundation, Platform Art Space, and Tara Theater. 
In the exhibition, the artist has skilfully expressed himself through 42 artworks, using mediums like watercolour, acrylic, charcoal and ink. A particular attraction were the artworks done on old dictionary pages. Also featured, was a medley of day to day Bangladeshi scenes including scenes of labourers dozing off with their wicker baskets, rickshaw pullers resting, and the crowded scenes of Puran Dhaka, featuring idols of Goddesses, percussion instruments, and sarees.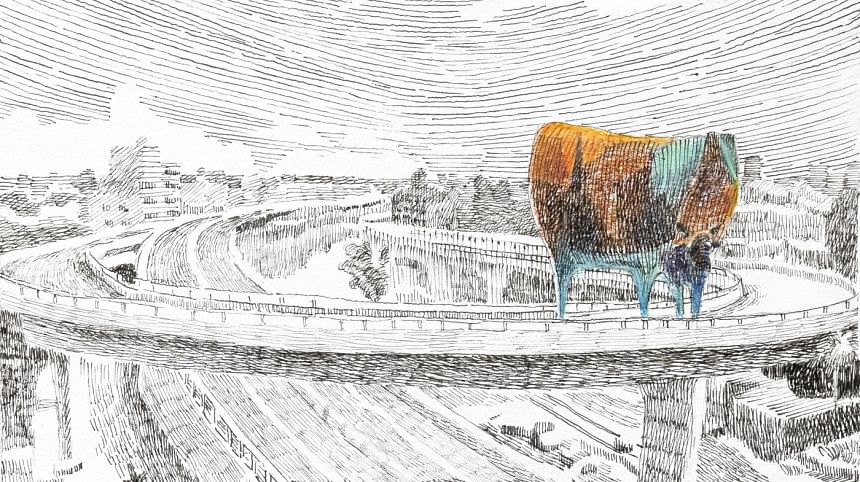 When discussing his use of dictionary pages as a medium, Rakibul explained, "A dictionary is supposed to share the meaning of words, when you follow the sequence. Once the pages are scattered, the meanings are all lost."
The artist also expressed that he does not believe in being limited to just one particular style, instead, he believes that his artworks in itself are more important than his self-identity. 
The inspiration for the artworks display originated from the way the artist processes memory and information. The artworks visualise his journey as an artist, and how through the process, all these elements began to make sense with him. All of the individual exhibits are open to interpretation, allowing multiple perspectives and providing complete creative freedom.
"Shonglogno" ran at Alliance Francaise till November 30.