All-women art exhibition 'Life 2019' organised at Gallery Cosmos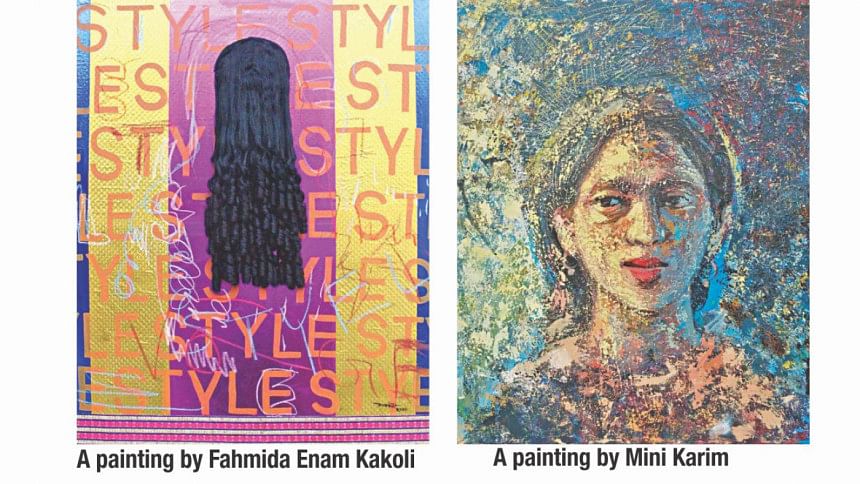 Life 2019 is a group art exhibition featuring paintings by 39 female artists.  It was inaugurated at Gallery Cosmos on Bangladesh's Independence Day, by the chief guest, Australian High Commissioner HE Julia Niblett. She stated that it is a matter of regret that female artists face gender discrimination often in Bangladesh and that as a community, we need to battle against it. Speaking on the occasion as the special guest, Cornelia Gautschi Holenstein expressed the hope that women artists will continue to overcome barriers that stand in their way.
The paintings at the exhibition uphold the doubts, struggles, pleasures, achievements and realities of women. Most of the works at the exhibition are created with acrylic colours, acrylic embroidery, oil paints, Belgian Linen and other techniques. The participating artists are Afrozaa Jamil Konka, Antara Mehrukh Azad, Asma Akber, Atia Islam Anne, Bipasha Hayat, Dilara Begum Jolly, Dilruba Latif, Elham Huq (Khuku), Fahmida Enam Kakoli, Fahmida Khatun, Fareha Zeba, Farida Zaman, Farzana Rahman Bobby, Ferdowsi Priobhashini, Halide Salam, Hazvineyi Bridget Mutasa, Ivy Zaman, Kanak Chanpa Chakma, Kuhu Plamandan, Maksuda Iqbal Nipa, Mini Karim, Nargis Poly, Nasima Haque Quenee, Nasreen Begum, Preema Nazia Andaleeb, Rahima Afroz, Rebeka Sultana, Rokeya Sultana, Rubina Akhter, Samina Nafies, Shantwana Shahrin, Shameem Subrana, Sharbari Roy Choudhury, Shulekha Chaudhury, Sohana Shahreen, Soma Surovi Jannat, Shruti Gupta Kasana, Surovi Akhter and Vinita Karim.
Life 2019 demonstrates solidarity with the #MeToo and #TimesUp movements that call for the abolishment of gender discrimination and aim to make the world recognise the potential in women. The exhibition will run till April 9, daily from 11am  to 8 pm.