Celebrating literary maestro Abdullah Abu Sayeed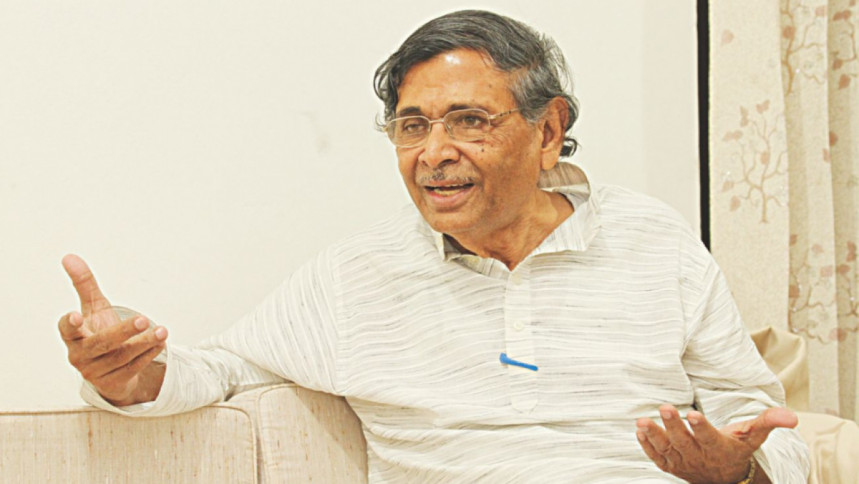 Today marks the birthday of renowned literary figure Professor Abdullah Abu Sayeed. A man of many talents, Sayeed is a renowned writer, television presenter and activist. Of the many hats worn by Sayeed, the most notable is that he is the founder of Bishwo Shahitto Kendro, a non-profit organisation that promotes the study of literature, reading habits and progressive ideas.
Born in Kolkata in the year 1939, Sayeed is the son of a well-known playwright, Azimuddin Ahmed. The writer studied at Dhaka University in East Pakistan after the Partition. As a youth, Sayeed devoted his time to writing poetry and prose and was at the helm of a literary movement in the 1960s as the editor of the Kanthashar magazine. He would go on to work in television, hosting a number of popular shows. The writer also taught literature at Dhaka College for around three decades.
Through Bishwo Shahitto Kendro (BSK), Sayeed worked to preserve the rich Bengali literary tradition, as books were slowly being replaced by other forms of media. Sayeed's dedication to reignite the passion for reading books among the youth and increase access to literature led him to found the BSK in 1978.
Initially starting with only 25 university students, who would read and discuss great works of literature under the stewardship of Sayeed. Each group in the programme went through a 22-week reading course each year, completing more than 100 books over the course of seven years. In their 'reading circles', group members would be able to Bengali and non-Bengali literary and non-literary works.
With assistance from the Ministry of Education, Sayeed's "Enrichment and Development of Reading Habit" programme spread all over Dhaka and eventually throughout Bangladesh. Today, thousands of schools in numerous districts have become a part of the programme.
Over the course of time, Sayeed also successfully developed the centre into a library and a publishing house. The writer was also responsible for the mobile library programme in 1998, which was developed as a response to the lack of public libraries in Bangladesh. With the support of the Norwegian government, mobile libraries today make stops at 1900 locations in 58 cities throughout the country. As of 2016, approximately 160,000 readers became members of the mobile library programme. 
Sayeed has received numerous awards throughout his lifetime, including the National Television Award (1977), Ekushey Padak (2005) and Bangla Academy Award (2011). In 2004, he was honoured with the Ramon Magsaysay Award for Journalism, Literature, and Creative Communication Arts in recognition of his work. As a writer, Sayeed has written and edited more than 50 books, and his body of work is ever-growing. 
As an activist and philanthropist, Sayeed also devotes his time to environmental issues. BSK offers programmes in the arts and possesses a film and music library. All of it is managed by Sayeed with over 300 staff members and more than 12,000 volunteers, that include many of his former students.
Sayeed has always dreamed of cultivating an enlightened new generation of Bangladeshi citizens, whose values and understanding of other cultures are enriched by reading—with the hopes that future leaders of the country will one day emerge from this group. On his birthday, as fans of the literary arts, we can only be grateful that someone like Professor Abdullah Abu Sayeed has been a fellow citizen, well-wisher and philanthropist who has tirelessly worked for the collective benefit of us all.