The types of examinees we meet in an exam hall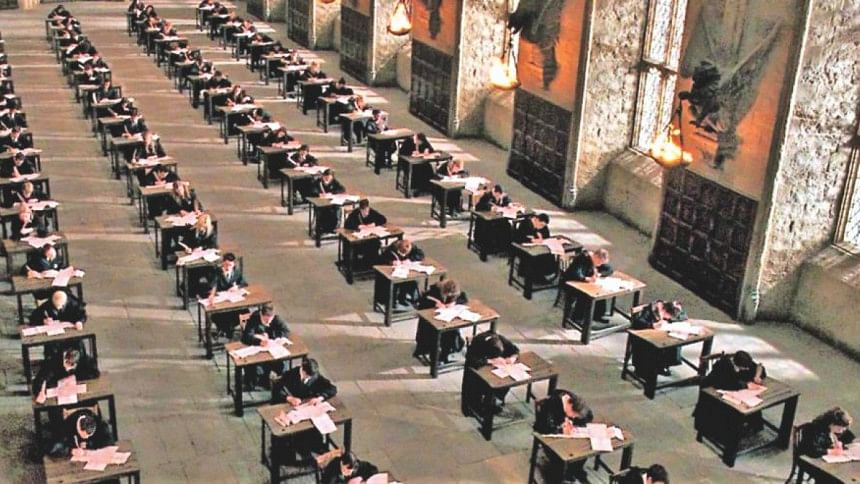 There is one sad but mighty word in the dictionary of our daily lives though all that it does is tear up the pages of that dictionary:
Exams.
Sadly, all of us have to face this catastrophe once or twice or a thousand times in our lives. So brace yourselves for the odd encounters with the following people:
THE DESCENDANTS OF EINSTEIN
These people are literally the future of the generation. From the preface of a math book to all its formulas, from Newton's "Law of Motion" to Einstein's "Theory of Relativity", they'll know all the things related to your syllabus, even sometimes out of your syllabus or maybe from older reference books. If you sit near such a person, be sure to have your inferiority complex kindled as they spend the whole time answering questions, looking busy, and not panicking. Also be prepared for jealousy because you'll see the invigilators being nice to them as they will quickly identify that these people are the "gems".
THE IRRITATING CHEETAHS
These people will have the uncanny ability of making you feel like a sloth, even may go as far as to make cheetahs go through a deep existential crisis. When you have just finished planning what you're going to write for your first answer, you will find this bunch demanding extra pages. And as the invigilators zoom past you to provide them extra sheets of paper, that silently confident smile of yours will be wiped away, as you start to ponder if your preparation was adequate. Moreover, the pounding of your heart will start anew as you go through the unsettling feeling of losing track of time. Also, be prepared that this crisis will take place more than once during your exam as they keep demanding extra pages, getting worse every time as you fail to come to terms with your ineptitude.
THE PROTECTIVE ONES
They are as protective of their answer sheets as bears are of their cubs. If you think you can oversee their answers, then you'll notice their hand creating a protective dome over their script. But this is not the problem since you are not supposed to cheat. No, the problem is that they become overprotective even when you are not cheating. They shoot deadly glares at you even when you are actually asking for the invigilator, or really asking the time. No I'm not lying, I really was asking what the time was.
THE CHEATERS
Cheat, cheat and if you get caught, wait some time before you invariably cheat again — this is the motto of these people. Their answer scripts have no genuineness, rather the scripts are tailored goods made of stolen materials. Their eyes and ears are like those of predators. But even so, sometimes they become the prey of the invigilators who are more like scavengers, catching them red handed in the worst possible position.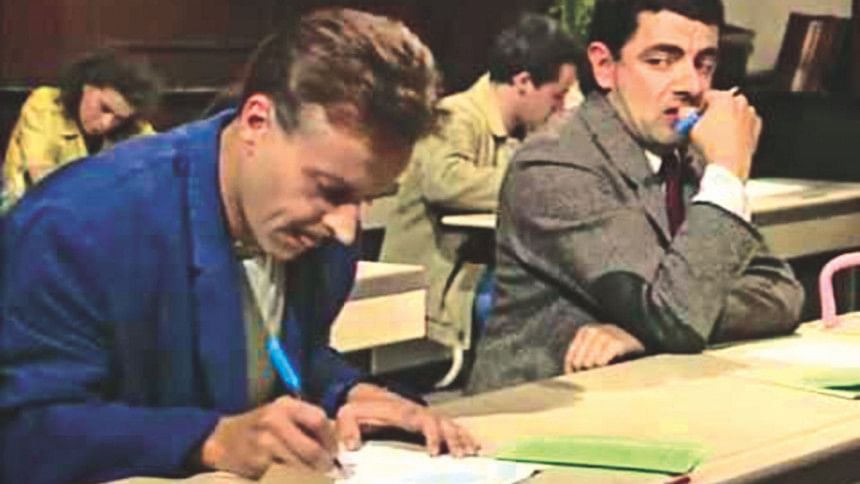 THE BORROWERS
"Can I borrow your pencil?"
"Can I borrow your blue pen?"
"Can I borrow your calculator?"
"Can I borrow your LIFE?"- The last sentence actually translates all the previous ones. An exam is heavily dependent on time management. Every second counts, literally. But if during this race against time, somebody asks for a stationery piece, you lose your time because you can't refuse your fellow sufferer a thing as trivial as a pencil. But the more annoying part is that they consistently ask for things. And somehow, they fancy ideas that by lending your pen, both of you are sharing an important spiritual link and so the next thing you know, they'll be asking for your answers too.
THE KLUTZES
Every now and then you will hear the sound of a pencil rolling down, a pen falling like a bomb in the pin-drop silence. Then you will hear the screeching sound the desk makes as they drag it to get up. Afterwards, you will see them tearing up and telling the invigilators that they have stapled their extra sheets wrong or whine that they can't wedge their answers into the appointed space. They are all over the place. And sometimes they ask questions that are not very intellectual, that'll make you snicker and get told off by the invigilator because this is an exam hall and not your drawing room.
THE ONES WHO DON'T CARE
These people are rebels. They answer just enough to merely pass. And then get out to "enjoy" their lives. But during the short period of time when they do write their answers, they will be sure to ask rebellious, demanding questions like, "Sir, who said that exams can truly evaluate me?" to the invigilators in spite of the rule of absolute silence. And unsurprisingly, they have more trouble-making answers ready even if the invigilator chooses to dryly reply to their eccentric (albeit justified) questions.
Lastly, in case you're sweetly wondering which category the author belongs to, then voila! I am the type who instead of focusing on my exams, observes everyone around so that I can write this article.
Maisha Nazifa Kamal is on a highly confidential mission to defeat all Muggles in procrastination. Join forces with her on [email protected]