Galleri Kaya commemorates 17th anniversary with grand exhibition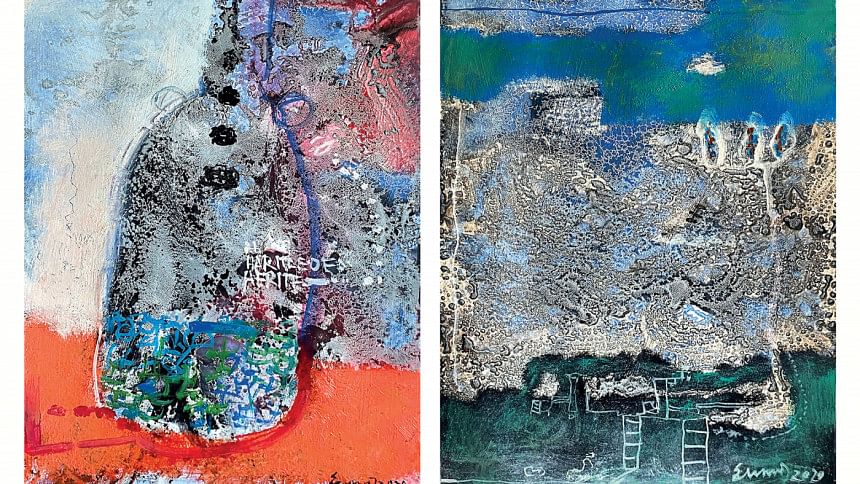 Galleri Kaya has organised a group exhibition in Uttara to commemorate their 17th anniversary and the birth centenary of Bangabandhu Sheikh Mujibur Rahman at the same time. The exhibition features 76 selected artworks by 32 modern and contemporary artists from 1952 to 2021.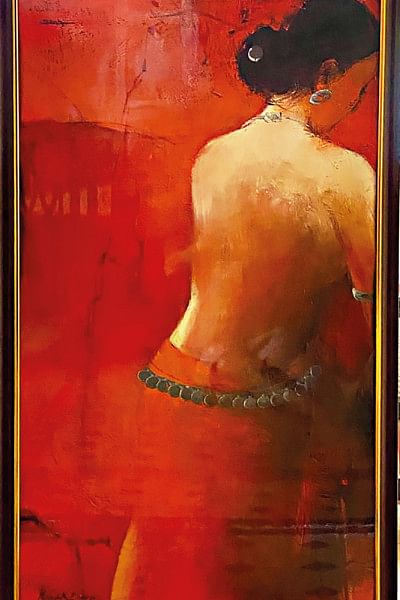 The featured artists are Abdus Shakoor Shah (1947), Ahmed Shamsuddoha (1958), Aloptogin Tushar (1968), Aminul Islam (1931-2011), Anisuzzaman (1972), Ashraful Hasan(1977), Chandra Bhattacharjee (1961), Chandra Shekhar Dey (1951),Debdas Chakraborty (1933-2008), Farida Zaman (1953), Hamiduzzaman Khan (1946), Hashem Khan (1941), Jamal Ahmed (1955), Kanak Chanpa Chakma (1963), Kazi Rakib (1955), KMA Quayyum (1950), Masuda Kazi (1958), M.F. Husain (1915-2011), Mohammad Eunus (1954), Mohammad Iqbal (1967), Murtaja Baseer (1932-2020), Nagarbasi Barman (1973), Rafiqun Nabi (1943), Ranjit Das (1956), Ruhul Amin Tarek (1981), Samarjit Roy Choudhury (1937), Shahabuddin Ahmed (1950), Shahanoor Mamun (1986), Sheikh Afzal Hossain (1960), Shishir Bhattacharjee (1960), Shohag Parvez (1981) and Wakilur Rahman (1961).
The Daily Star got in touch with Mohammad Eunus and Kanak Chanpa Chakma, who discussed their work at the exhibition.
Born in Thakurgaon, Mohammad Eunus is a renowned artist and former professor of the Faculty of Fine Art in the University of Dhaka. His work entails abstract, semi-abstract and pure-abstract paintings that give way to his inner feelings and depict nature, cities, and time. Four of his artworks are displayed at the gallery, which were inspired by nature and how it changes with time from one season to the other, taking up different colours in its trees, the sky, and so on. They share their resemblance with classical music, which has no particular meaning and is left to the feelings and interpretations of its audience.
Eunus could not focus and paint at the beginning of the pandemic, and his artworks from that period are mostly monochrome. A year later, he realised that he would lose himself in the process of continuing this. He began to paint more using different colours. To him, art is therapy and he wishes to be healthy, happy and spread his happiness. Eunus has taken up and completed many artworks since then, which would not be possible in other times. He is also glad to be a part of a physical exhibition after a long break.
Celebrated visual artist Kanak Chanpa Chakma was born in Tabal Chari, Rangamati. She works with acrylic on both canvas and paper. The Chakma people of the Chittagong Hill Tracts are her main focus, as she portrays their daily lives of their glee and glum, and their hardships as a minority with the stroke of her brush. This time at Galleri Kaya, Kanak has displayed a portrait of a tribal woman showing her back. She has worn a deep orange dress and is set against an orange background, which depicts the sky at dusk. Some of the orangish light from the sky gently falls on her back. The woman has apparently returned from work and is going to spend her leisure time
The pandemic has allowed the artist to spend more time with her family and pets, who miss her dearly when she is busy conducting exhibitions or is abroad. She also feels happy to exhibit her work along with other artists at Galleri Kaya. She also praised the courage and efforts of Goutam Chakraborty, the Director of Galleri Kaya, as he has provided a stable platform to established and promising artists of the country.
The exhibition is open to visitors from 11:30 am to 7:30 pm till October 23, provided that they follow safety protocols against Covid-19.
The author is a freelance journalist. Email: [email protected].