50 Years of the Concert for Bangladesh: How It Came to Be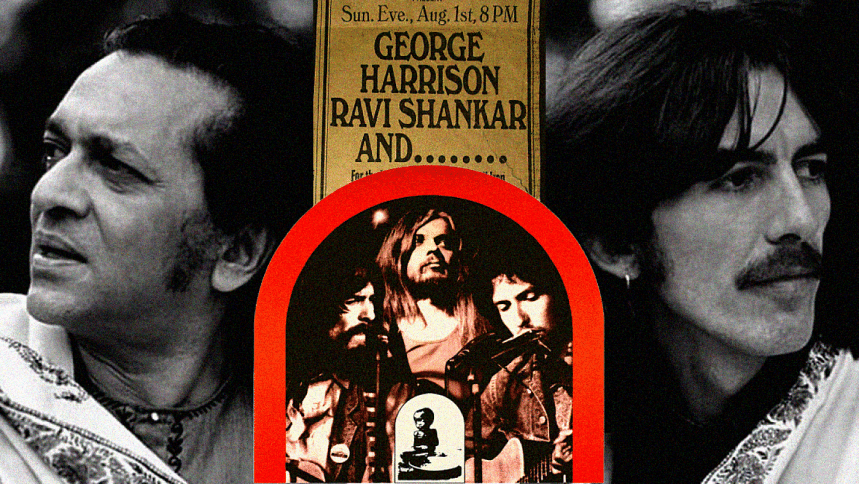 I
The Concert for Bangladesh was scripted in the heavens. By the end of the night, the event put Bangladesh on the map.
The world knew it was a "war for liberation" that Bangladesh was fighting. As the concert turns 50 today, is it a coincidence that the first days of August, in 1971 and 2021, both fell on a Sunday?
II
On November 11, 1970, the Bhola Cyclone hit the then East Pakistan. It claimed half a million lives. The cyclone still remains the most devastating in recorded history.
The plight of Bengalis hurt music maestro Ravi Shankar. Shankar was born in 1920 in Uttar Pradesh, but his ancestral roots are in Narail, in Jashore (Jessore).
Shankar felt a naree-r tan.
III
In April 1965, during the filming of Help!, the Beatles were in an Indian restaurant in London. There, George Harrison toyed with a sitar. In October, during Rubber Soul, Harrison injected the sitar in Lennon's "Norwegian Wood (This Bird Has Flown)".
A year later, in June 1966, Harrison and Shankar met in Bath, UK. They would soon prove Rudyard Kipling wrong. "East is East and West is West, and never the twain shall meet," the author had famously said.
The Beatles were not the first Western artists to have been influenced by Indian music. However, Shankar and his sitar, fit into the jigsaw. And the stage was now set for the Concert for Bangladesh.
IV
Before the horror of the Bhola Cyclone could recede, another tragedy struck Shankar's ancestral East Bengal.
On the fateful night of March 25, 1971, West Pakistan began a systematic genocide on the innocent civilians of East Pakistan. The writing was on the wall. Bangladesh was born.
To escape the genocide, countless people walked across the border to neighbouring India. It soon became a humanitarian catastrophe.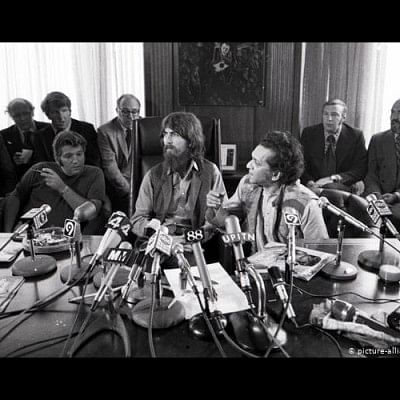 On June 1971, Shankar and Harrison were in Los Angeles during the recording of Raga, a documentary on Shankar's life. Shankar expressed his sorrow for the people of Bangladesh, and their exodus to India. Shankar mentioned to Harrison about his desire to organise a benefit concert, where he could possibly raise 25,000 dollars.
Harrison immediately empathised and volunteered to help. This does not mean Shankar and his friends could not have done a benefit concert themselves.
Shankar had influenced musicians like John Coltrane and Philip Glass, and groups such as the Yardbirds, the Kinks, the Byrds, and many more. Shankar featured in the Monterey Pop Festival in 1967, which was one of the first benefit concerts by Western artists. He even attended Woodstock in 1969. The West was familiar with the names of Ravi Shankar (sitar), Ali Akbar Khan (sarod), and Alla Rakha (tabla).
The moment the two decided to do the concert, Harrison prepared the single "Bangla Desh" (this was the spelling then). Shankar then wrote the lyrics of "Joi Bangla" and later "Oh Bhaugowan", which became an EP.
Harrison approached a local astrologer for a date. The beginning of August was an auspicious time, and Madison Square Garden in New York City was booked for Sunday, August 1, 1971.
There were only six weeks left for the concert scripted in the heavens.
V
The Concert was the first time Harrison did something on his own. He had been in a band all his life, where Lennon and McCartney were the frontmen.
It would also be the first time Harrison would play live in front of a crowd since August 29, 1966, when the Beatles last played to a live audience at San Francisco. Saying Harrison was nervous would be an understatement.
It could have been a Beatles re-union. Harrison invited Lennon and McCartney. Harrison placed a stipulation: no Yoko Ono. Initially, Lennon agreed, but later he and Yoko had an argument. Lennon left New York a couple of days before the Concert. Elsewhere, McCartney agreed to attend, but declined to perform with Lennon. He also thought the Beatles manager, Allen Klein, would take credit for a Beatles re-union. So, citing "legal problems", McCartney opted out. What about Ringo? Apparently, he was not formally invited, but invited himself. Harrison took him on board. Ringo had also not played live since the San Francisco concert. He asked for Jimmy Keltner to back him on the drums, who agreed.
Tickets had sold out quickly. Two concerts were arranged in the end – an afternoon (2.30 PM) and an evening concert (8 PM).
After his motorcycle accident in July 29, 1966, Dylan had become a recluse. Nobody knew if he could perform at all. It was only when Dylan appeared behind the curtains, Harrison ran out and said, "I'd like to bring you all, a friend of us all, Mr. Bob Dylan." That night, Dylan performed one of his best.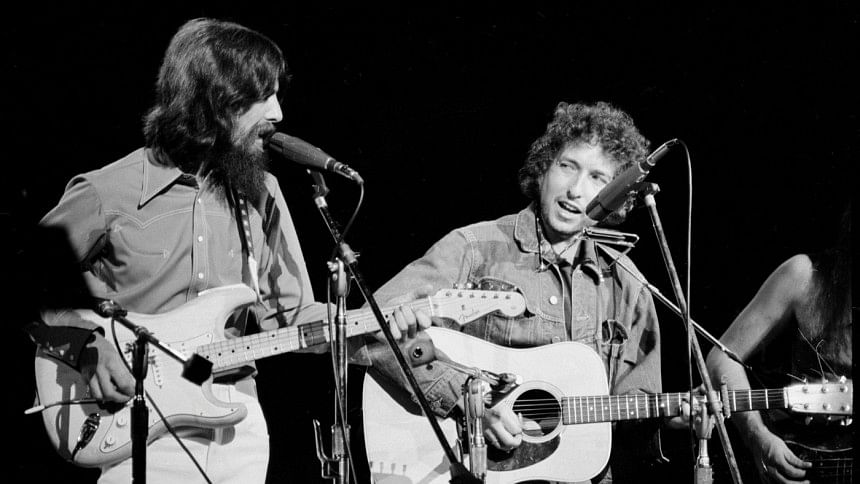 Eric Clapton attended. But he was having problems from drugs withdrawal. The hype could have been bigger. Mick Jagger and David Crosby wanted to perform; Harrison declined. Nevertheless, the Concert was a huge success.
Kamala Chakrabarti (tamboura) accompanied Shankar and Friends in a Bangla Dhun. George Harrison, Ringo Starr, Bob Dylan, Billy Preston, Eric Clapton, Leon Russell, Klaus Voorman, Jim Keltner, Jesse Ed Davis, Jim Horn, Chuck Finley, Ollie Mitchell, Alan Beutler, and the members of the Welsh band Bad Finger (Peter Ham, Tom Evans, Mike Gibbins, and Joey Molland) performed their heart out. Every artist performed at the Concert for free.
A live album came out on December 20, 1971; a film-documentary accompanied in 1972. The live album won a Grammy in 1973.
VI
The venue of the Concert being New York City immediately created awareness. The Nixon administration had sided with Pakistan. This backfired amongst the youth of the USA.
The USA was already fighting an unjust war in Vietnam, like they did decades later in Afghanistan. Protest songs like "Blowing in the Wind" (Bob Dylan, 1963); "I Ain't Marching Anymore" (Phil Ochs, 1965); "Lyndon Johnson Told the Nation" (Tom Paxton, 1965); "Bring 'Em Home" (Pete Seeger, 1966); "Backlash Blues" (Nina Simone, 1967); "Saigon Bride" (Joan Baez, 1967) and others had already ignited the youth of the USA. The Concert was destined to create more awareness to the international community.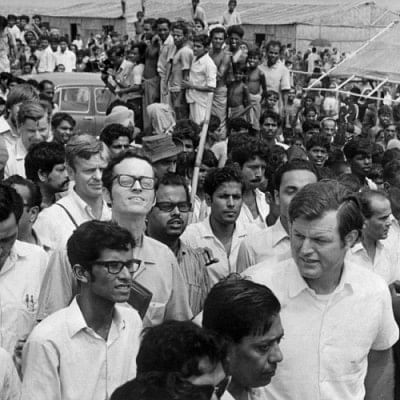 Less than two weeks after the Concert, Senator Edward Kennedy went to see the plight of the refugees. Kennedy's visit was important. By October, he presented the "Testimony of Sixty" to the US Senate. It challenged the Nixon administration's blanket and blind support to Pakistan.
In September 1971, poet Allen Ginsberg travelled Jessore Road, the historical road that linked Jessore and Calcutta. Sunil Gangapadhyay, who was born in Faridpur, was with Ginsberg.
Ginsberg's poem September on Jessore Road was published in November 1971 with a musical adaptation in collaboration with Bob Dylan. Joan Baez wrote "Song of Bangladesh" that was published in 1972.
On September 18, 1971, The Who, Rod Stewart and others organised a charity concert titled "Goodbye Summer" for Bangladesh at the Oval Cricket Ground in London. The concert raised 15,000 pounds, but sadly no audio or video record was kept.
VII
The Concert for Bangladesh was indeed scripted in the heavens. Ravi Shankar answered a call from his ancestral roots in East Bengal, like many others. George Harrison empathised the suffering of people like any sensible person would.
Fifty years later, the Concert shines with love. It was this combined love for humanity by many others like Shankar and Harrison that made the Liberation War of Bangladesh a glowing example that when a cause is just, East and West twain shall meet.
Asrar Chowdhury is a Professor of Economics at Jahangirnagar University. He is the author of the fortnightly column, Echoes, in SHOUT, The Daily Star. Email: [email protected]; or [email protected]