Editorial
Two lakh migrant workers risk deportation to a depressed economy
The government must protect them in Kuwait as well as in Bangladesh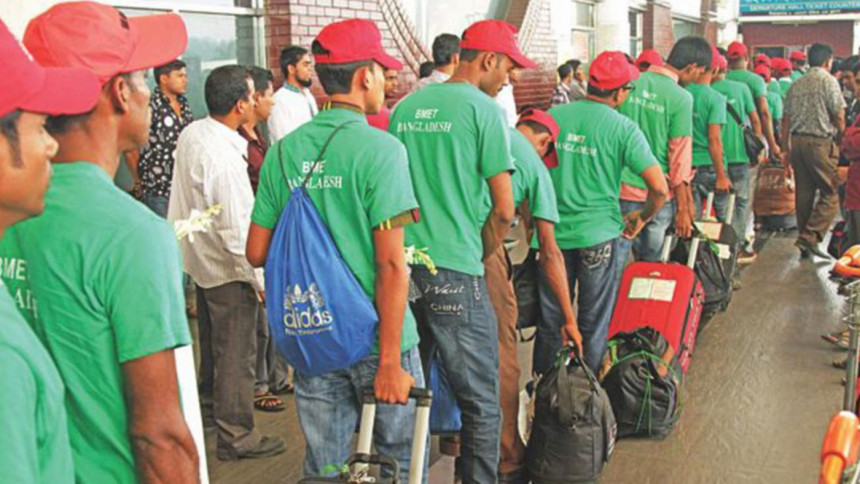 Amidst increasing uncertainty about future job prospects of Bangladeshi workers overseas, Kuwait, which currently employs around 3.5 lakh Bangladeshis, has proposed a bill that, if passed, may compel two lakh migrant workers to return home. The MPs who introduced the bill want to institute an expatriate quota system—under which Bangladeshis must not exceed three percent of Kuwait's total populace—to rectify a "great imbalance in the country's demography". This development is certainly a cause for grave concern for Bangladeshi expats—many of whom are still in debt and risk being sent back home to a depressed economy, with little prospects—as well as for the Bangladeshi economy which earned more than USD 1.5 billion in remittance from workers employed in Kuwait.
We are deeply concerned about the anti-expatriate rhetoric that has escalated in Kuwait since the onset of the pandemic amid a slump in oil prices. Thousands of workers have already been forced to return. Most of them were held in jails and labour camps in miserable conditions and sent back empty-handed, without so much as their legal dues or personal belongings. The Bangladesh government needs to engage with Kuwait authorities urgently to ensure that our expats, who have played and continue to play an important role in Kuwait's economy, are treated with dignity and respect, and that they are not robbed of their due wages and entitlements. The Bangladesh High Commission in Kuwait needs to be particularly vigilant about violations of workers' rights and provide all kinds of humanitarian and legal assistance to those in need.
If the bill is ultimately passed, the government needs to create employment opportunities for the returnees at home, which is easier said than done, given the alarming level of unemployment in the country. We have repeatedly urged the government to increase the budget allocation for returnee migrants as well to develop a comprehensive plan for their rehabilitation. While the government has thus far claimed that "all is under control", we remain concerned about the short, medium and long-term prospects of the returnees and urge the concerned authorities to address the issue in all urgency.