Overuse of pesticides in mangoes
Awareness, monitoring and organic farming can prevent this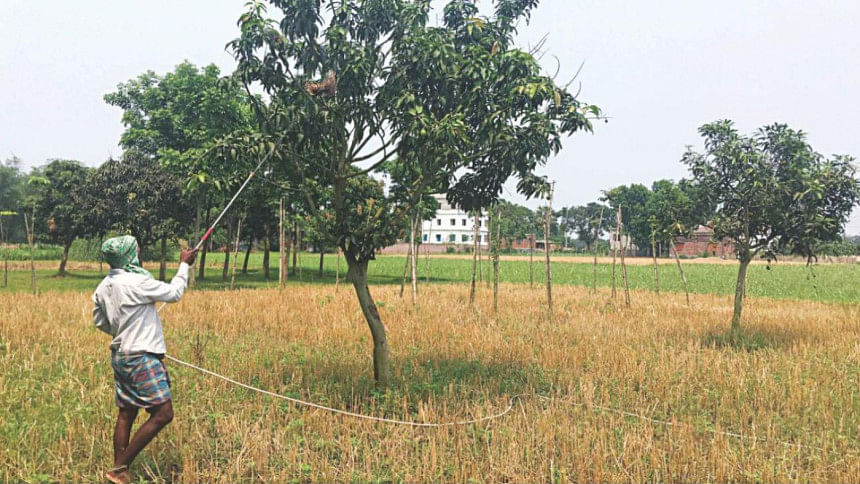 As the mango season approaches, instead of looking forward to enjoying this succulent fruit, mango lovers should be worried about consuming toxic chemicals. Our Rajshahi correspondent reports on the widespread use of pesticides on mango trees by farmers. This is despite a High Court order to deploy police to prevent this harmful practice.
While police have been deployed and are making the rounds, pesticide use continues in Rajshahi, Natore and Naogaon (major mango-growing regions) mainly because of lack of awareness of its ill-effects. Growers complain that their fruits are increasingly becoming vulnerable to pests that are destroying the mangoes and also adversely affecting the yield of the trees. Hence they feel that there is no other alternative but to use more and more pesticides to save their orchards. But actually, as we have seen in Chapainawabganj, farmers have been successful in getting good yields from their trees by adopting organic farming methods. This includes bagging the fruits so that they are protected from pests and fungal spots. The bagging method significantly reduces the number of times chemicals need to be sprayed. Pheromone traps have also been used to catch insects that cause damage to the fruits.
Such scientifically developed, eco-friendly methods must be popularised on a larger scale so that all fruit farmers can adopt them. The government can carry out national awareness campaigns to let farmers know about these sustainable alternatives and the harmful effects of chemical pesticides not only to the consumers they sell to but even to themselves through direct contact. People must also be made conscious of the harmful health effects of consuming mangoes laden with such pesticides so that they consume only those fruits that are organically grown.