PM Hasina's mango diplomacy: 1 metric ton Amrapali for Modi, Kovind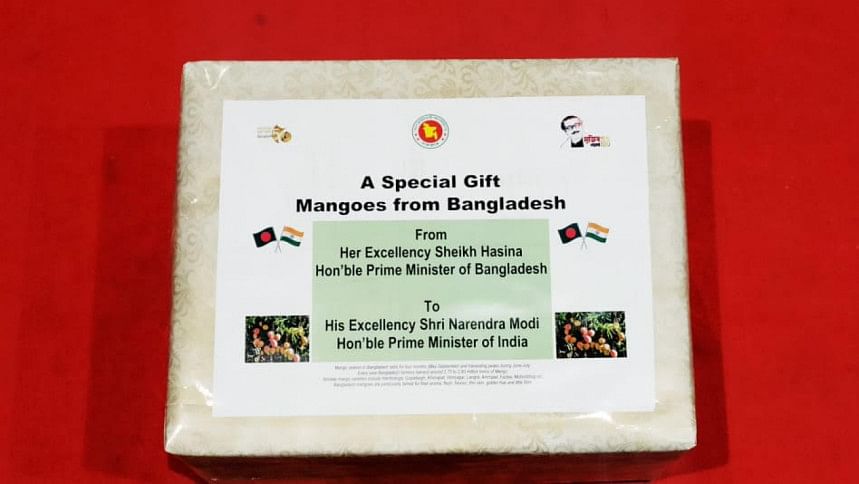 Continuing her mango diplomacy, Prime Minister Sheikh Hasina has sent one metric ton of Amrapali mangoes to Indian President Ram Nath Kovind and Prime Minister Narendra Modi as gift.
"The mangoes were sent to the residents of His Excellency President and Honorable Prime Minister of India through diplomatic channel today," said Bangladesh High Commission in New Delhi in a statement today.
A gift consignment of mangoes from PM Hasina is also on the way for West Bengal chief minister Mamata Banerjee and is likely to reach Kolkata early next week, sources told our New Delhi correspondent.
Last year, Prime Minister Hasina sent Haribhanga mango, which is mostly grown in Rangpur, as a gift to Indian PM Modi and the chief ministers of West Bengal, Tripura and Assam.
The relationship between Bangladesh and India has rendered a new height and the "Mango & Hilsa diplomacy" is making the ties more gratifying, the statement said.
The mango diplomacy by PM Hasina came ahead of Sunday's (June 19, 2022) meeting of the Joint Consultative Commission in New Delhi which is expected to discuss the dates of a proposed official visit by Hasina to India.
The JCC meeting, which will discuss the entire gamut of burgeoning bilateral ties, will be attended by Foreign Ministers AK Abdul Momen of Bangladesh and S Jaishankar of India.
Momen reaches New Delhi on June 18 (Saturday) for the JCC meet and returns to Dhaka the next day.