Editorial
Forests and wildlife in danger
World governments should come up with a new global plan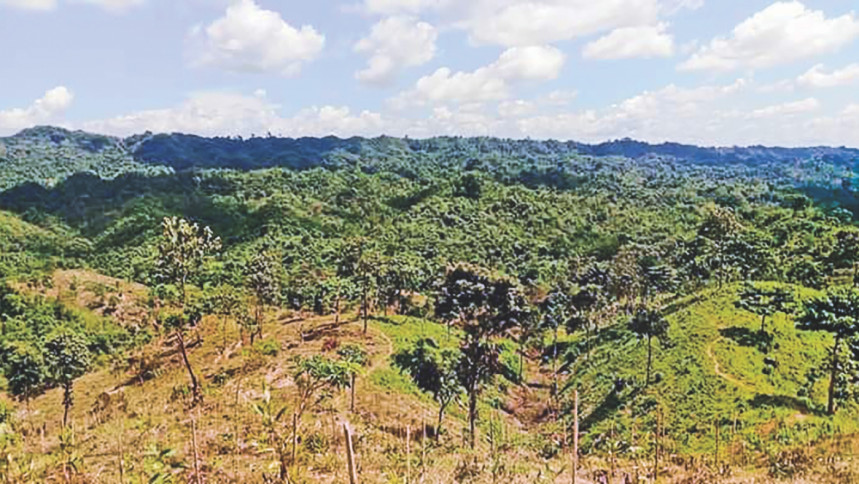 A major report, "Below the Canopy", jointly written by the conservation group World Wildlife Fund (WWF) and Zoological Society of London (ZSL), has brought to the fore some startling findings. The study found that the population of wildlife in the world's forests has declined by more than half in just over four decades.
The study—the first-ever global assessment of forest biodiversity—sheds light on the utter destruction being inflicted on the world's forests and wildlife by human beings. This is happening at a time when the threat of climate change is at its peak. And forests are integral to the containment of greenhouse gases among many other things (such as preservation of wildlife and biodiversity and maintaining food systems).
While the ground-breaking report states the dangers posed to the tropical forests of South America and Africa if large birds and primates were to disappear, we should pay heed to what is happening in our own backyard. Loss of species and deforestation in Bangladesh are taking place at an alarming rate—much of which is being caused by human activity. According to sources in the Ministry of Environment, Forest and Climate Change, around 1.6 lakh acres of forest land have been handed over to government agencies and establishments, or used for development projects. Official data shows that Bangladesh only has 17.62 percent of its landmass covered by forests, which only points to the fact that it is near-impossible to achieve the government aim to stop deforestation by 2020 and have 20 percent of the landmass covered by forests by 2030 with 70 percent tree density as per the SDGs.
The obvious damage being done to our forests stems from a lack of sincere political will towards conservation efforts. The projects being carried out in the Sundarbans—recently declared a "World Heritage in Danger" by Unesco—are the best-known examples that constitute an utter neglect towards wildlife and biodiversity.   The report authors have called for the heads of state to come up with a new global agreement at the 75th UN General Assembly meeting next year, which we believe is timely as well as necessary. The world is in the midst of a climate emergency, and the Bangladesh government too should pay heed to conservationists and environmentalists and reverse the destructive steps being taken towards the environment.