Crack down on the syndicate of sand traders
Illegal sand extraction putting Bongshi river and nearby land at risk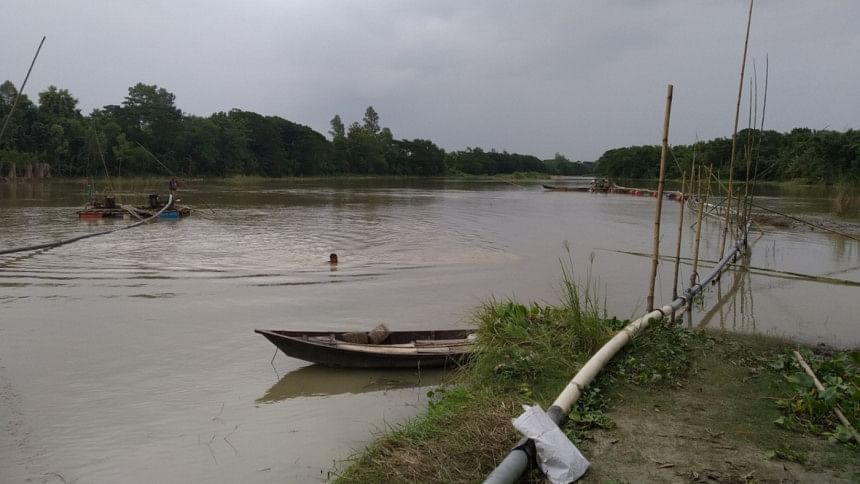 It is most unfortunate that despite there being strict laws against illegal sand-lifting from rivers, such practices continue unabated all across the country. As this daily reported on September 4, indiscriminate sand-lifting from the Bongshi river in Bashna area of Dhamrai upazila is posing a threat to nearby farmlands and homesteads and escalating the risk of river erosion. During a recent visit to the spot, our correspondent found that a syndicate of sand traders, led by a politically influential person, was extracting sand using two locally assembled dredging machines. According to the residents of the area, sand lifting at the spot has been going on for the last eight months.   
We often see the local administrations conducting mobile court drives against illegal dredging, but as soon as they leave the place, things go back to business as usual. In this particular case, although the Dhamrai upazila administration burned down the dredging machines used to lift sand a week before Eid-ul-Azha, the traders brought two new dredgers and resumed extraction within a short period of time. It is, therefore, clear that only conducting occasional drives won't stop such mindless practices.
What is most disturbing is that the sand traders often do this in collusion with the local administration and the law enforcers. As long as this continues, beyond the occasional spectacles of a clearance drive, it will be unreasonable to expect a genuine effort to crack down on the syndicates of sand traders and prevent sand-lifting once and for all. So, we urge the government to take strict legal action against those engaged in these mindless acts and their collaborators in the administration and the police force. We have ample laws to protect our rivers and those need to be implemented.