What I mean when I say "listening to books"
Listening is stretching beyond ourselves and another, and if we were to listen to printed words on paper as non-verbal cues of communication, it too emits lower frequencies that moves us, beyond the I, towards new modes of knowledge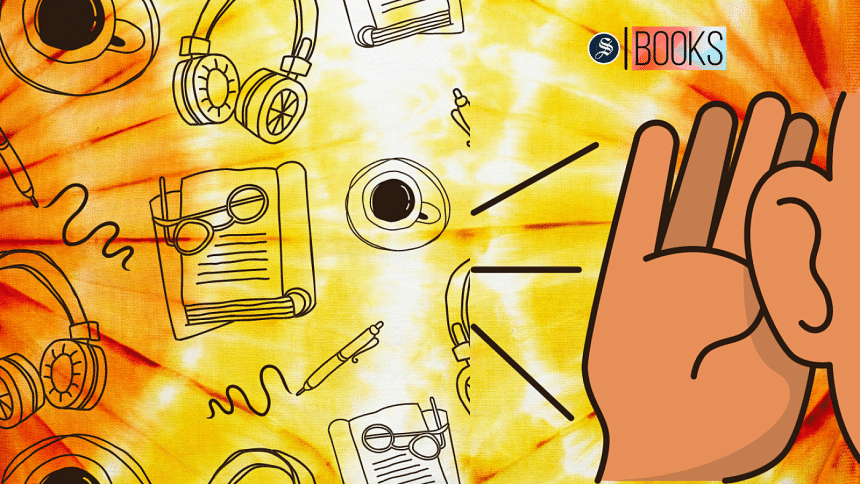 Each time I put forth my inquiry "how can we listen to books?", I am met with the obvious, "audio books". I then proceed to rephrase, pointing towards "listening to printed books", and in that second attempt, the reactions are confused gazes, indifferent shrugs, or just quiet reflection. 
The purpose of this vague anecdote is twofold: First, it shows that quiet is not silent; rather, our speechless cues are modality of sound of lower frequencies. Second, it shows how vision is central to our reading practices. Listening is stretching beyond ourselves and another, and if we were to listen to printed words on paper as non-verbal cues of communication, it too emits lower frequencies that moves us, beyond the I, towards new modes of knowledge. Thus, listening to books becomes radical, and an act of decentering not just the practice of reading, but our understanding as well.
We are living in a world of persistent noise, growing polarisation, and where the spoken word has significantly more reach than the written word. It is necessary to drown the incessant chatter, and to nurture a deeper, more meaningful practice of engaging with books. Scholars intrigued by the boundlessness and power of frequencies have recognised the productive possibilities of integrating sound theories with literary analysis, which also answers the call to that particular action. In their explorations, listening becomes synonymous to reading, and I too in my discussion use them interchangeably. So, what does it mean to listen to printed books? How might listening to books be integral to a democratic society? And most importantly, how might we be better listeners/readers to each other? 
I first stumbled upon sound theories in one of my Anthropology courses. Tina Campt's Listening to Images (Duke University Press, 2017) was on the suggested reading list and I devoured it with great relish. In her work, Campt explores the concept of listening as a way of engaging with and understanding the photographs of black subjects taken throughout the black diaspora. In other words, she listens to the photographs of quiet everyday people. 
As a student, and now a teacher of literature, I have pulled out my hair, bitten my nails to flesh, and bashed my head against the table trying to conceptualise the notion of "everyday people". Campt defines them in simplistic yet in the most comprehensive fashion: "People who are struggling to create possibilities within the constraints of everyday life." In other words, if photographs are considered to be a visual representation of our everyday life that have the potential to reveal more when we approach them with a receptive and attentive listening stance, the same must be possible when extended towards literature or books. This brings us back to my initial inquiry.
What I call listening to books, Nicole Furlonge defines as "listen in print"–as a way of interpreting texts that allow for new understandings to emerge when texts are approached through listening. In her book, Race Sounds: The Art of Listening in African American Literature (University Of Iowa Press, 2018), Furlonge emphasises the importance of attentive and critical listening as a means of understanding the complex messages and experiences conveyed through sounds in literature. By listening to the intricate sonic layers within African American literature, readers/listeners can gain a deeper appreciation for the rich cultural heritage and lived experiences of the African American community. 
In my opinion, to listen to books in print is an act of decolonising the practice of reading which situates the reader as white-centric. The transformation of a reader into an attentive listener is rooted in the awareness of not knowing. When we shed our preconceived understandings and listen intently to the voice on the page, we pave the way for better and humane realities for everyone. Listening does not entail absolute agreement; but rather, when the book is treated as a sonic site it resonates with the openness and possibilities of agreement.
Andrew Dobson in his book Listening for Democracy: Recognition, Representation, Reconciliation (Oxford University Press, 2014) stresses the importance of the balance between listening and speaking in democracy. He argues that there exist disagreements, and distrust between the dominant and the religious and ethnic minorities, and proposes listening as a solvent. In the opening lines of Mohsin Hamid's The Reluctant Fundamentalist (Harcourt, 2007), the speaker urges the reader to shift emphasis from the visual—the "beard" as the stereotypical reduction of Muslims in a post-9/11 climate—towards the aural, and to listen to the speaker with sonic attentiveness. Thus, to listen to the reluctant fundamentalist means to give space to the Muslim subject and to be compassionate towards the possibility of understanding.
Then there are subjects who are quiet, like H.G. Wells' The Invisible Man (Insight Comics, 1897), or Monica Ali's Nazneen in the Brick Lane (Scribner, 2003). We often ignore silences, the quiet passivity of a book or the character within. But a listener recognises that silence is the most human noise. Listening does not only mean to hear through the lidless aural cavity, but through the fingertips as it flips through the pages, through the body where it rests, and through the vibrations in our heart. It is these silences on page that a listener attempts to amplify through deeper engagement and to listen for, towards, and alongside someone.
If I may propose a canon of sound-literature studies, another important text is Dylan Robinson's Hungry Listening: Resonant Theory for Indigenous Sound Studies (University of Minnesota Press, 2020). Hungry listening is characterised by a willingness to listen deeply, attentively, and respectfully to Indigenous voices and sounds. It involves acknowledging and challenging the power dynamics that shape sonic encounters, fostering ethical listening practices, and working towards decolonization and reconciliation. "Listening is a relational act, an opportunity to encounter one another in shared space." This act of encountering one another creates the possibility of bridging divides and fostering dialogue rooted in respect and openness.
In Their Eyes Were Watching God (first published 1937), Zora Neale Hurston states "Pheoby's hungry listening helped Janie to tell her story.", and in a similar fashion our transformed reading practice as hungry listeners, will help amplify the marginalised voices represented in books. We always associate listening as passive, but to transform into a listener of books we must be hungry. Hunger that is not intuitive; but rather, a hunger that has been developed through deep retrospection. Hungry to absorb knowledge, and to understand the world around us.
Listening to books is not one thing; rather it is a set of practices. Listening is a way of activating one's being in this world. To transform ourselves into listeners from readers we must shed skin, and progress from the origins of not knowing. Listening is to give space to the voice on the page, and to amplify the human noise of silence. In a way, to develop ourselves into listeners of books will allow us to formulate a larger "we", a better audience for each other.
Labib Mahmud is an Adjunct Lecturer at the Department of English and Modern Languages, North South University.