The rebels of Madhusudan
Decoding 'Birangona Kabyo' and its relevance in today's world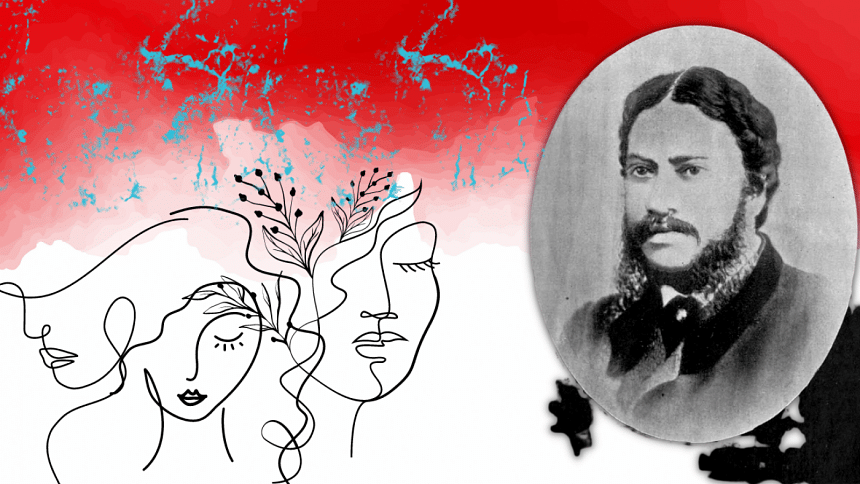 When Arjun, one of the five Pandava brothers of Mahabharata, kills Prabir, the adolescent prince of the Maheshwaripuri kingdom in a battle, his father King Neeldhaja makes a friendly pact with Arjun instead of waging a war against him to avenge the killing of his son. Jana, the queen of Neeldhaja and mother of Prabir, is both mortified and enraged by this. In a letter addressed to her husband, Jana expresses her deep contempt about the whole situation in poignant language and holds Neeldhaja accountable for his inability to do what was required of him.  
Jana's letter to her husband Neeldhaja is probably the first of its kind in Bangla literature. Not just because it is the first Bangla poem to be written in the form of a letter i.e. an epistolary poem, but because it places a female figure with a rebellious demeanor as the protagonist of a historical narrative. This makes it stand out in the annals of Bangla poetry. "Neeldhajar proti Jana" (To Neeldhaja from Jana) is not a real, but a hypothetical epistolary poem penned by Michael Madhusudan Dutt, the prolific poet and litterateur duly credited for revolutionizing Bangla poetry by redeeming it from the middle-age literary shackles and elevating it to the modern domain through the introduction of a diversity of contents, structures, and rhythms. 
Madhusudan is also recognized for being the first Bengali litterateur for stirring up literary and social revolution through his works. And of all his works, Birangona Kabyo (1861) has to be somewhere on top of the list.
Birangona Kabyo is the first epistolary poetry collection of Bangla literature. Along with "To Neeldhaja from Jana", it contains 10 more disruptive epistolary poems, for which Madhusudan takes inspiration and makes great use of the richness and diversity of Indian mythological elements before striping off the orthodox patriarchal veneer from them. He then distills everyday human emotions like love, grief, anger, affection, empathy, shame, lust, etc. out of those verbose accounts and does a transcendental job of lyrically retelling the traditional narratives from a humane perspective. The poem "To Shom from Tara" is an excellent example of this.
Shom (Chandra) is an apprentice at the asylum of Brihashpati (Jupiter)—the lord of all deities—where he has come to receive celestial knowledge, but eventually gets mesmerized by the beauty of Brihashpati's youthful wife, Tara. Contrary to the prevalent narrative where Shom unethically seduces Tara, in Madhusudan's retelling ain Birangona Kabyo, it is Tara who takes the initiative to express her deep desire to be unified with Shom. Tara is not without guilt for betraying her elderly husband, but that does not stop her from voicing her urge to materialize her forbidden love.
In this masterpiece, when Shakuntala or Shurpanakha or Draupadi write to Dushmanta or Lakshmana or Arjun, they are not writing as deities or mythological figures, but as flesh-and-blood human beings, rendering these letters replete with all kinds of emotions. In the mythological accounts, these female characters are divine and godlike. But the Rukmini or the Kaikeyi or the Urvashi of Madhusudan are not just all about virtues, they have their vices as well, which make them more humane and relatable to the contemporary reader.
The Birangonas or heroines of Madhusudan are constantly burdened with internal conflicts: their desire generates guilt, their grief turns to anger and their affection leads them to a sense of abandonment. Eventually, Madhusudan lets them channel these juxtaposed emotions through hypothetically written poems addressed to their loved ones, who have let them down one way or another.
Madhusudan's heroines do not fall into the template of chastity, cultural compliance, or historical correctness—they are iconoclasts who challenge the societal perception that women should fit their emotions into impermeable boxes and not let anything out of it. Madhusudan infused spirited manifestations of freedom and individuality within the molds of all the protagonists of Birangona Kabyo—which was unconventional back in the 1860s in a colonized India, both in the literary and realistic scheme of things. 
Although Birangona Kabyo is structurally and thematically inspired by the Roman poet Ovid's epistolary poetry collection Heroides, Madhusudan had more mythological resources than Ovid at his disposal and many large-scale social problems to address creatively. Birangona Kabyo was published in the spring of 1861 (Falgun 1268). This was a time of substantial social reforms in the Indian subcontinent. Banning of the Satidah practice, the introduction of the Hindu Widows' Remarriage Act, mainstreaming of female education—all these reforms were attempts to emancipate Indian women and normalize their identity as human beings first and women afterwards. People needed to realize that subjugating women in the real-life socio-economic sphere stands in complete contrast to worshipping them as Goddesses or deities. 
Through his 11 epistolary poems, Madhusudan wanted to preach this exact idea: get rid of the 'Showcasing Women as Goddesses' mindset, learn to value their humane emotions first. In today's world, particularly in third-world countries where female deities are worshipped ubiquitously but the tentacles of patriarchy still largely ensnare women's freedom of opinion and expression, the underlying ideas of Birangona Kabyo are astonishingly relevant.
Ishtiaq Ahmed believes that reading books, travelling to places, and meeting new people give him the privilege of living many lives in one lifetime. Find him @ishtiaq_ahmed_fahim on Instagram.