DHAKA LIT FEST 2023 HIGHLIGHTS
Goddesses of Bengal: The living myth of Devi Manasa, Bon Bibi and more
Kaiser Haq and Rachel McDermott with Shamsad Mortuza on January 6, Day 2 of the Dhaka Lit Fest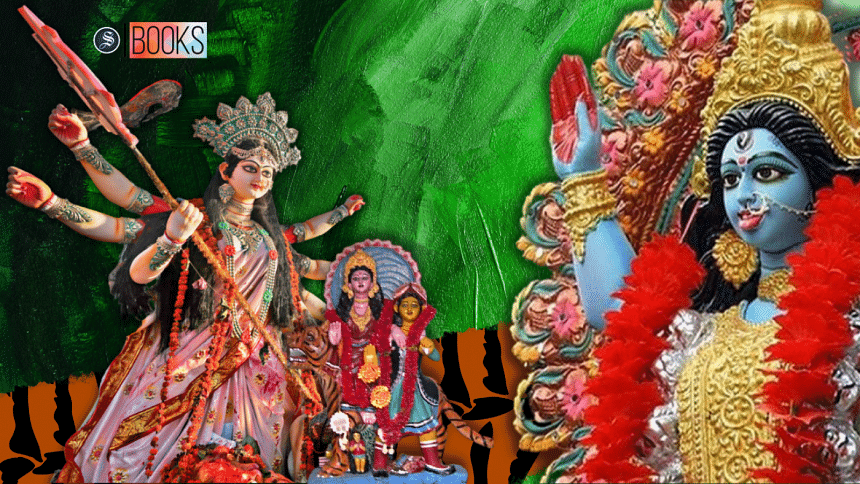 Many ancient Bengali tales and folklores have revolved around the archetypes of divine feminine energies. These energies are represented as different forms of goddesses. Apart from their theological importance, goddesses have easily accessible mythical archetypes. Their stories of evolution, interaction and emotional entanglement with human beings have continued to be areas of great interest to people.
The cosmology of goddesses in the orient versus the occident was a topic of discussion in 'Goddesses of Bengal', a session with Kaiser Haq, poet, critic, translator, writer and Professor of English at ULAB, and Rachel McDermott, Professor of Asian and Middle Eastern Cultures at Columbia University, moderated by Shamsad Mortuza, educator, poet, translator, columnist and Professor of English at the University of Dhaka.
Professor McDermott finds great interest in the relationship of a community to their goddess, be it Durga, Kali or Jagatdhatri. "You can ask for her refuge, you can express your anger, you can complain about your frustrations—from getting your son into medical school to attaining Moksha, goddesses are always there for you."
There is a sort of reimagining of the meaning of their image and different portrayals in modern socio political situations. Remythologizing is bound to happen for living cultures. Misappropriation can come along with these situations. The reason being, stories are powerful; stories mean something to people. One story can have multiple interpretations based on the onlookers' motive and projection.
From a religious aspect, South Asian Hindus have been worshipping goddesses since the beginning of Sanskrit cosmopolis. Additionally, everyone in the South Asian region and beyond are connected to the myths of these goddesses. "Myths are still a living part of the culture here. Stories of the folk goddesses are so relevant that they have become a part of popular culture as films, songs, dramas, etc. One good example is the myth of Behula and Lakhindar from Manasamangal", said Professor Kaiser Haq, who has retold the myth of the Manasa goddess in prose form in The Triumph of the Snake Goddess (Harvard University Press, 2015).
Every monsoon season in Mymensingh, a folk theatre troupe performs Manasamangal, Haq points out. They go seven bends in the nearby river as part of the Mangal Kavya ritual. What is most interesting is that all the performers there are Muslims and two among them claim to be Hajis. This is almost a kind of a public ceremony where the audience and performers are deeply connected with each other through the legend of Manasa. Unfortunately, modern media has replaced the intimacy of these performances, a terrain previously occupied by folk cultural practitioners. Haq added, "These folklores and performative arts can only be imagined in their truest forms at a village setting."
Kaiser Haq further discussed the legend of Manasamangal, "The deities of the Mangal Kavyas have a more folk background. They have human attributes of greed, lust, jealousy, deceit and easily bend the rules of conduct as opposed to the traditional Aryan gods."
Shiva, for instance, as described in the Brahmin tradition, is a great ascetic, yogi and master of fertility. In Mangal Kavya, however, Shiva is depicted as "a bhang addict and a lecher with multiple dalliances."
"Folk literature has a typical way of setting up the traditional gods and goddesses. The North Indian god, Shiva is very different from the Shiva in Bengali folklores." Manasa, the snake goddess, was born out of Shiva's semen unintentionally and thus, not readily recognized as a goddess. Manasa is known to be the goddess for low caste Hindus. Shaivism is generally associated with the upper class Hindus. Chand Sadagar from Manasamangal is a representative of the upper class. He was a devotee of Shiva and the tragic hero of Mangal Kavya. Representation of these deities through folklores is a way of marrying the Brahmin tradition with the indigenous folk tradition. And Manasamangal is not merely a folklore; it is a sociological drama, a class conflict is going on here.
"For Muslim Bengalis, the pujas are just colourful events", said Haq. But the regional myths of these goddesses are meaningful to many non-Hindus. The myth of Bonbibi and Dakshin Roy is very popular in the Sundarbans area. Amitav Ghosh has written about the legend of Bonbibi in his novel, Gun Island and his verse retelling of the folk epic in Junglenama. Shamsad Mortuza pointed out that Bonbibi is identified as the prophet's daughter, Fatima by many Muslims of the Sundarbans region. To which Kaiser Haq responded, "People believe in the regional myths irrespective of their religion. For people living in Sundarbans, Bonbibi is real. Paying a visit to Bonbibi's temple and asking for her blessings before entering the forest is a must for them."
"The anthropomorphism of the goddess is actually in some sense a justification for or a mirroring of or an opportunity to experience the feelings that people feel about their own daughters", McDermott pointed out while discussing the history of the Durga Puja, which originated in the 18th century around the story of a little girl named Uma, who got married to Shiva and left for Kailash. Every year, Uma comes back to her parents' home for three days. It also became a norm at around that time for married women to return to their parents' homes during Durga puja. "But the remythologizing of goddesses happens over time, especially if you think about how they are used as commentary in modern politics, political cartoons, social situations, etc."
However, "there is absolutely no necessary relationship between the worship of goddesses and the treatment of women", she said. "Think of Italy, which has lots of virgin Marys and lots of machismo. Just because one reveres a goddess in the heavens doesn't necessarily mean that you treat women well. It can help, but there are field studies that show both sides of this."
Maliha Huq teaches English at DPS STS School, Dhaka.