The bookstore in the park: Bookworm opens in Gulshan 2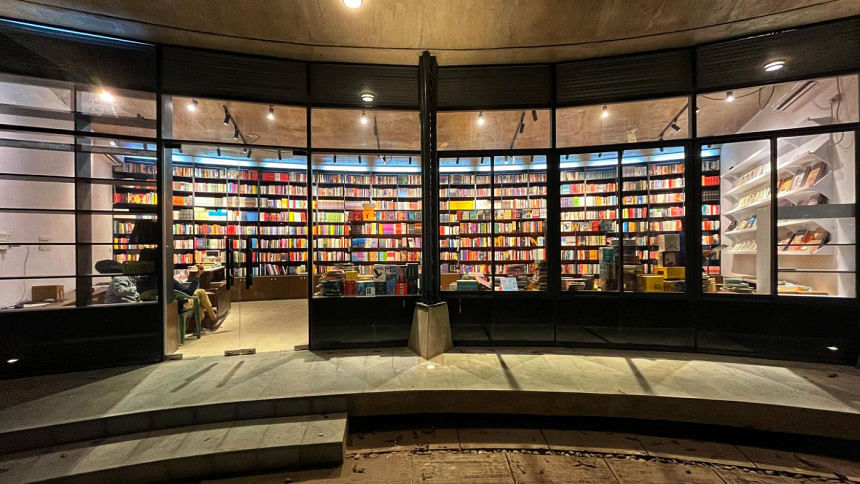 After 30 years of operating on the Old Airport Road, popular bookstore Bookworm Bangladesh has opened in the capital's Justice Shahabuddin Park, Gulshan 2. 
Set up near the Road 83 entrance of the park, right beside the mosque, the bookshop's new set up is quite different from its previously cozy, narrow book aisles. An open, circular garden with stone seating flanks the entrance, which leads up to the building with its glass walls. There are children's books and coffee table books lining the outer walls. The open walking space is divided by three rows of shelves bearing Bookworm's offerings in fiction, nonfiction and poetry from South Asia and beyond. 
"The new set up makes it easier to browse the books", said Sudeep Chakravarti, author and Visiting Professor of South Asian Studies at ULAB. His book, Plassey: The Battle that Changed the Course of Indian History (Aleph Book Company, 2020) was the first book to be sold upon the store's reopening in its new location. 
Children and families were seen flocking to the store after it opened on Saturday; joggers seemed to take a break from their walk through the park to look at books. Many visitors were walking over from having grabbed coffee from North End, which has also recently opened inside the park. For the last three weeks, the park has also held book launches by University Press Limited and by cricketer Yousuf Rahman in conversation with Sir Gordon Greenidge for the book Eye On The Ball. UPL's books included Border Crossings by Mohammad Tufael Chowdhury and Staying the Course: The Journey of a Bengal Civilian by Geof Wood. 
While plans for upcoming events are underway, the store is waiting for new shipments of books. 
"The books launched and discussed at the Dhaka Lit Fest are on their way", store owner Amina Rahman informed Daily Star Books. "Prince Harry's memoir, Spare, Wasim Akram's memoir, Sultan, Chitra Banerjee Divakaruni's novel, Independence, and Asma Khan's cookbook, Ammu are also coming in." 
Among the current books in stock is Mya-Rose Craig's Birdgirl, a visually stunning memoir on bird-watching by the 20-year-old British-Bangladeshi ornithologist, environmentalist and diversity activist. The store's shelves also contain Plaantik: An Anthology of Bangladesh's Football Culture, Yousuf Rahman's Eye on the Ball, James L. Gelvin's The Modern Middle East: A History, a large collection of Colleen Hoover and Harry Potter titles, and more.