Blood, sweat, and football
'Plaantik: An Anthology of Bangladesh's Football Culture', by The Mighty Press (November 24, 2022)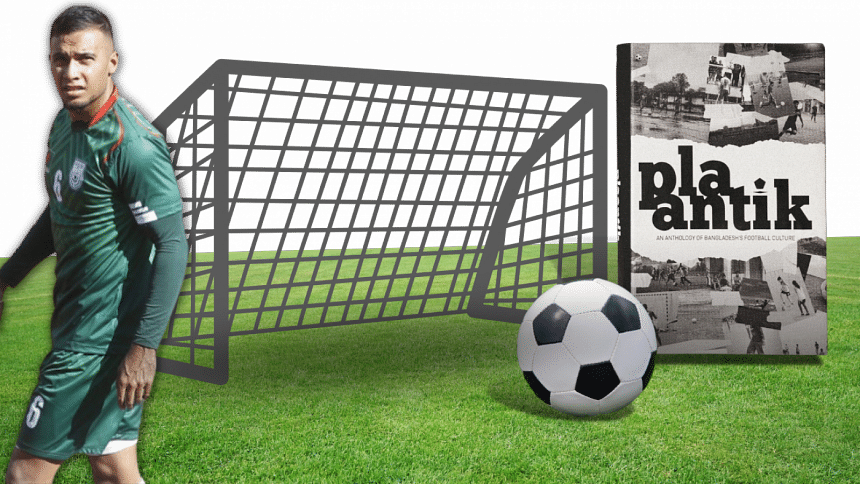 Plaantik: An Anthology of Bangladesh's Football Culture, published by The Mighty Press today (November 24) in celebration of the 2022 FIFA World Cup Season, is a collection of essays reflecting Bangladesh's passion for football. In this excerpt from the book, titled "Blood", Jamal Bhuiyan, captain of Bangladesh's men's national football team, reflects on his experience of getting shot in Copenhagen, and how he eventually returned to the pitch.
I was shot four times. 
When you hear about a story of gun violence in the news, you hardly ever think about the details. You don't think about how loud a gunshot can get. You don't think about the aftermath of it all or how badly it would hurt if you get shot. Or how all your senses go numb as you try and run faster than the bullet. 
I realise this is a very grim start to a football story. But life isn't  always rosy—at least it hasn't been for me. 
I was 16 at the time. A young boy ready to take on the world, ready to take on any challenge. Just a few months before the incident, I had signed my first  professional contract with FC Copenhagen and I quickly established myself as one of the standout players for their youth team. Maybe that's why I cried as much as I did for as long as I did lying on that hospital bed. Life had been promising me the world at the time. 
Every Friday, my friends and I would go for indoor football in one of our local grounds. I would play at every chance I got—before training, after school, with strangers, with friends. But this one Friday was unlike any other. I was with my friends in my neighbourhood, and we were getting ready to go to the ground. All of a sudden, a guy showed up and told us to leave the premises immediately. Leave? From our own hood? Not a chance. Maybe it was our teenage aggression that didn't  listen, or just poor luck, because we stayed. And within a  minute, even before we could realise what was happening, there were gunshots. We got caught in the middle of a gang war.
I loved Copenhagen, but this was the side of the city that you didn't want any part of. Some of my friends got shot too that day. I still don't know how exactly I survived after getting shot on the elbow, and thrice on my ribs with one bullet narrowly missing my heart. All I remember was panic and a lot of red. I was in a coma for two days and the next thing I remember is spending four excruciating months on a hospital bed. 
The doctors told me that I should forget about playing football. Their report said I was 35% disabled because of the damage caused by those four bullets. Three of my fingers on my right hand don't function even to this day. In fact, I don't feel anything if someone touches my right arm as well. I was told to focus on my studies and think of another career path. 
But I just had one thing on my mind: I was going to be back on the pitch again and prove everyone wrong. 
Prior to FC Copenhagen, I was at Brondby playing for their youth team. I wasn't a regular starting XI player at the time, but I knew I had to play more often in order to develop my  game. This one season, Brondby made it to the final and I came off the bench to score the only goal of the match. I thought I had broken into the first XI for sure with that goal, but I still wasn't getting the chance to play. So I decided to talk to my manager to understand what was happening. I told him that I needed to play regularly or else I would have to look for a new club. When he asked me where I was going to go instead, I said FC Copenhagen. To this day, I remember his reaction clearly. He laughed at me and told me that there was no way they'd take me because FC Copenhagen were the best team in the country. 
As soon as he said that, I made up my mind. In my head I was thinking, "This dude doesn't even believe in me, so why should I even be here and play for him?"
Two days later, I was at FC Copenhagen for a trial. I must  have impressed them, because after a few days, they offered me my first professional contract which I was more than happy to decorate with my signature. 
I was killing it at FC Copenhagen. The team was great, and I was starting more frequently than I was before. Michael Laudrup's son was in our team, and we played in the same position, but I'd get the nod to start more often than not. I feel I was on the verge of breaking into the first team when the shooting happened. 
Lying on that hospital bed and staring at the white ceiling, I had to be practical and think of back-up options but as the days went by, the fire in my belly kept getting stronger. That's why I went back to school and finished my education while still giving it my all to become a professional footballer. I did fight back to put myself in a position to play again and  eventually, I made my senior debut at a Danish club called Hellerup IK while also teaching History and English at a high  school at the time. I was finally back on the pitch and playing professionally. 
This text has been condensed for brevity. Plaantik: An Anthology of Bangladesh's Football Culture is available for sale at plaantik.com/book.