BOOK REVIEW: NONFICTION
A reliable, much needed text on corporate tax law in Bangladesh by Barrister Junayed A. Chowdhury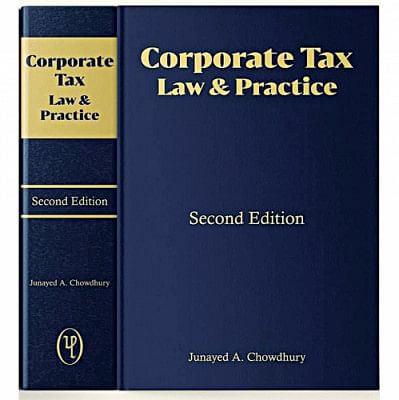 Complexity in any area of law leads to specialization. But it also comes with the risk of tunnel vision, of failing to visualize the bigger picture. Some of the most extraordinary pieces of writing in the legal field combine deep understanding of an area of law and analysis on broader aspects relating to, and associated with, such areas. In that sense, Corporate Tax Law & Practice, authored by Junayed A. Chowdhury, Barrister (Lincoln's Inn) and Advocate of the Supreme Court of Bangladesh, and published by the University Press Limited, is a great example of such an extraordinary piece.
The book's 15 chapters can be divided into four essential parts. The first part concisely highlights the basic concepts of taxation in Bangladesh and the Income Tax Ordinance 1984. The next part explains in great detail concepts like total income, computation, aggregation, set-off and carry forward of losses, expenses and exemptions, tax deductions and withholding at source. The third part deals with taxation of corporate and financial transactions, such as merger and amalgamation, borrowing and fund raising etc. The fourth and last part deals with tax administration such as filing and assessment. 
The book's analytical architecture has three dimensions. Firstly, the author explains relevant provisions of the Ordinance from a practical standpoint with lucid commentary, hypothetical examples and calculations, and extremely useful flow charts, such as those seen in chapter 15. Secondly, the book contains critical analysis of various issues in the Ordinance, particularly where the provisions lack clarity or are inconsistent with global standards. In this regard, the author's criticisms are direct and unreserved. For example, in the analysis of the new section 16F of the Ordinance on taxation of stock dividend in chapter 4, the author brilliantly explains the legal distinction between two interchangeable concepts of "stock dividend" and "bonus shares", and the probable consequences stemming from such distinction. The author also makes helpful recommendations on areas where the Ordinance does not contain any tax provision dealing with particular situations or transactions in Bangladesh.
 Thirdly, the author incorporates comprehensive materials and jurisprudence of the courts and tribunals of Bangladesh and offers comparative analysis of those with provisions and decisions from different jurisdictions including Australia, Canada, India, Pakistan, Singapore, South Africa UK, and USA. The author has skillfully compared the relevant provisions of the Ordinance with international treaties and documents, including the Double Taxation Avoidance Agreements (DTAA) executed by Bangladesh with other countries and the OECD Model Tax Convention. The international dimension of the book also touches upon the impact of Covid-19 on the question of a person's residency in the context of the Ordinance and DTAAs.
Since the early days of my legal career, I have strongly felt that there is a dearth of quality law books written by Bangladeshi legal practitioners. There are few law books which, like the  ones authored by late Mahmudul Islam, former Attorney General of Bangladesh, Senior Advocate, have displayed outstanding qualities. Junayed A. Chowdhury, who has grown and excelled in Bangladesh as a notable legal practitioner and advocate, has broken away from that sad state of affairs and has gifted us with our very own source of high quality legal text, in which we, as fellow legal practitioners, can take immense pride. I am hopeful that such scholarly work will also inspire the next generation of lawyers to write books, of this magnitude and quality, on different areas of law, which eventually will lead to the enrichment of legal jurisprudence in Bangladesh.
Barrister A.S.A Bari is Managing Partner, A.S & Associates Advocate, Supreme Court of Bangladesh Barrister.