Rabindranath's song-lyrics in translation by Professor Fakrul Alam
'Gitabitan: Selected Song-Lyrics of Rabindranath Tagore', Professor Fakrul Alam's new book, has recently been published by Dhaka's Journeyman Books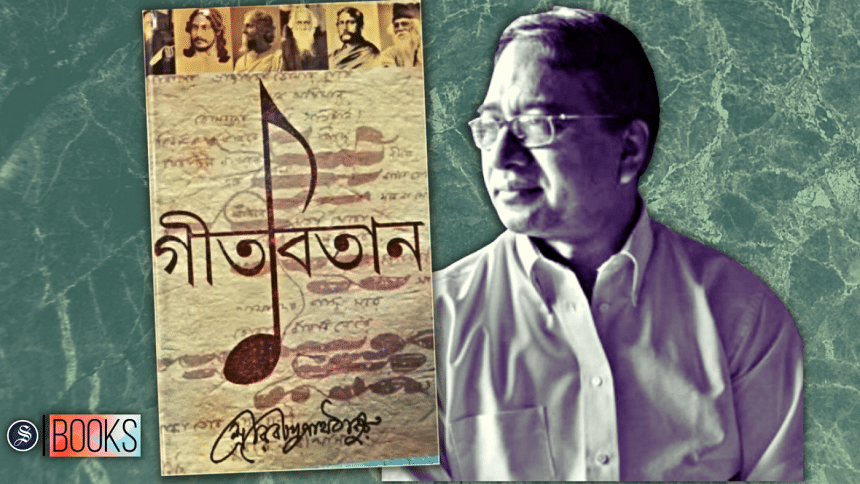 Gitabitan: Selected Song-Lyrics of Rabindranath Tagore, Professor Fakrul Alam's new book, has recently been published by Dhaka's Journeyman Books.
Rabindranath Tagore's Gitabitan contains all 2,232 songs written by the Nobel Prize winning poet and polymath, from which Professor Fakrul Alam curated and translated a selection that has now been published in his new book. A few of the translations included in this collection have previously been published in the literary pages of newspapers, such as The Daily Star's Star Literature and Arts and Letters, while most are being published in print for the first time.
In conversation with Star Books and Literature, Professor Alam commented on the translation process: "Over the last seven or eight years I've been working steadily on this, usually on weekends, translating a song, sometimes requested by former students in a Facebook group dedicated to translating Tagore's songs." 
An essay published in Borderless journal titled, "My Favourite Book", provides some further insight into why the translator might have chosen this book as his latest project: "Having translated Jibanananda Das—surely the greatest modern Bengali poet—I felt I had to try to translate Rabindranath Tagore's poetry—the greatest poet and literary personality Bengal has produced…And this is how I came to my favourite book of the last decade or so—Tagore's Gitabitan. Truly, there is a magical quality in the songs collected in my favourite book of this time—Tagore's Gitabitan…It is a book that has kindled the imagination of quite a few people—singers, musicians and translators—over eighty years now."
Professor Alam's translations follow the original thematic clusters in Rabindranath's Gitabitan. Reflecting Rabindranath's own categorisations, the translated song-lyrics include the six seasons (Boisakh, Borsha, Shorot, Hemonto, Sheet, Boshonto), love and nature (Prem O Prokriti), and songs from musicals and dance-dramas (Gitinatto O Nrittonatto). A miscellany of translated songs has also been included under categories such as Bichitro (Songs for various occasions) and Porishishto (Left Overs). The selection in Professor Alam's translations covers a wide range of song-lyrics that showcases not only the versatility of Rabindranath Tagore's poetry and songwriting, but also Professor Alam's prowess as a translator.
When asked about how he went about the curation process, in another interview published in Borderless journal, the Bangla Academy Award winning translator elaborated: "What was the basis of my selections? Most important was my love of them…Over the years, some songs by a few singers became so much a part of me that I began translating them. As was the case with my Jibanananda Das translations, you could say that translation was an act of homage as well as a way of coming really close to what you love…Once again, translation as an act of possession!"
Professor Alam also spoke about the experience of translating a literary giant such as Rabindranath Tagore, no doubt a daunting task for even the most seasoned translators: "I had used as an epigraph to my Berkeley lecture the opening line of a Rabindranath song-lyric where the poet expresses his delight at catching 'uncatchable loveliness in rhyme's bids'; that is exactly how a translator feels when she or he has captured the essence of a Rabindranath song-lyric, although, and of course, I'm always aware that there is a lot lost —after all, the original composition's melodic elements can't be captured fully in translation. But if the best of the original can be approximated surely the translated poem will shine in a new context."
Gitabitan: Selected Song-Lyrics of Rabindranath Tagore, containing over 300 Tagore song-lyrics translated into English, is now available for purchase in bookstores and on online websites.