Journalists need regular salaries, institutional support, says Nadeem Qadir at book launch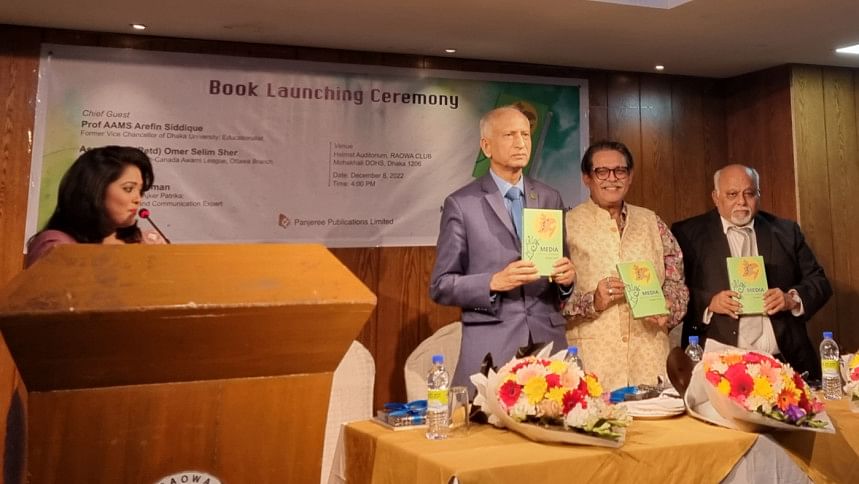 "I'm trying to draw the attention of everybody—policy makers, heads of media houses, institutional leaders, those who are setting up our wage board", said prominent journalist Nadeem Qadir while launching his new book, Media: A Silent Crisis in Bangladesh (Panjeree Publications, December 2022). 
Launched on December 8 at the capital's RAOWA Club, the book was unveiled by the author and the event's chief guest, AAMS Arefin Siddique, former Vice Chancellor of University of Dhaka, and guest of honour Associate Professor (Retd) Omer Selim Sher, President of the Bangladesh-Canada Awami League's Ottawa Branch. 
Speeches were delivered by the book's editor, Syed-Ul-Alam Kajol, by Professor Golam Rahman, also a guest of honour, editor of Ajker Patrika and specialist of media and mass communication, and by Afsan Chowdhury, Bangla Academy Award-winning researcher, columnist and journalist, among other notable media personalities. 
Among Bangladesh's leading journalists—formerly Press Minister and a journalist for AFP, and the first Bangladeshi diplomat to become a member of the Diplomatic Press Attaches' Association in London—Nadeem Qadir, in his book, curates essays and commentary on the struggles faced by media workers in Bangladesh.
These experiences include poor and irregular pay and lack of organisational support, issues that discourage many professionals from continuing in the industry. 
"I call the media a crisis in the book's title because we are in a crisis. We [journalists] write because we believe in a cause. But we get into trouble when we report on reality, and in those situations our institutions do not stand behind our journalists. We don't have financial security. I myself have had a bad experience with this over the past 3 years. We need to work on these areas."
Qadir's book includes insight on the origins and evolution of journalism in Bangladesh, firsthand experiences of journalists who have struggled and resigned from large media houses, research and case studies, and proposed solutions.  
"It also talks about the entry of corporatism in Bangladesh journalism", the author added. "I have seen what happens there and I don't think that's professionalism." 
The discussion unpacked other areas of the media crisis in Bangladesh. 
Farid Hossain, former Press Minister at Bangladesh High Commission in New Delhi and former Dhaka Bureau Chief of Associated Press (AP), currently the Advisory Editor of UNB, spoke about the sustainability and credibility of journalism in an age of digital competition and the huge volume of media platforms, many of which are subsidised by corporate houses. 
Senior journalist Afsan Chowdhury spoke about the significance of the digital landscape. 
"Social media is our biggest reality", he said. "A journalist cannot survive without learning how to stay updated with social media. How many digital views a media item gets is most significant today. It is very liberating to see that a writer today can also be an editor." 
The New York Times's Bangladeshi correspondent Julfikar Ali Manik, Major General Abul Kalam Mohammad Humayun Kabir, and Liberation War researcher Haroon Habib also exchanged comments about the book. The event was concluded with a speech from the Executive Publication Officer of Panjeree Publications, Majumder Biplob.