BOOK REVIEW: NONFICTION
Andy Warhol & Truman Capote talk out their anxieties
'WarholCapote' by Rob Roth (Simon & Schuster, 2022)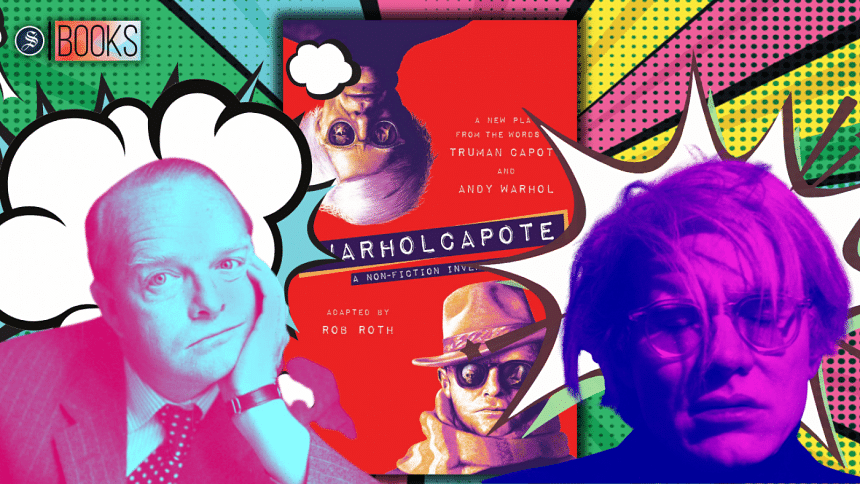 Rob Roth's play—he terms it a "nonfiction invention,"—is made out of real words and imagined situations. He takes two of the late 20th century's premier American artists of modern fame and builds a conversation—occasionally hilarious but often mundane—out of their real, taped conversations. It is a clear contrast to most works of this nature, which tend to go the traditional route of describing generally true stories with certain liberties in forms, sensations, affecting observations, authorial retorts, and the dealings and dialogues of the characters within. 
Andy Warhol, painter, film director, one-time band manager of The Velvet Underground, but mostly known as the poster boy of the Pop Art movement—reached out to the writer Truman Capote in 1978 for a collaboration. He had been an admirer of the author, four years his senior and famous before him, with whom he found solace in their shared perils of the queer American boyhood. He suggested they tape their conversations on his Sony Walkman, to which Capote agrees. The collaboration never comes to fruition, and the cassette recordings (59 of them, 90 minutes each) are sent off to the Warhol Museum, where they stood collecting dust. 
These conversations, now digitised and transcribed, lend the words to Rob Roth's WarholCapote (Simon & Schuster, 2022). The result is decidedly mixed. Both figures appear to make uninteresting small-talk as we, the readers and viewers, are invited to awe at some supposed meeting of great minds. The effect does not last for long, though. Their heartaches on the subject of fame and performance do not move the reader as their own books and art do. There are, of course, instances when both Warhol and Capote (more so) deliver lines that re-establish their literary brilliance.
When Warhol suggests his idea for a "play about real people", Truman becomes excited. "See, that's the kind of thing I want to do", he says, "Reality and art intertwined to the point that there is no identifiable area of demarcation". It is interesting to see that decades before personalities like Geoff Dyer were harping about how cool fiction bleeding into nonfiction is, and years before auto-fiction began to infiltrate into the American literary consciousness, Capote was concerned about the avenues that nonfiction brought—a thought that perhaps was most visible in his spectacular 1965 novel In Cold Blood, a "nonfiction" account of the murders of four family members in small town Kansas. 
Both men in the play seem exhausted of fame. They are frantic about finding ways to deal and come to terms with it, yet they are also seemingly repulsed by those who do not possess it. When Truman talks about being at a program where he was the most recognisable figure, Warhol suggests, "You should have worn a wig. Have you ever seen Jackie with a wig on, somewhere else looking different?" Capote replies, "No. But I've always said that Jackie Kennedy was the world's greatest female impersonator". 
Fame becomes torment. So much so that Capote confesses to not reading any of his mail. Yet it's Warhol, of course, who goes through the worst of it, akin to Jackie. The ultimate nightmare: an assassination attempt. He talks about wanting to be around creative people, "…all these crazy kids were imaginative. So anybody that was peculiar, you know, we would have them around. Then I was shot. I was shot by Valerie Solanas at the Factory in '68…."
He stopped seeing "creepy people" afterwards. This, Warhol laments, has had the side-effect of him being surrounded by less gifted personalities. 
The few interesting anecdotes, and the fewer memorable lines aside, Rob Roth's play is for the most part uneventful, chipping away the charm and mystery of its two personalities through conversations that paint them as little more than dull patricians, talking about the film-stars they play around with (Humphrey Bogart) or the lewd things they will go about doing for the sake of art (urinating on paintings). 
It is not difficult, then, to sympathise with Warhol when he remarks at the end, "God. It's too hard to think about things. I think people should think less anyway".
Shahriar Shaams has written & translated for SUSPECT, Adda, Six Seasons Review, Arts & Letters, and Jamini. Find him on twitter @shahriarshaams.