Isolation is personal and political in Olivia Laing's 'The Lonely City'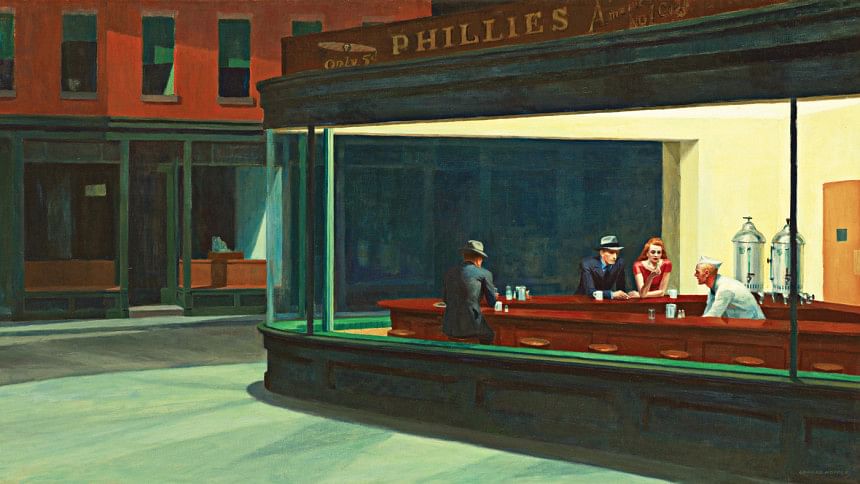 Ever since social isolation began in an attempt to contain the Corona virus, the internet has flooded with references to the American realist painter Edward Hopper, especially his iconic work, 'Nighthawks' (1942). The altered version removed the four gloomy looking customers and the server from the diner in the original—alluding to the closing of public spaces like bars or restaurants, preventing people from mingling during the pandemic. Anyone familiar with the original would know, none of these estranged people were there socialising; they were suspended in a trance of urban loneliness—times in which we live now.
I was first introduced to Hopper by Olivia Laing's fascinating book, The Lonely City: Adventures in the Art of Being Alone (2016), a haunting exploration of the writer's loneliness while stranded in a new city. It had only been a couple of years then since I had moved to Dhaka. The wound that the cold and unflinching urban air inflicts on one by isolating them—physically and emotionally—draining intimacy and life force, was still fresh in me when I found Laing's book. Reading it was being seen and acknowledged in a way that felt cathartic.
Laing attempted to find her agonies reflected in artists who have lived with extreme isolation in the city. Despite being a bit heavy with references to artworks and artists, The Lonely City is quite readable even without much prior knowledge. Laing shows great skill in correlating the artists' journeys and the underlying pathognomy of loneliness. It could easily have been a rigorous, jargon-filled flexing of the writer's analytical prowess, but instead Laing has a tender, empathetic book focusing on the undeniable perils of life.
Hopper's haunting—you might even say even voyeuristic—paintings discussed in the book showcase mostly isolated characters caught by the gaze of the passer-by ('Automat' or 'Room in New York'). I feel their loneliness is different than the confinement faced during this pandemic. Unlike people who hope to return to their previous lives after the lockdown is lifted, someone from a Hopper painting does not see a solution to their constricting state.
Hopper's works have a way of peeping at the suffocating, lonely personal spaces of his subjects; there is a greater sense of alienation in being treated as a social outcast when the society and the state dehumanise the very essence of who you are. Laing similarly portrays the adversarial lives of Andy Warhol, David Wojnarowicz, Peter Hujar, and Klaus Nomi as openly gay artists in New York. Trauma created an emotional deprivation that deeply affected their works and lives, caused by the intense homophobia during the AIDS epidemic in New York. These men, their friends, and loved ones would not only be left to die, they would be utterly dehumanised. Andy Warhol, whose name is synonymous with pop-art, would be ridiculed by Bob Dylan in his song, 'Like a Rolling Stone', have his art rejected from galleries for being "too gay", and be bullied in high school for his accented English as the child of immigrant parents. He would go on to develop a stutter that would trouble him even in adulthood. Yet even before that, at seven years old, Warhol would be confined to bed from rheumatic fever for months, drawing, colouring, and collaging in a way that is comparable to our creative flare ups while stuck at home these days. Revisiting him along with Henry Darger—a janitor whose tiny apartment revealed a staggering number of artworks and writings shortly before his death in 1973—is a reminder of how society and state build themselves at the expenditure of the marginalised.
Laing emphatically declares near the end of her book, "Loneliness is personal, and it is also political." She allows us to draw certain distinctions—solitude can feel transcendent, but being alone is like a prison, associated with stigma and shame. The desperately lonely aren't the ones like us, dying to have a latte in North End with friends, but the ones deprived of affection or rights by their families, society, or state. Then and now, there is expanding gentrification not only of the urban landscape, also of the mind.
What matters is how we choose to behave with the alienated—with stigma, or with humanity. As recounted by Laing, Valerie Solanas, feminist and author of the SCUM Manifesto who would go on to shoot Warhol, had seen and faced the lowest mutilations her society had to offer. Turning tricks on Times Square, homelessness, abuse, exploitation by random strangers and abandoned by their parents—both Solanas and Wojnarowicz had lived through them all. Even during a pandemic these are the people left out on the streets. Privilege is not there to give them a shade.
Mursalin Mosaddeque grew up in Rangpur, Northern Bengal. Instagram: @bluets001