Fahmida Azim "enjoys drawing real people living extraordinary lives"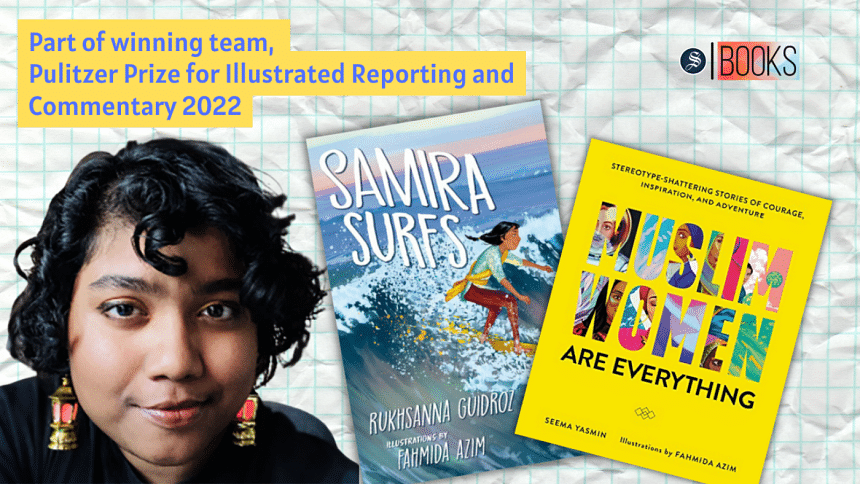 Part of the winning team of the 2022 Pulitzer Prize for Illustrated Reporting and Commentary, Bangladesh-born and Seattle-based illustrator and author Fahmida Azim has focused much of her work with books on the portrayal of real life characters situated in exceptional circumstances. 
Published in 2020 by HarperCollins, Muslim Women Are Everything: Stereotype-Shattering Stories of Courage, Inspiration, and Adventure is co-authored by Azim and journalist Seema Yasmin. 
Yasmin's storytelling and Azim's 40 full-colour illustrations in the book feature women such as Tesnim Sayar from Denmark, a Muslim goth-punk who wears a red mohawk over her hijab; Nura Afia, CoverGirl's first hijabi ambassador; Ilyana Insyirah, a hijab-wearing, scuba-diving midwife from Australia, and more. Their portrayal of Muslim women who "defy categorisation", particularly the stereotypical image of Muslim women as weak and sheltered individuals, won the book the 2021 International Book Awards as well as the American Book Fest's 2020 Best Book Awards in Women's Issues.
The pattern continues in other books illustrated by Azim. A young girl navigates school and Ramadan in Reem Faruqi's Amira's Picture Day (Holiday House, 2021). More notably, in Samira Surfs (Kokila, 2021), 11-year-old Samira, a Rohingya refugee in Bangladesh's Cox's Bazaar camp, is inspired to surf while dealing with the loss of her Nana and Nani in their "uncertain journey to Bangladesh by river". 
"Each time I said anything related to the Muslim religion, the police would call me immediately after and ask me what I had said". These testimonies by Zumrat Dawut, a mother of three from Ürümqi, capital of China's Xinjiang region, are visualised by artwork by Fahmida Azim in "How I escaped a Chinese internment camp", the Insider story that has just won this year's Pulitzer Prize for Illustrated Reporting and Commentary. The comics portray the experiences of the Uyghur community under the anti-Muslim police state imposed in China. The story includes testimonies given to the United Nations Human Rights Council and condensed by Anthony Del Col and art direction by Josh Adams.
Azim's work has appeared in platforms including The New York Times, The New Yorker, Entertainment Weekly, NPR, and Vice. She is currently working on her own debut graphic novel, Mega Megha, to be published by Scholastics Graphix.