Capturing the war stories of medical professionals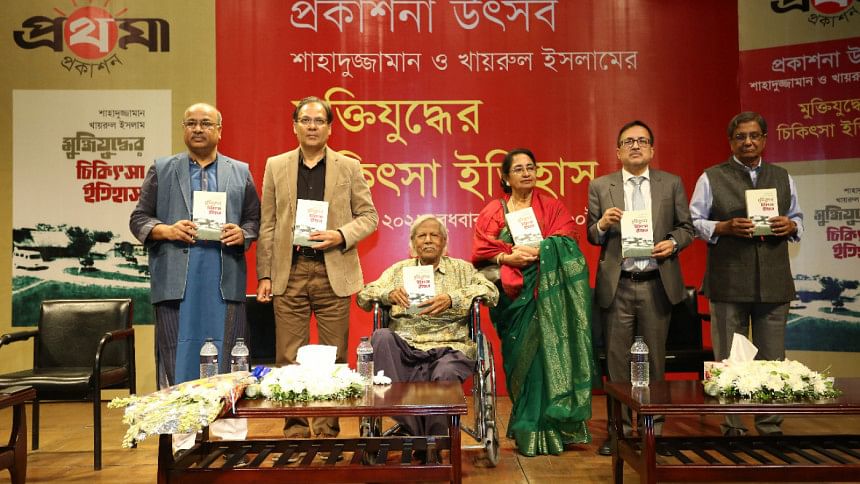 Muktijuddher Chikishsha Itihas, authored jointly by renowned fiction writer and medical anthropologist Shahaduz Zaman and public health expert Dr Khairul Islam, captures the stories and struggles of medical professionals during the Liberation War. The book, published by Prothoma Prokashon, was launched during a ceremony held at Bangladesh Shilpakala Academy on December 28.  
Professor Shahaduz Zaman is a medical anthropologist presently working at the University of Sussex, UK. He is an acclaimed writer with over 30 published books to his name, including short stories, novels, travelogues, columns, and essays on contemporary issues. He also won the Bangla Academy Literary Award in 2016. 
Md. Khairul Islam, on the other hand, is one of the leading public health and development professionals of Bangladesh, currently working as the regional director of WaterAid, South Asia. He is the editorial member and contributor of the book, Bangladesher Shahstho Khater Bikash (Prothoma Prokashon, 2022), having also contributed to Shashtho Khather Durniti published by Oxford University and Shashtho Khath on Mujibpedia. 
Many people were injured, killed and disabled during the war; the treatment of these brave warriors was an integral part of the Liberation movement. In this book, the authors shed light on many unknown chapters of treatment services that were offered in 1971, following extensive research. It contains the history of how ordinary people, including doctors, nurses and village doctors, were involved in the medical war institutionally and informally within Bangladesh, beyond the border and in the refugee camps of India during the Liberation War. 
The book launch was attended by a number of dignitaries including freedom fighters and medical personnel. In their speech, Professor Shahaduz Zaman and Dr. Khairul Islam elaborated on the context of their research, data collection experience and the relevance of this book in the history of Bangladesh.
Other guests at the event included Dr. Zafrullah Chowdhury, Freedom Fighter, Founder and Trustee Board Member, Gonoshasthaya Kendra; Padma Rahman, Freedom Fighter, Military Nurse, Bangladesh Hospital; Dr. Abul Bashar Mohammed Khurshid Alam, Director General, Directorate General of Health Services of Bangladesh, and Matiur Rahman, Editor, Prothom Alo.
Padma Rahman recollected her experiences of working as a healthcare provider in Sector-2 by sharing an anecdote about one of the most challenging surgeries she had witnessed. She was always fascinated by the idea of participating in the war and was elated when she got to do so as a military nurse. "Our freedom fighters fought with weapons while we fought with our life-saving instruments. I thank the authors for taking out the time to present our untold stories to the new generations, and thank them for putting forward our struggles in such a brilliant way," she added.
Dr. Zafrullah Chowdhury revisited several significant historical moments that led to the establishment of formal medical institutions in Bangladesh. "Bangladesh Field Hospital was a temporary medical centre under Sector-2 during the Liberation War. It is important to know about the history of what was the first field hospital for treating freedom fighters and refugees," he said. 
He mentioned prominent figures who played a major role in developing the healthcare institutions, which eventually accelerated in the freedom movement. 
"We do not have sculptures to celebrate these heroes but must never forget their contribution. While doctors in Dhaka played a pivotal role in terms of treating wounded soldiers, there were also numerous women and young girls who volunteered to provide nursing service," he concluded.
Dr. Abul Bashar Mohammed Khurshid Alam spoke about the history of DGHS. "When DGHS was established in 1971, the first Director General was a surgeon. Being a surgeon, I take immense pride in taking charge of the organisation I represent," he said. 
He believes that the medical history of Bangladesh consists of several interesting turns of events, which the younger generations should be aware of.  
The book, priced at BDT 650, will be available at the physical and online stores of Prothoma Prokashon.