Cyclone Amphan: ten percent mangoes of the country damaged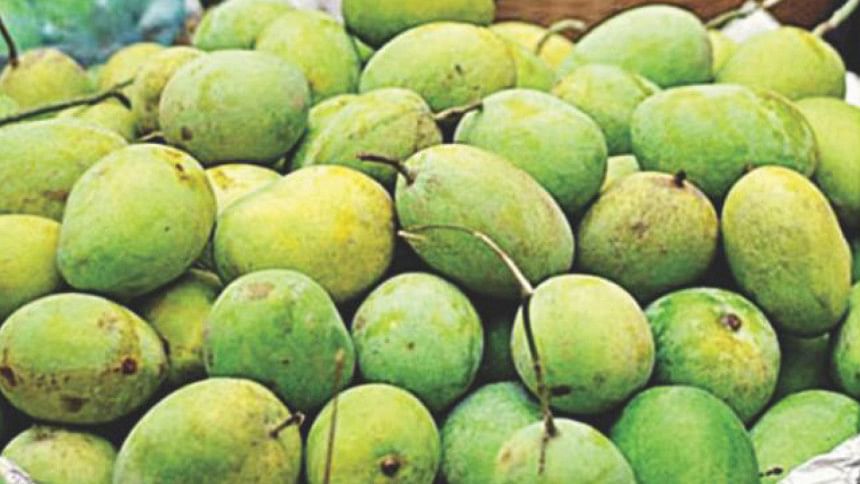 One lakh twenty thousand metric tonnes of mango, which amounts to ten percent of the country's annual production, was damaged in the gusty winds brought by the mighty Cyclone Amphan.
The information was revealed by Rashed Iftekhar, agriculturist at the Department of Agricultural Extension's control room in Dhaka.   
Of the country's total 22.31 lakh hectares of orchard, mangoes in about 7,384 hectares were damaged in the cyclone, Rashed Iftekhar added.
As such, mango farmers have urged the government to procure mangoes with the engagement of fruit processing industries to minimise their losses.
Dr Sorof Uddin, senior scientific officer of Bangladesh Agriculture Research Institute, said the district administration may take an urgent initiative to invite fruit processing industries for purchasing the mangoes.
Mango farmers in despair after cyclone
SM Liakat Ali, a mango farmer from Satkhira's Sadar upazila, said 50 out of 250 trees at his orchard were uprooted while almost all trees lost some branches in the storm.
"I cannot even think properly after this loss. I had expected a production of 300 maunds of mangoes but now I doubt I will even harvest 20 maunds," Liakat said.
In Khulna's Dighalia, mango farmer Shahadat Hossain was expecting to harvest around 40 tonnes of mango from 13 acres of land but the storm damaged around 24 tonnes of mangoes.
The mango farmers also urged the Department of Agricultural Marketing for arranging transport and marketing the mangoes to Dhaka and other places in the country to curb losses.