A REPORTER'S JOURNEY THROUGH 100 TESTS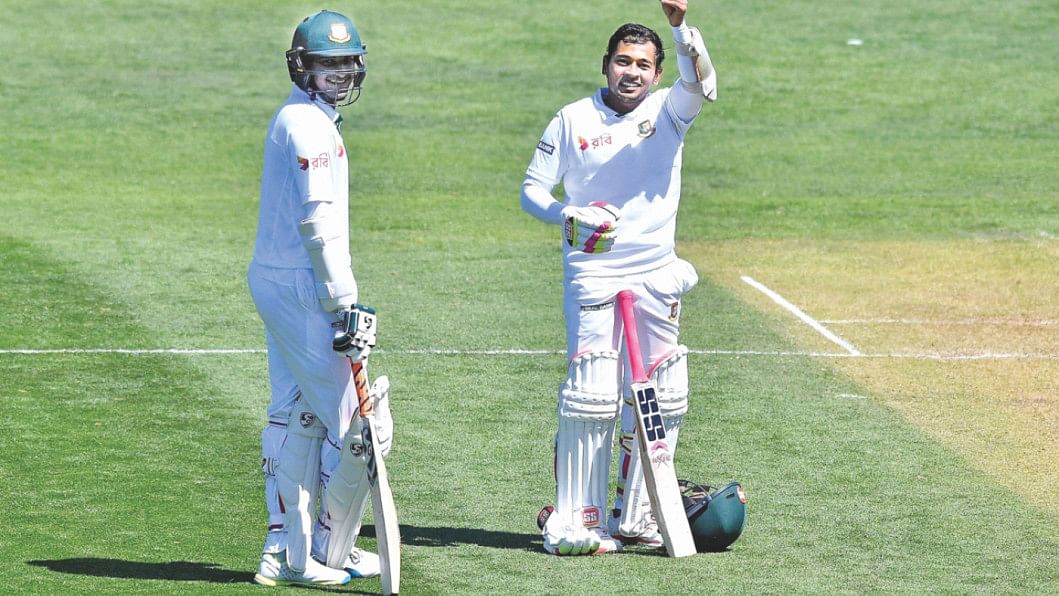 "Don't clap in the press box." 
This is an exclamation I have been hearing in the press box since I started covering international cricket matches.
It is an attitude which one needs to understand if they are to comprehend how much cricket journalism has evolved alongside the journey of the Bangladesh cricket team at the highest level of the game on the day of the historic 100th Test match.
First, let's go back a little more than sixteen years.
How much excitement was there in the press box when Bangladesh took centre stage at the Bangabandhu National Stadium, donning white jerseys on November 10, 2000? Anyone who was present in the press box on that historic day will have the same answer.
One could not think about missing a single moment that day because cricket reporting had also entered a new era. Issues that were usually trivial, such as who took the first runs or who hit the first boundary were imbued with immense historical significance and had to be written in each notebook. Everything was new; every moment was new; the hands were always busy jotting something down.
When I entered the world of Bangladesh sports, cricket started to gain serious traction with the team's unexpected success in the 1997 ICC Trophy changing the complexion of Bangladesh sport. However, cricket's complete monopoly was nowhere in sight at that time. No discussion, not even in a cricket stadium's press box, was complete without talk of domestic football, among other sports.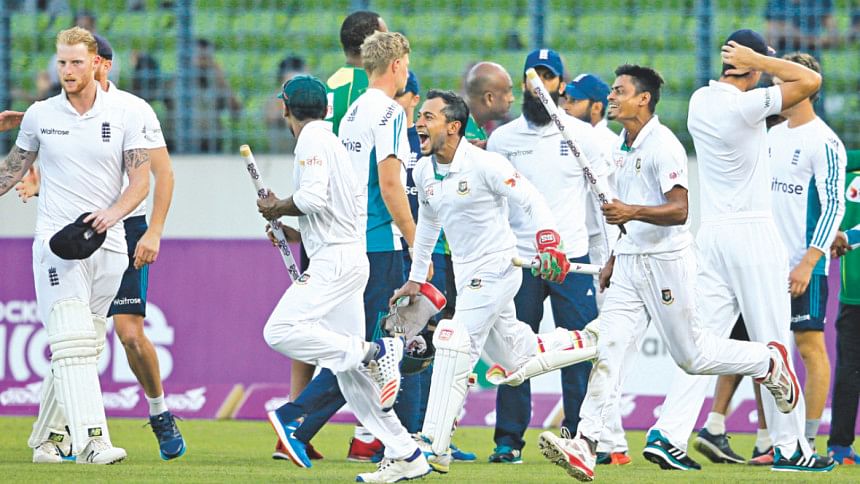 But auspicious winds had been blowing into the sails of cricket in the country since the victory in the 1997 ICC Trophy and the passion of sports lovers in the country towards cricket had been on a markedly upward trend since the hosting of the 1998 Independence Cup tournament and the Mini World Cup, which was followed by Bangladesh's maiden campaign in the ICC World Cup in England.
Simultaneously, Bangladesh's sports reporting had also begun to lean towards the gentleman's game and then came that precious moment when Bangladesh were baptised with the highest honour of the game in 2000.
Similar to the players who had little experience of playing longer-version cricket, journalists had little experience of writing about it, especially as the domestic structure had still not completely taken shape at the time. Still, it was not as if Test cricket was a new dish to us.
But it was still a different sensation altogether when we were covering Test matches involving our beloved country. It was a different kind of thrill indeed.
If we look back at the long journey, what are the dominant features? Was there more agony than ecstasy, or vice-versa?
While it is true that there were some moments to be celebrated and some individual achievements to be highlighted, if we wish to remain honest, the reporters had to deal with some common questions on a regular basis: Will the team be able to take the match into the fourth day if not the fifth? Will the team be able to avoid an innings defeat? Will someone be able to score a hundred? Will our bowlers be able to bowl out our opponents? Will the team display true Test-match temperament? And overall, will the team be able to save themselves from embarrassment?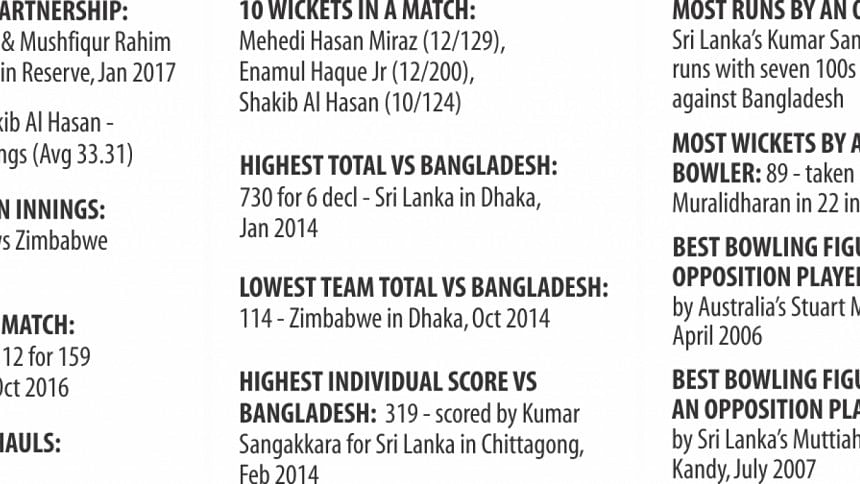 It was common to have missed out on crucial and at times match-altering  passages of play if were even a little late in reaching the venue.
It was not an isolated incident which yours truly experienced on July 3, 2007 when I had to write an article headlined 'Report or obituary' after Bangladesh had been dismissed for their lowest Test total of 62 on the first day of the second Test at the P Sara Oval in Colombo with the players scoring 8,0,21,5,0,6,9,2,4 and 1.
As if articles that bracketed Bangladesh's performances as 'kid's stuff' or as coming from 'ugly sisters' were not painful enough, the pain was compounded when fellow reporters from the opposing country would pat us on the back and say things like: "Don't worry, someday you will do better."
But in spite of everything, every half-century, every good spell and every good session was highlighted with the most glowing of adjectives.
Things have taken a more positive turn in the last two years after signs that we had finally learned the craft of the longer version, especially when with this current bunch of cricketers' focus more on the team's result than any individual success. Thus the thought process of the reporters also seems to have changed.
"Don't clap in the press box."
This advice is still often heard, but now one goes hard at a player for their mistakes even if they make a double-hundred. A grown-up mentality for a grown-up team.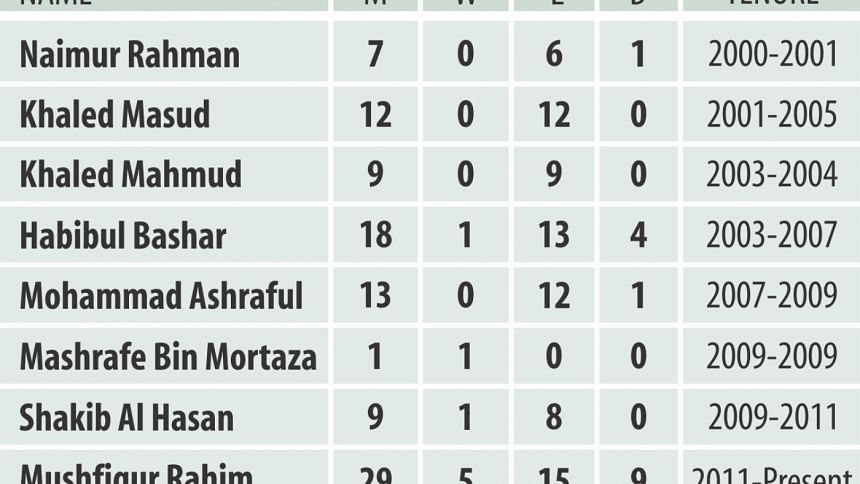 TIGERS' UNIQUE FEATS
Shohag Gazi is the only player in the history of Test cricket to have scored a century and taken a hattrick in the same game. He achieved the feat against New Zealand in Chittagong in 2013.
Abul Hasan scored 113 runs in an innings against the West Indies on debut in 2012 while batting at number ten. He is the second player in history to score a century at number ten on debut and also has the highest score for a number ten batsman on debut.
Mushfiqur Rahim has scored four centuries away from home as Bangladesh's wicketkeeper-captain, more than any other wicket-keeper batsman. Andy Flower, Adam Gilchrist, Tatenda Taibu and Percy Sherwell have reached the three-figure mark in similar situations just once.
Mohammad Ashraful is the youngest Test centurion in the world. He scored a hundred in his debut match against Sri Lanka in 2001 when he was 17 years and 61 days old.
In 2015, Imrul Kayes and Tamim Iqbal put on 312 runs for the opening wicket against Pakistan in Khulna. That partnership is the highest by an opening pair in a team's second innings of a Test match.
During Bangladesh's tour of New Zealand in 2016, Imrul Kayes set a world record for most catches taken by a substitute keeper in Tests, taking five in Wellington. He had replaced the injured Mushfiqur Rahim.
Spinner Mehedi Hasan Miraz scalped 19 wickets in his debut series against England in 2016, which is  the highest taken by any player making his debut in a two-match Test series.
Shakib Al Hasan is the only player in the world to lead his country's wickets tally in all three formats of the game.
At 18 years and 40 days, slow left-arm bowler Enamul Haque Junior scalped a ten-wicket haul when Bangladesh played Zimbabwe in 2005. He still holds the record of being the youngest player to take a ten-wicket haul in Test cricket.