Youth 'commits suicide' in police custody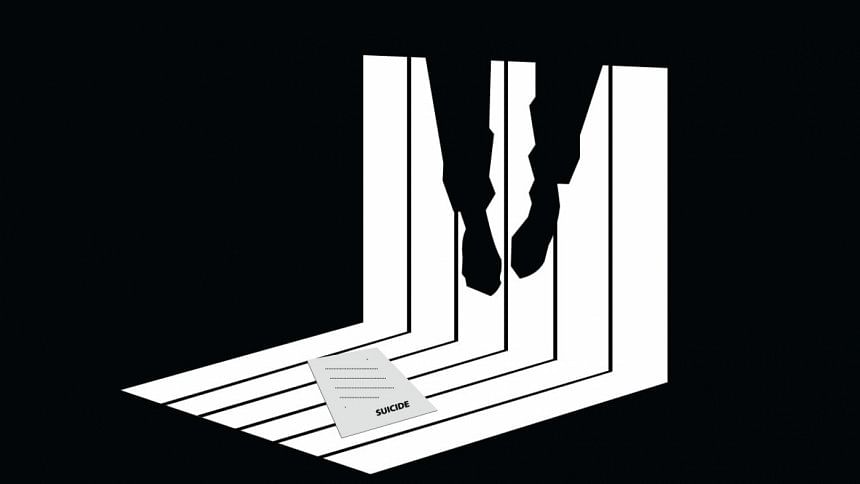 A youth allegedly committed suicide by hanging himself in police custody today at Debiganj Police Station of Panchagarh.
The victim is Hasanur Rahman, 20, son of Habibur Rahman from Thanapara area of Debiganj upazila, reports our correspondent.
Hasanur hanged himself from the ventilator of the police station's toilet with a portion of blanket at around 11:00am, said Aminul Islam, officer-in-charge (OC) of the police station.
Hasanur used to work as a construction worker and was held by police from his own home on charges of carrying 50 grammes of hemp as he came home from Dhaka to spend the Eid vacation, the OC said.
However, Hasanur's father alleged that he was picked up by police.
Hasanur had an affair with his elder brother Hasibul's sister-in-law. Hasibul did not approve of the affair and asked the police to pick up Hasanur, his father said.
The family members said they received a message from the police this morning that Hasanur had asked for his clothes. Upon arriving at the police station, they could not find him where the detainees are kept. Later, they found his body in the toilet.
In the afternoon, the body of Hasanur was recovered in presence of the Upazila Nirbahi Officer (UNO) Syed Mahmud Hasan, also the executive magistrate. The inquest report of the deceased was also made in his presence. 
Hundreds of villagers besieged the police station claiming Hasanur was tortured to death in the custody. Later, the agitated people blocked Boda-Debiganj road demanding justice for the deceased with proper investigation.
Contacted, UNO Syed Mahmud Hasan told our correspondent that primarily it was ascertained that the youth committed suicide, adding that he examined the body but did not find any injury mark.