Winter cabbages hope of farmers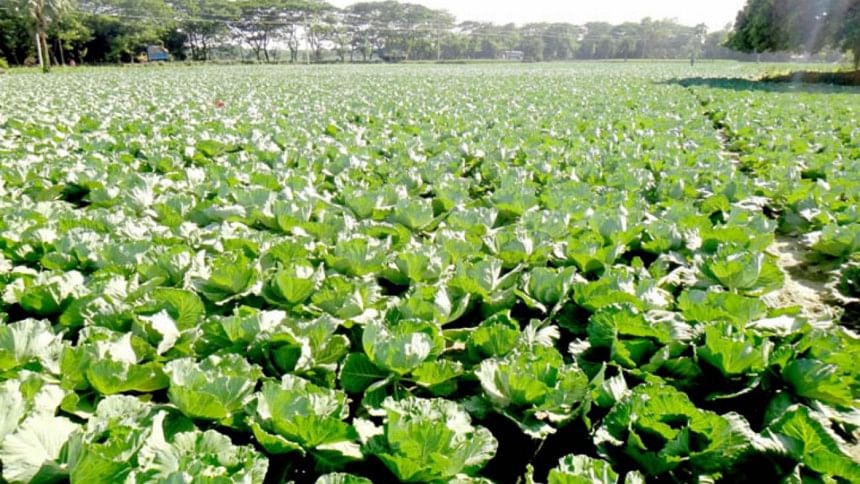 In Greater Jessore, winter means vegetables. Beans, string beans, chillies, cauliflower, brinjal and tomatoes: the region that fulfils around eighty percent of domestic demand for vegetables produces many varieties. But of a morning, as sunlight illuminates the Jessore to Magura highway, on both sides and more than other crops, it is a landscape of cabbages that is unveiled.
Yet this year due to unusually heavy rainfall the planting of vegetable seeds and saplings has proceeded with extra care. Many farmers are keen to make up for recent crop losses incurred as a result of the rains. More than just a usual winter crop, this year cabbages bring hope.
"I have planted cabbages on four bighas of land this year," says Rustam Ali, from Nangorpur. He is one of the country's premier vegetable farmers. "Due to the excessive rain during this year's monsoon I lost Tk 2 lakhs, but I hope to be selling up to Tk 5 lakhs worth of cabbages soon."
Many farmers from the villages around Khajurra have similar tales of loss to tell. But with vegetable crops ready to send to market within about twenty days, there is a light on the horizon.
Current market prices per tonne include: Tk 1650 for cauliflower, Tk 1500 for radishes, Tk 1800 for brinjal, Tk 1600 for string beans and beans, Tk 4,200 for green chillies and Tk 80 for tomato. Cabbage farmers meanwhile can expect to earn around Tk 2,500 per hundred cabbages.