Unesco to assess Rampal power plant's impacts on Sundarbans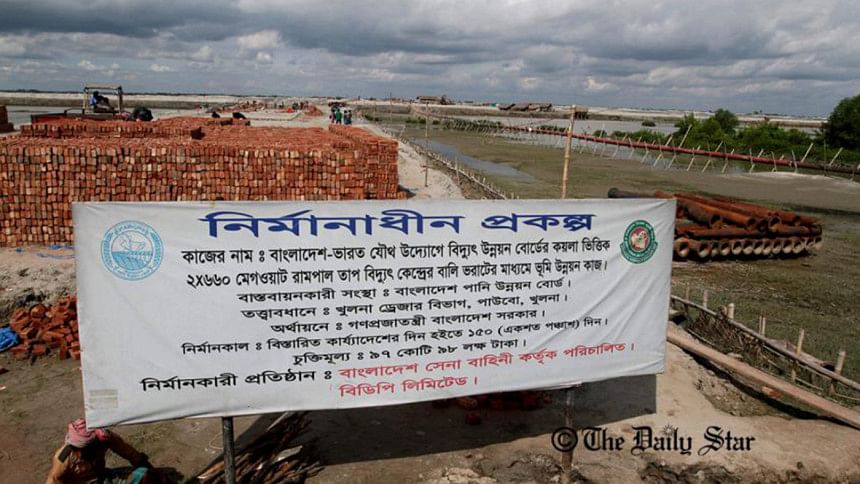 A high-profile Unesco delegation will visit the Sundarbans soon to assess the possible impacts of the proposed coal-based Rampal power plant on the world's largest mangrove forest.
"Unesco wants to send its team this month (February) but we've requested them to be here in March next," Chief Conservator of Forests Yunus Ali told UNB.
He said the Unesco team is going to visit the Sundarbans as it is a Unesco world heritage site. "The delegation will assess the potential impacts of the proposed Rampal power plant and see what remedial measures have been taken to address the possible impacts."
An official at Unesco Dhaka office said the delegation is coming in late February or early March this year.
On December 9, 2014, there had been huge oil spill at the Shela River in the Sundarbans when an -tanker carrying about 350,000 litres of furnace oil crashed in the river after a collision with a cargo vessel.
Yunus Ali said the Unesco delegation will also examine whether there is any impact of oil spill on the Sundarbans after the incident.
The Sundarbans is situated about 14 kilometres away from the proposed 1,320-megawatt coal-based power plant site, which is a joint venture of Bangladesh Power Development Board (BPDB) and the National Thermal Power Corporation Limited of India under the name of Bangladesh-India Friendship Power Company.
Environment experts warns that the Rampal Power Plant project will bring more harm to the country than good, destroying the World Heritage site, since the climate, topography, land use pattern, wetlands, floral and faunal diversity and quality of air and water in the Sundarbans will be affected due to the power plant.
"The Sundarbans will face a long-term impact. Physical growth of plants, their flowering and fruiting will be affected severely while the breeding capacity of birds and wildlife of the forest will be lost," said Dr Abdullah Harun Chowdhury, a professor of Environmental Science Discipline at Khulna University.
According to the Environment Impact Assessment (EIA) of the project, the Rampal power plant will produce 7.5 lakh tonnes of fly ash and 2 lakh tonnes of bottom ash per year. About 15 percent of the ash will be generated as a result of burning coal.
Citing an independent EIA, Prof Harun said the wind flow of area indicates that the Sundarbans will be affected by the toxic gases and ashes of the coal-based power plant in different seasons. As the ashes contain sulphur, carbon dioxide, arsenic, mercury, lead, chromium, and cadmium, it will bring harm to the environment, he added.
The Rampal Power plant site is located about 14 kilometers away from the Sundarbans, a habitat to the Bengal tigers and endangered Irrawaddy dolphin. But the peripheral area of the forest begins within four kilometers from the power plant.