Nature Quest
Crabs caught at wrong time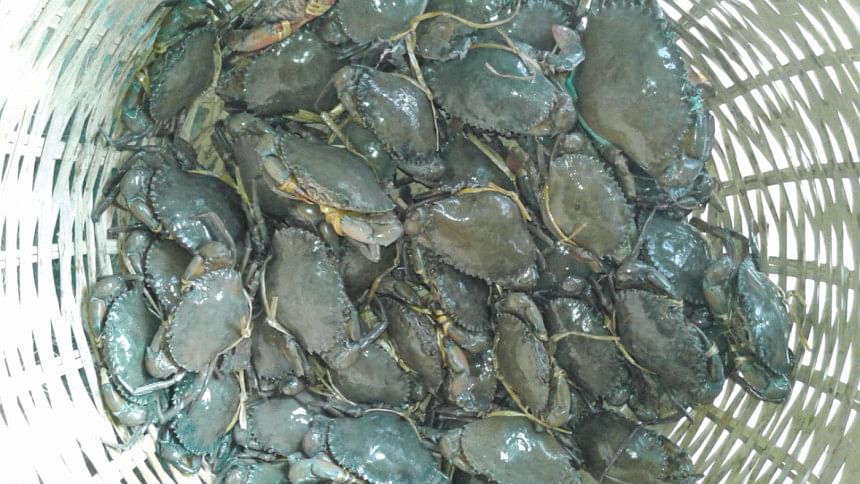 In the months of January and February, thousands of female crabs in the mangrove forests around Patuakhali's Kuakata clamber over roots and through mud to reach the saltwater edge of the Bay of Bengal. Their mission is clear: at the seashore, the eggs they carry will hatch into larvae, to swim away as plankton, as the start of a new generation.
But this pilgrimage of species' survival, with the mature eggs attached to the abdomen, right under the tail flap of each mother crab, is fraught with danger. In particular, the crabs face the threat of falling into local fishermen's clutches.
"I provide for my five-member family by catching crabs," says Dilip Talukder, 50, of Gongamati area near Kuakata. "The crabs are in high demand now. Many people earn extra income catching them."
Various traps are set throughout the forest, with the crabs being sold locally. At least 50 seasonal shops are established across Patuakhali and Barguna districts to deal with the influx of mother crabs caught while on the move.
"Crab harvesting is prohibited in reserve mangrove forests," says Md Kamrul Islam, senior upazila fisheries officer in Kalapara upazila. "Despite the law, people do it, because as a business it's very profitable."
"I catch up to 7 kilograms per day," says Utachi, 45, of Kuakata. "For each kilogram the selling rate is between Tk 300 and Tk 500, depending on a crab's size."
"We send the crabs to Dhaka," says Md Golam Mostafa Pahloan, a Kalapara upazila town merchant. "The price for females is higher as the foreign market demand is greater." 
Many crab species demonstrate sexual dimorphism, whereby males and females of the same species differ greatly, including in size. Besides, females carry the berry-like roe.
Popular in many countries, many of these crabs are destined for dining tables in Thailand, Singapore, China and India. Crab exports are a significant national industry.
"From Patuakhali and Barguna I send at least 100 maunds of crabs daily," says Md. Delwar Hossain Khan, another wholesaler, "So many are caught!"
The harvesting of mother crabs is, however, a lesson in biting the hand that feeds, since the captured crabs have no chance to complete the reproductive journey that ensures a healthy future population.
Senior scientific officer for Kalapara's fishery research institute, Md Ashraful Haque, notes that a mother crab can produce about 10 lakh eggs per season. He believes the government should create a mangrove sanctuary to ensure sustainable species renewal.
"There should be a seasonal sanctuary," agrees Dr. Khondokar Anisul Haque, a professor of the fisheries and marine resource technology department at Khulna University, who is also a crab expert.
"The sanctuary should be in place in coastal areas for a definite period, similar to current measures designed to protect the hilsa fish breeding," he says.
Dr. Haque highlights the importance of the crab export industry in earning foreign currency for Bangladesh. To protect this important resource, he believes that greater popular awareness of the crustacean's life cycle is needed, coupled with more effective measures to prevent the catching of mother crabs during breeding season. Only then can the country's crab export industry achieve true sustainability.
In the meantime, mother crabs across Patuakhali and Barguna continue to face the species-threatening hazard of fisherman and trap, as they scuttle and creep towards the seashore, to complete, if they can, that most instinctive and primordial of crab journeys.