'Myanmar working to resolve Rohingya crisis'
Top Myanmar body says after visiting Rohingya camps in Cox's Bazar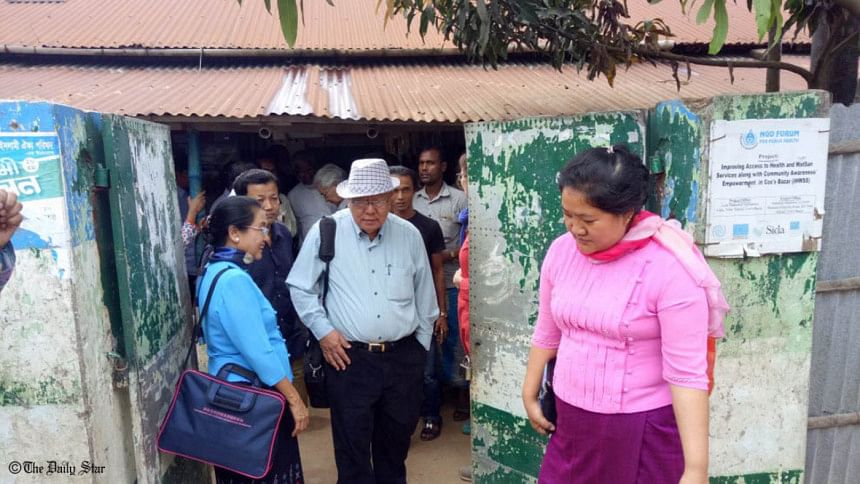 Myanmar government is trying to resolve the crisis over Rohingya issue, according to a top commission formed by the state's Counselor Aung San Suu Kyi.
Zaw Myint Pe, member secretary of the 10-member body, made the comment while visiting Rohingya camps in Bangladesh today to learn of their status first-hand.
"The Myanmar government is working on resolving the crisis, and the team is visiting the camps as a part of its effort," he told the Rohingya people there, reports our Cox's Bazar correspondent.
READ MORE: 21,000 Rohingya flee to Bangladesh from Myanmar: IOM
He said that his country is trying to find a solution to the problem centring citizenships of Rohingyas.
The body arrived in Cox's Bazar yesterday and visited four slums in Ukhia and Teknaf. They recorded statements of 50 Rohingya women during their visit.
ALSO READ: Govt to ask Myanmar to take back Rohingyas
They visited Pashchim Balukhali Rohingya Camp in Ukhia's Palangkhali union, a newly-built camp with a population of 12,000 and talked directly with the people there.
Later, they visited an unregistered camp in Letha, which has 35,000 inhabitants, and a registered camp in Noyapara, with 19,000 inhabitants – both in Teknaf upazila.
ALSO READ: Bangladesh seeks int'l support on Rohingya issue: Foreign minister
The delegation, however, did not talk to media in this regard.
The investigation commission arrived in Cox's Bazar yesterday and took primary information from the deputy commissioner's office.