Rohingyas fan out
Law enforcers struggle to stem the outflow; touts on the prowl to get women into trouble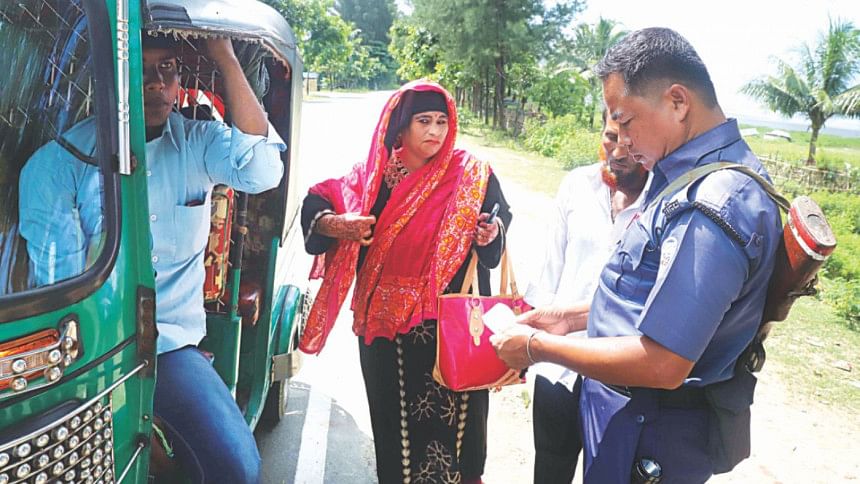 Law enforcers are struggling to stop the spread of Rohingyas from registered as well as temporary camps as middlemen and locals are helping the refugees to settle outside the camps.
The middlemen are particularly targeting young Rohingya girls, trying to take them to Cox's Bazar town and Chittagong promising them jobs.
However, some Rohingya families are travelling to other parts of the country on their own as Ukhia and Teknaf, the two upazilas where they are being sheltered, teem with some 400,000 refugees who have fled Myanmar in just three weeks.
This is despite government and police orders banning the Rohingya refugees from leaving the areas and camps designated for them in the border district.
"They should stay in the designated camps until they return to their country," AFP quoted Sahely Ferdous, assistant inspector general at the Police Headquarters, as saying. "They cannot travel from one place to another by roads, railways or waterways."
Rohingyas have been asked not to take shelter in the homes of their friends or acquaintances, while locals have been asked not to rent houses to the refugees.
At least 27 security checkpoints have also been set up in key transit points to stop refugees travelling to other parts of the country.
At several checkpoints on Friday, law enforcers intercepted a number of "Rohingya and Bangladeshi middlemen" who were taking some young Rohingya girls to Cox's Bazar town by CNG-run auto-rickshaws and buses.
"Today [Friday], we found four such groups. The middlemen, identifying the girls as their relatives, were trying to take them to Cox's Bazar. So we are warning these middlemen and sending them back to the refugee camps in Ukhia," said an official at Marichchya Bangladesh Border Guard (BGB)-police joint checkpoint.
These correspondents saw one such middleman with two girls at the camp.
One girl identified herself as Saima from Patia in Chittagong, saying she had been living in a rented house there for two years. She claimed to have gone to visit a Rohingya camp at Ghumdum of Naikhangchhari in Bandarban where her parents took shelter to avoid the ongoing atrocities.
But the official, who spoke on condition of anonymity, said it was a cooked up story. "She is saying what the middlemen instructed her to."
At Sonarpara Marine Drive police checkpoint at Ukhia, police intercepted a CNG-run three wheeler taking a young girl to Cox's Bazar town yesterday.
She told the police she was going to a Cox's Bazar hotel where she worked.
"One of my uncles from Kutupalong camp gave me the contact," she told the police.
Assistant Sub-inspector Chhoton, in-charge of the checkpoint, said they were checking every transport for Rohingyas as ordered by the higher authorities.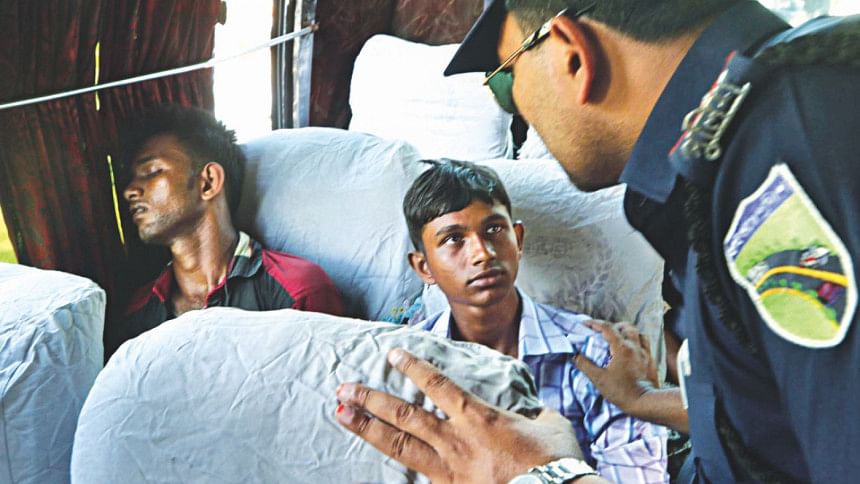 "But the Rohingyas and the locals speak almost the same language. It is difficult for us to determine their nationality. So we are requesting Bangladeshi citizens to carry their national identity cards," he told The Daily Star.
Meanwhile, the home ministry has issued an order barring travel of Rohingya people to other parts of the country from the camps. But transport workers in Cox's Bazar said many of the refugees already travelled to Chittagong and other parts of the country in the last few days.
Since September 9, police found at least 174 Rohingyas in different parts of the port city. Of them, 150 were found in Hathazari, Lohagara, Banshkhali and Sitakunda upazilas and the rest 24 in the port city's Chandgaon, EPZ and Bakalia areas.
However, the number of refugees going towards Chittagong came down after police set up the checkpoint a couple of days ago, said Md Shahidul, an employee at a bus counter there. 
Meanwhile, Cox's Bazar police superintendent yesterday instructed the transport owners' association to check nationality of of passengers before issuing tickets for any destinations from Cox's Bazar.
The home ministry directed the SPs of all the 64 districts to increase vigilance to prevent movement of Rohingya people through their districts.
ROHINGYAS LIVING IN VILLAGES 
The Daily Star found a number of Rohingya families living in different villages under Ukhia upazila.
Zamila Khatun, for example, has been living with her family at the house of Salimuddin in Uttar Sonarpara village for the last 10 days.
She has nine children -- five daughters and four sons. She fled to Bangladesh with her one son, one daughter and her husband and two grandchildren.
"I don't know the whereabouts of my other children. I don't even know if they are alive," said Zamila, aged around 60. "Burmese people have taken our land and cattle. They burned our house in Maungdaw."
She claimed to have a Bangladeshi passport which she got through a broker years ago. Now she wants to make a national ID card.
"I performed hajj twice and Umrah five times with Bangladeshi passport," he said.
Replying to a query, she said she did not rent the house of Salimuddin; she only took shelter there.
Abdul Hamid, in-charge of Sonarpara Community Clinic, said 48 patients came to his clinic yesterday. Twenty-three of them were Rohingyas.
"Many Rohingyas are living in this village. People also help them as they are helpless now," he said.
Many of them have also taken shelter in Jhilangza union of Cox's Bazar sadar upazila. 
Two more Rohingya families are living in a house near Buddha Bhabna Sangha, a temple, beside the Cox's Bazar jail gate.
Locals said the owner of the house came from Myanmar long ago and obtained various Bangladeshi papers over the years.