The Daily Star honours 2,257 high achievers in O, A level exams
20yrs of saluting the nation builders of tomorrow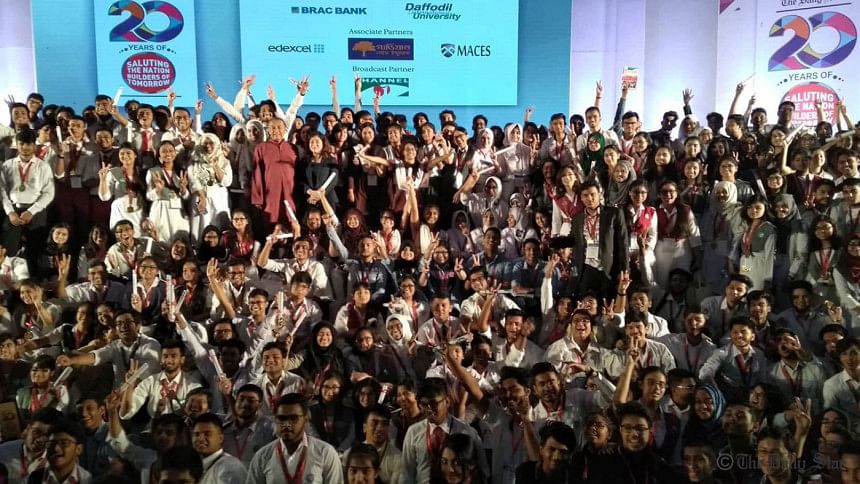 The Daily Star awarded 2,257 high achievers in O- and A-Level examinations with the inspiring tagline "20 years of saluting the nation builders of tomorrow".
The students from both Edexcel and Cambridge were honoured for their outstanding results in O and A levels at the Shaheed Suhrawardy National Indoor Stadium in Mirpur area of Dhaka.
The programme was attended by the awardees' parents, families, teachers, friends, and special guests.
The 20th annual awards went to 1692 O-level students who obtained six or more A's and to 411 A-level students who attained a minimum of three A's in the 2017-18 academic session.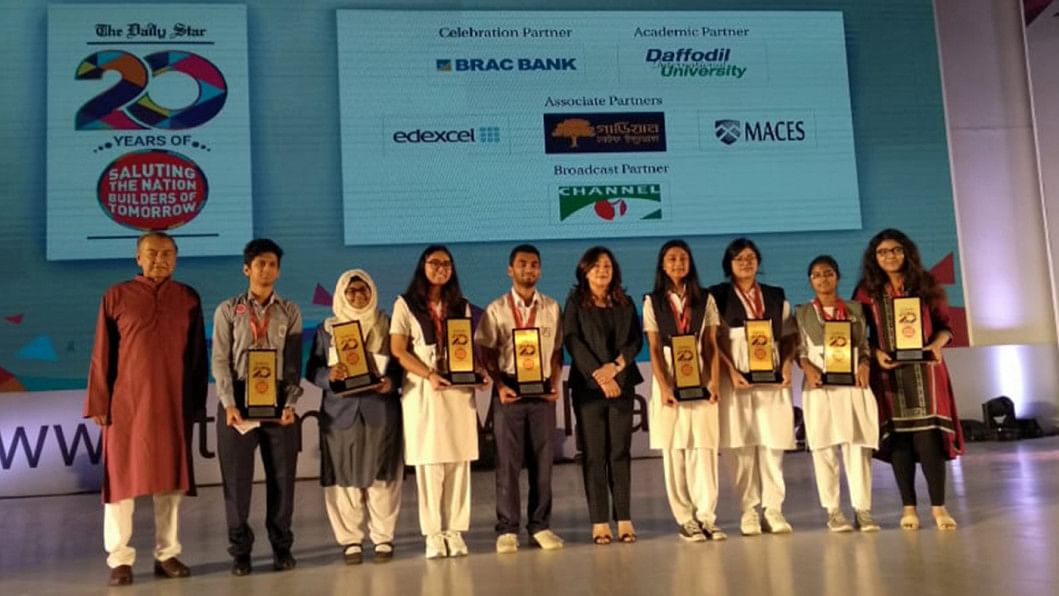 Mahfuz Anam, editor and publisher of The Daily Star, also attended the programme.
Sonia Bashir Kabir, Vice Chairman, United Nations Technology Bank for LDCs, Governing Board Member UNESCO MGIEP and Managing Director of Microsoft Bangladesh, Myanmar, Nepal, Bhutan, and Laos, graced the event as chief guest.  
Meanwhile, Saiara Adrita, Program Manager of Xbox, Microsoft was chosen to give the keynote speech in the event.
The Daily Star initiated the annual event in 1999.
Below is a list of the country's Highest 'A' achievers in "A" Levels:
-Hanzalah Choudhury (Yale International School) 4A* with 2A
-Tamim Mahmud Khan (European Standard School) 4A* with 2A (Edexcel)
And here is a list of the country's Highest 'A' achievers in "O" Levels:
-Sinthia Ahammed (Changes) 11A* & 1A (One Sitting)     
-Rishita Faizah (Mastermind English Medium School) 11A* (One Sitting)
-Reza Mursalin Sabid (Mastermind English Medium School) 11A* (One Sitting)
-Aagnita Saha (Mastermind English Medium School) 10A* with 1A (One Sitting)
-Shania Monis Aisharja (Mastermind English Medium School) 9A* with 2A (One Sitting)
-Elvis Mostafa (Maple Leaf International School) 11A* (Two Sitting)
-Asmita Saha Roy (Salvation International School) 6A* with 5A (Two Sitting)