SQ Chy, Mojaheed to seek review of SC verdicts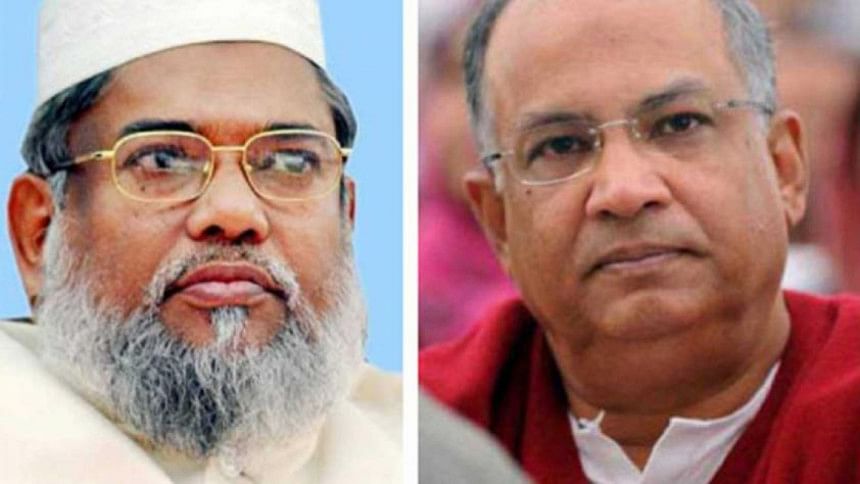 Condemned war criminals Salauddin Quader Chowdhury and Ali Ahsan Mohammad Mojaheed will file petitions within the next 15 days seeking review of the Supreme Court verdicts that upheld their death penalty, said their counsels this evening.
The defence lawyers expressed their intentions hours after receiving the copies of death warrants issued by the International Crimes Tribunal earlier in the day.
Salahuddin's lawyer Tanvir Ahmed Al Amin and Mojaheed's lawyer Shishir Manir confirmed it to The Daily Star.
Earlier in the day, ICT registrar office issued the death warrants a day after it received the copies of the full judgments released by the Supreme Court upholding the death penalty of Mojaheed and Salauddin for committing crimes during the country's Liberation War in 1971.
The warrants would be sent to the jail authorities and its copies will be forwarded to district magistrates concerned, and both home and law ministries soon, said Shahidul Alam Jhinuk, registrar of the tribunal.
If the convicts file review petitions, the process would automatically come to a halt and remain so until the SC disposes of the petitions.
Through the petitions, the two war crimes convicts could pray to the apex court to examine whether there was any error in the judgments on their appeals.
If the review petitions are rejected, the last option for the two will be to seek presidential mercy.
Usually, a review petition is entertained in case of serious factual mistakes in the verdict or wrongful application of the law in punishing the accused.
A death sentence cannot be executed while a review or clemency petition is pending, according to an earlier SC order on Abdul Quader Mollah's review petition.
In that order, the top court said review petitions should be disposed of on a priority basis.
The war crimes accused are tried under International Crimes Tribunal Act 1973. Since this law has no provision for filing review petitions, the SC exercised its inherent power to reach the decision on Mollah's petition to allow both the defence and the prosecution to seek a review.