SP's wife killing: Man 'seen in CCTV footage' held
Microbus driver freed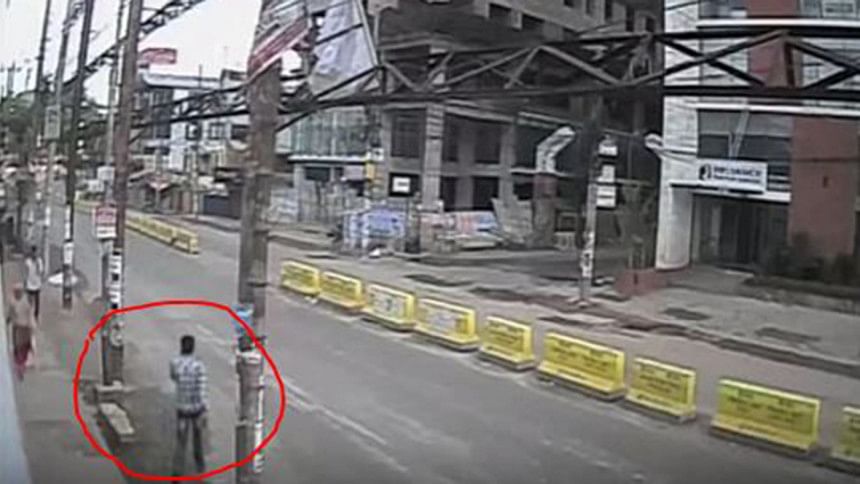 Law enforcers claimed to have detained a man who they suspect was seen in CCTV footage to be following Mahmuda Khanam Mitu, wife of Superintendent of Police Babul Akter, before her murder.
AlSO READ: Militants seem to have settled a score
Md Shah Zaman alias Robin, hailing from Laksham, was detained from Shital Jhorna area under Bayezid Police Station of Chittagong city, Chittagong Metropolitan Police (CMP) Commissioner Iqbal Bahar said at a press briefing today.
ALSO READ: CCTV footage shows 'killers' fleeing on motorbike
Police suspect that the detainee is the same person who was seen walking past a lamppost near the place where the CCTV was installed.
ALSO READ: Ex-Shibir man held in Ctg
Wearing check shirt and blue jeans, he was seen talking over a mobile phone while following Mitu, the CMP boss said.
He might be communicating with his accomplices over mobile phone after the killing, the CMP commissioner said.
ALSO READ: Crackdown on, so is killing
"We are yet to affirm whether he is that man. We will verify his identity and CCTV footage more closely," Iqbal Bahar told reporters at the CMP headquarters.
Meanwhile, driver of a black microbus, who was detained on Wednesday, was freed as police did not find his link with the murder through verification and interrogation, he added.
Earlier on June 5, three assailants reportedly stabbed and shot dead Mitu, 32, who left her OR Nizam Road residence on foot to drop her son at a school bus at GEC intersection in the port city around 6:45am on June 5.
The victim's husband Babul Akter, who served as additional deputy commissioner of detective branch of Chittagong Metropolitan Police (CMP) earlier, got promotion as superintendent of police recently and was posted at police headquarters in Dhaka, sources said.