Militants seem to have settled a score
Police believe extremists retaliated for his anti-terror role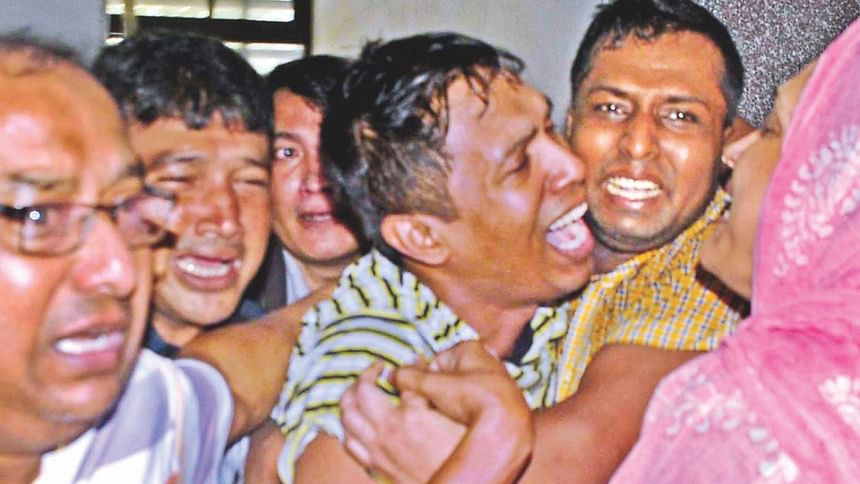 Police officer Babul Akter led several anti-militancy drives, arrested many key militants, busted their dens and eventually foiled their attack plans.
And these could be the reasons behind the murder of his wife in the port city yesterday, senior police officials said.
Three attackers, who came on a motorcycle, first hacked and then shot Mahmuda Khanam Mitu to death before her six-year-old son.
It happened just 200 yards from their house near GEC Intersection in Chittagong around 6:35am.
Mitu, 30, was on her way to put her son Akter Mahmud Maheer on his school bus. The couple also has a four-year-old daughter.
Over the last two years, suspected militants have attacked and killed university professors, writers, publishers, secular bloggers, gay rights activists, foreigners, cops and members of religious minorities, including Shia and Sufi Muslims, Christians and Hindus.
But this is for the first time that a family member of a top cop has come under such an attack.
Reportedly, terror group Islamic Stated claimed responsibilities for many of the past attacks. But the government maintains the group has no presence in the country, and blames it all on the opposition parties such as the BNP and Jamaat.
Babul, who was promoted to the rank of superintendent of police a couple of months ago, led some drives since his joining as an additional deputy commissioner of Detective Branch in Chittagong in September last year.
He arrested several members of the banned militant outfit Jama'atul Mujahideen Bangladesh (JMB), including its Chittagong unit Commander Md Javed in October last year.
Javed later died "in an explosion as he tried to throw a hand grenade" targeting Babul and other detectives during a search operation hours after his arrest.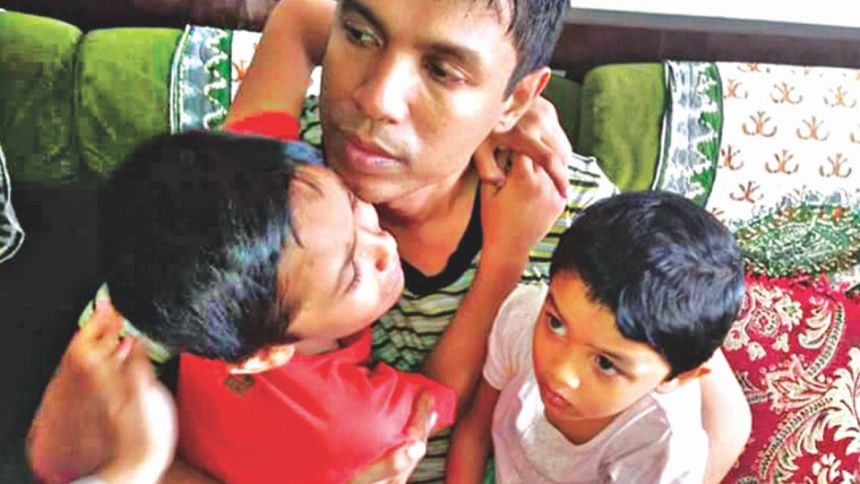 Babul, 40, is also credited with busting a den of JMB's Chittagong Regional Commander Md Fardin at Hathazari from where police recovered a sophisticated rifle, army suits, bullets, explosives and bomb-making materials in December last year.
After these drives, Babul shared with colleagues his fear of attacks from militants. He even thought about shifting their house, said DB Inspector Santosh Chakma, who accompanied Babul in some of those raids.
Neighbours said Mitu too was worried about possible attacks. Her apprehension heightened after Babul left Chittagong on Thursday for joining his new office in the capital. 
Home Minister Asaduzzaman Khan was quick to hold militants responsible for the attack. 
"They [militants] might have carried out the attack for her husband's expertise in curbing militancy," the minister told reporters after a programme in Chittagong.
He described Babul as an honest, capable and sincere police officer.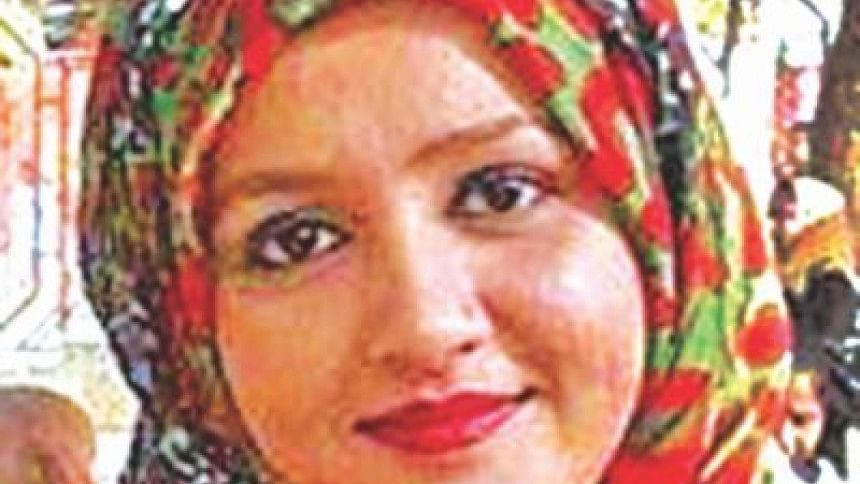 THE ONE-MINUTE MISSION
Mitu went out of her flat at GEC Intersection around 6:30am. As she walked just about 200 yards with her son Maheer, three bikers hit her with the bike in front of the city's Well Food, a food outlet.
They first stabbed her indiscriminately and then shot at her twice. One bullet missed but another hit her in the head, killing her instantly.
The whole operation lasted about a minute.
One of the assailants held Maheer during the attack, neighbours said, quoting the grade one student of Chittagong Cantonment Public School.
Paritosh Ghosh, additional commissioner of CMP (south zone), said they were inspecting some footage from the CCTV cameras installed at the food shop and also on the street.
The footage shows, three men, one wearing helmet, were waiting just opposite Mitu's house, he said.
The bike rider, the one with the helmet, was wearing a punjabi or a fatua. One of his accomplices had a pistol in his hand. They quickly fled on the bike after the attack, said a top CMP official. 
A security guard of Mitu's flat said he rushed to the spot hearing people scream, and saw the body of Mitu lying on the road and Maheer crying.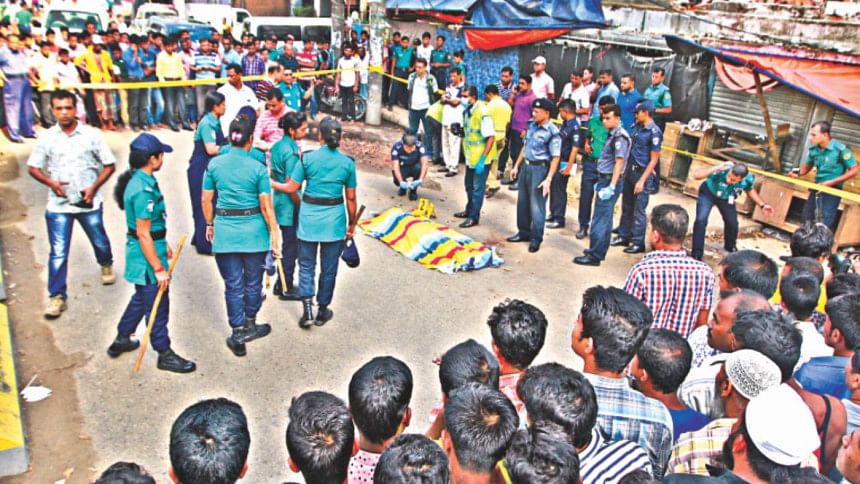 When Afroza Salam, a neighbour, went to the spot, she found Maheer crying: "They killed my mother, they killed my mother."
Mitu's body bore eight stab marks, police said, citing the inquest report. Cops suspect Mitu was shot by a 7.65mm pistol.
On hearing the news, Babul flew to Chittagong from Dhaka. He broke down in tears before his colleagues, as he said: "Why my family couldn't be saved? I asked you to keep them safe … I knew they [militants] would chase me."     
Usually, two police constables remain on duty at his flat, but it was not clear if they were there at the time of the attack. 
Babul's father Abdul Wadud is a retired police officer while Mitu's father, Mosharraf Hossain, retired as a police inspector.
'CONSPIRACY'
The home minister said Mitu's murder was pre-planned. "We have been saying that it is a national and international conspiracy. The conspirators are committing the target killings one by one." 
He also claimed that law enforcers detained all those behind target killings.
Before Mitu's murder, 37 target killings took place, he said, adding police have so far identified suspects in 34 cases. So far, 144 people have been arrested and 49 of them have given confessional statement.
"We have a lot of success. To undermine this, many efforts are underway," he told reporters after visiting Babul's house. 
According to him, Mitu was murdered to demoralise Babul.
About security of family members of cops, he said: "We are thinking about the security of all. It is a must to think about the police family."
The police headquarters have already directed all the SPs and their junior officers to remain alert and carry out their duties with caution.
DID BABUL MAKE ANY ENEMY?
Police officials said Babul's dedication, courage and skills earned him the highest recognition in service.
Babul became hugely popular wherever he served as he dealt criminals with an iron fist. In 2012, people of Hathazari in Chittagong formed a human chain demanding cancellation of his transfer to Cox's Bazar.
Babul was rewarded for arresting the killer of six members of a family in Narsingdi in 2007, while serving in Rab. 
In 2008, he was the assistant commissioner of Kotwali Zone in Chittagong.
There are several instances when he didn't bother about the place of crimes. People from areas out of his jurisdiction regularly went to him for solutions. He tried his best to help them, according to colleagues.
He shot to fame after nabbing a notorious dacoit nicknamed Khalil Dakat in Hathazari in 2008 though it was not his area.
He was the recipient of President Police Medal in 2008 and 2009.  He was also awarded IGP Badge in 2010 and Bangladesh Police Medal in 2011.