SP's wife received no SMS: CMP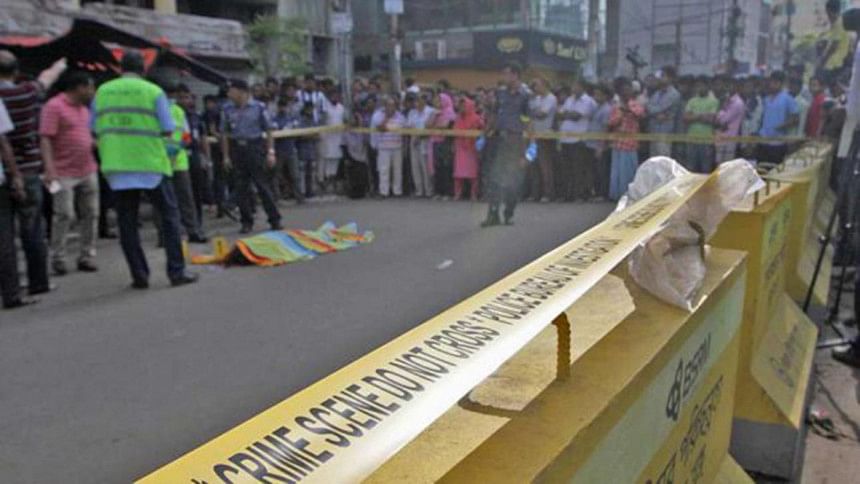 Mahmuda Khanam Mitu, the slain wife of Superintendent of Police Babul Akter, did not receive any text message on her mobile phone that asked her son to be at school half an hour earlier than usual due to assembly, police said.
The Chittagong Metropolitan Police (CMP) found no such message after examining Mitu's mobile phone, Devdas Bhattacharya, additional commissioner (crime and operation) of CMP, disclosed at a press briefing at CMP headquarters today.
The CMP examined her mobile phone as the family members claimed that Mitu on the day of her murder received a message over her cell phone, saying that there would be an assembly at her son's school and so her son should be there half an hour earlier.
READ MORE: Militants seem to have settled a score
However, the school authorities denied sending any such messages.
Mitu, 32, wife of Babul Akter, superintendent of police of Dhaka police headquarters, was reportedly stabbed and shot dead by motorbike riding assailants before her son in Chittagong city around 6:35am on Sunday.
She was first stabbed, just 300 yards from her house near the populous GEC intersection in the port city, and later shot several times to confirm her death.
Mitu used to go out of her OR Nizam Road residence around 7:00am to drop her son at a school bus at GEC intersection but on the fateful morning, she left the house earlier, Bhattacharya said at the briefing.
ALSO READ: 'Killers' of cop wife seen on camera footage
"We are interrogating Jan-e Alam, the driver and owner of the microbus seen in CCTV footage following the assailants' motorbike," the CMP official said.
Bhattacharya further said that the former Islami Chhatra Shibir activist, who was arrested yesterday in connection with the murder case, would produce him before a court with a 10-day remand prayer later in the day.