Controversial leaders given road safety job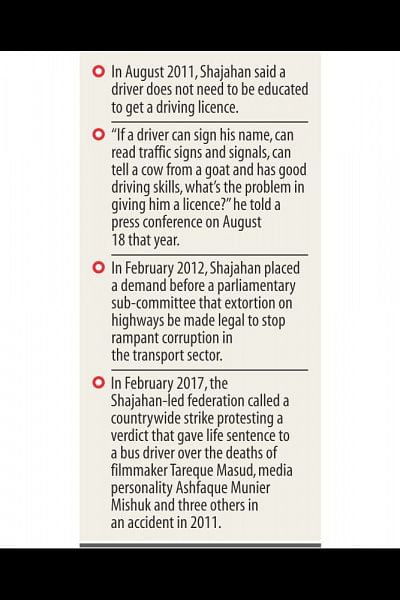 Hours after two college students were killed by a speeding bus in the capital in July last year, Shajahan Khan smirked when reporters sought his reaction as a transport leader.
On many occasions in the past, his other comments and actions regarding road safety issue sparked widespread criticism. 
Now he will lead a 15-member committee to give recommendations for preventing road accidents and bringing discipline in the road transport sector.
The government formed the committee yesterday.
Five other members of the committee are also involved with transport organisations that are often blamed for the very indiscipline they will seek to put an end to.
"Those who have created the problems in the sector have been given the responsibility to solve those. This is hilarious," Prof Moazzem Hossain, former director of the Accident Research Institute at Buet, told The Daily Star. 
He also questioned the justification of forming such a committee.
"There is no precedent anywhere in the world that such problems have been solved by forming such committees. Similar committees were formed in the past, but they could not produce the expected results," he pointed out.
He stressed instead on taking up solution-oriented projects and empowering the relevant government bodies. 
Earlier in 2011, the government formed a sub-committee headed by Prof Anwar Hossain of Dhaka University to give recommendations on road safety.
"We worked extensively, held several meetings and gave a report with short, mid and long-term recommendations … I don't know how many of them have been implemented … There would be no need for a new committee if our recommendations had been implemented," Prof Anwar said last night.
Road Transport and Bridges Minister Obaidul Quader announced the formation of the new committee after the 26th meeting of the National Road Safety Council (NRSC) at the head office of Bangladesh Road Transport Authority in the capital's Banani.
The meeting of the NRSC, the apex body comprising representatives of the government, transport sector and civil society as well as experts, was scheduled to be held more than a year ago, on January 14 last year.
Shajahan Khan, also former shipping minister, is the executive president of Bangladesh Road Transport Workers Federation, an umbrella for at least 235 transport workers' unions across the country. The federation represents more than 60 lakh workers. 
 Osman Ali, general secretary of the federation; Mashiur Rahman Ranga and Khondaker Enayet Ullah who are president and secretary general of Bangladesh Road Transport Owners Association; and two representatives from the associations of truck and covered van owners and workers, have been made members of the committee.
Ranga is also a Jatiya Party MP while Enayet is an Awami League leader, and their Association represents about 3 lakh owners.
Shajahan, Ranga, Enayet and Osman were present at the meeting.
The committee also includes prominent road safety campaigner Ilias Kanchan and writer and researcher Syed Abdul Maksud. 
Road safety campaigners, representatives from BRTA, Roads and Highways Department, Accident Research Institute (ARI) at Buet, BRAC, Highway Police and Dhaka Metropolitan Police are also on the committee.
The committee will place its report in 14 working days.
After the meeting, Quader said their plan to bring discipline in the sector was "highly ambitious" but its implementation was "relatively limited and slow."
About any potential conflict of interest of committee members, the minister said, "Let them work. Let the report come out, and let the work begin based on their recommendations. I will then comment on the matter."
A BIG QUESTION MARK
Road safety campaigners have questioned the inclusion of Shajahan, whose past role on road safety matters clearly show his conflict of interest.
His comments last year over the death of two college students sparked fury.
Amid a week-long student protests, Shajahan offered an apology, saying he was "saddened and ashamed".
The agitation forced the government to pass the Road Transport Act-2018 in September last year with relatively stringent punishment for drivers for road accidents.
But the Shajahan-led federation observed a two-day strike on October 28-29 to press home their eight-point demand.
Their demands included revoking the Tk 5 lakh fine for causing road accidents, making all accident-related cases bailable, and reducing the mandatory educational qualifications from class-VIII to class-V for getting a driving licence.
Five months after its passage, the law is yet to take effect allegedly due to pressure from transport workers.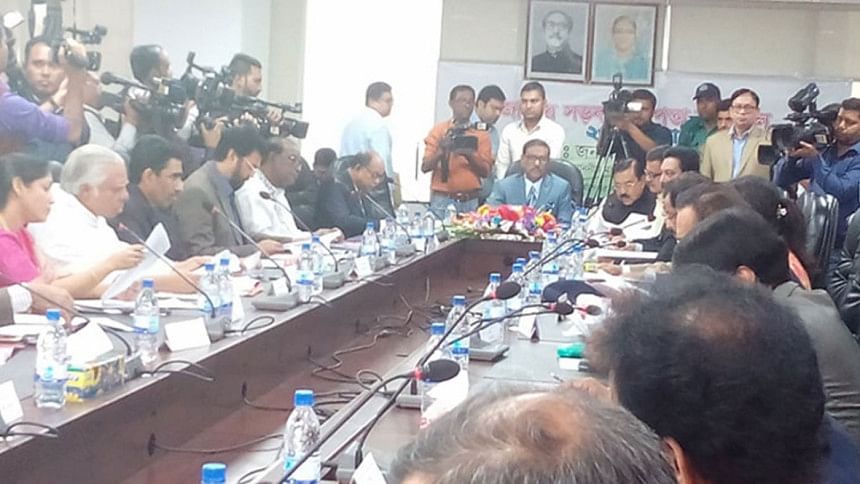 OTHER DECISIONS
A separate three-member committee was formed to look into how the Road Transport Act-2018 can be implemented, said Obaidul.
The law minister, home minister and railways minister are members of this committee, which will submit its report in 14 working days.
After the passage of the law, some stakeholders made some comments and observations, said Obaidul.
The three ministers will look into how the law can be implemented in line with the reality, the minister added.
Sources at the BRTA said a committee is currently working to formulate rules for the act.
At the meeting, Dhaka Metropolitan Police Commissioner Asaduzzaman Mia said they would observe a traffic week every month from now on to bring discipline and create awareness.