Death designer Nizami hanged for war crimes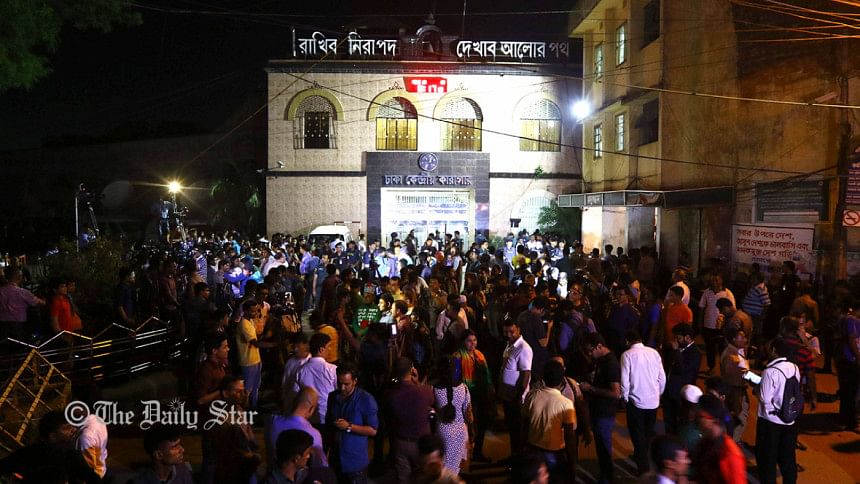 Leader of a ruthless militia that massacred innocent civilians during 1971, Motiur Rahman Nizami has been hanged for crimes committed against humanity during the Liberation War.
The 71-year-old Jamaat-e-Islami chief was hanged by the rope inside Dhaka Central Jail at 11:55pm, Jahangir Kabir, superintendent of the prison, said. The body was taken down from the noose at 12:10am.
District's civil surgeon Abdul Malek Mridha checked his pulse to confirm the death.
Two ambulances, bearing the dead body of Nizami, have headed towards Pabna, his ancestral home, escorted by six vehicles of the law enforcement agencies.
The infamous war criminal will be laid to rest at his ancestral soil in Pabna, Ali Hossain, an inspector of the Dhaka Metropolitan Police (DMP), told The Daily Star earlier.
Nizami masterminded the formation of the ruthless militia Al Badr that unleashed terror on peace-loving Bangalees, killed unarmed civilians, raped women and destroyed properties during the Liberation War.
Towards the end of the nine-month war, the infamous militia -- Al-Badr Bahini -- committed "crimes of serious gravity intending to demean the human civilisation".
Watch VIDEO on Nizami's war crimes
Sensing Pakistan's imminent defeat, the notorious force systematically rounded up, tortured and killed the nation's brightest luminaries to intellectually cripple the soon-to-be independent Bangladesh.
Convicted of committing war crimes, a special International Crimes Tribunal handed him the death penalty on October 29, 2014. Later, on January 6 this year, the Supreme Court upheld capital punishment for him.
After his review plea against death scrapped, Nizami did not seek presidential mercy. Home Minister Asaduzzaman Khan, earlier this evening, told The Daily Star that the government had ordered for Nizami's execution.
As per code, Nizami's family had one last meeting with him. A total of 24 family members entered Dhaka jail around 7:50pm and stayed inside for about one-and-half hours. Later, they left without speaking to the media.
District Deputy Commissioner Mohammad Salahuddin, Executive Magistrate Tanveer Ahmed, Dhaka Metropolitan Police (DMP) deputy commissioner (north) of Detective Branch Sheikh Nazmul Alam and Additional police IGP Col Iqbal Hasan were present during the execution.