Review binned, death stays for Quasem
An infamous Al-Badr leader of Chittagong and later the moneyman of Jamaat-e-Islami, Mir Quasem Ali's fate remains tied to the noose for wartime offence with his review plea against death dismissed.
The Appellate Division of the Supreme Court today dismissed the review plea he filed against death awarded to him by a specialised war trial tribunal two years ago and later upheld by the apex court.
READ MORE: Profile of Mir Quasem
As seen from the previous cases, now there is no bar to begin the process of execution of Quasem. Now, the final straw the condemned war criminal can avail is the presidential mercy.
READ MORE: Govt satisfied with verdict, law minister says
Attorney General Mahbubey Alam, in a post-order press briefing, told journalists that Quasem's death sentence will be carried out after the Supreme Court releases full text of the verdict.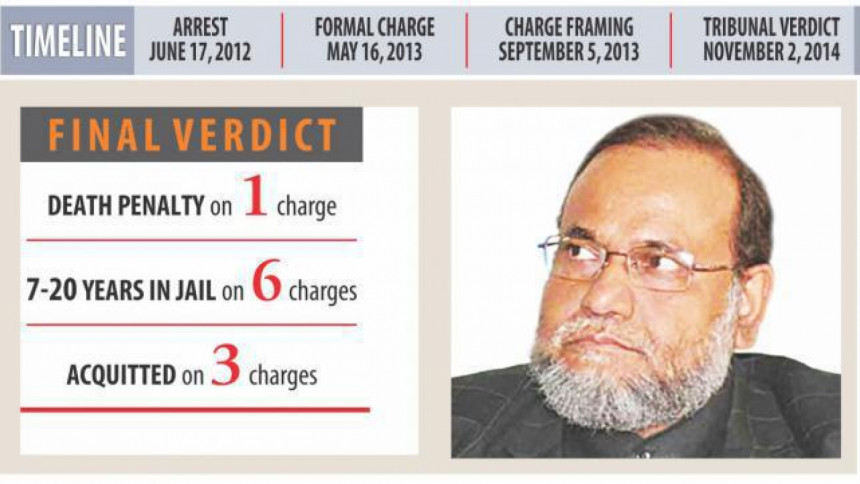 A five-member bench of Appellate Division headed by Chief Justice Surendra Kumar Sinha passed the dismissal order this morning – an issue which was atop the cause list of today.
On November 2, 2014, International Crimes Tribunal-2 handed capital punishment to 63-year-old Jamaat leader Quasem over crimes against humanity committed during the Liberation War in 1971.
The Appellate Division upheld the verdict on March 8 this year and released the full text on June 6, hours after which the ICT had issued a death warrant for him.
On June 19, Quasem submitted his petition seeking a review of death.
HE SHOULD BE EXECUTED IMMEDIATELY
Jahangir Chowdhury was one of the victims who was held up inside Dalim Hotel in Chittagong during Liberation War by Mir Quasem and his men before he was rescued.
"They took me to Dalim Hotel on KCB road in Chittagong city which the Al-Badr men used as a torture-cell," Jahangir told The Daily Star. "They tied me to a chair and tortured me inhumanely."
He was later rescued on December 16, 1971 when freedom fighters stormed the hotel.
"How a man like him could amass such an immense wealth and become so much influential in the soil of the very country whose birth he blatantly opposed?," Jahangir asks.
He demanded immediate execution of Quasem. "Only then can justice be served."