Profile of Mir Quasem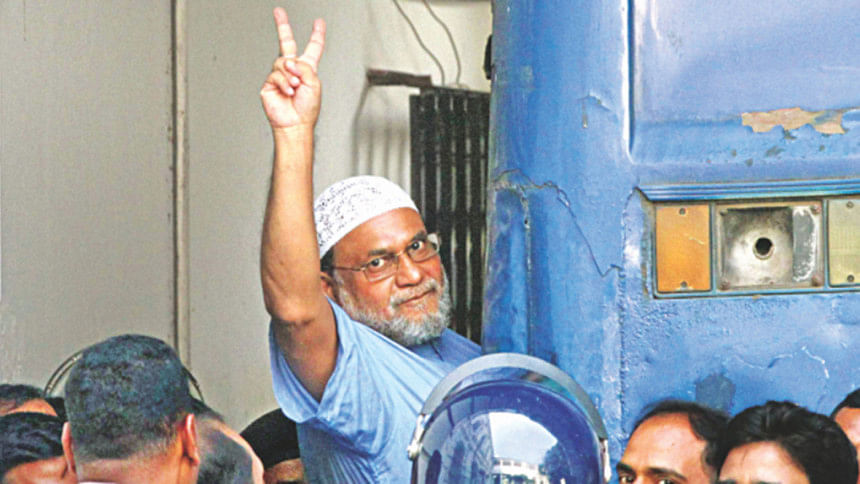 Though his crimes have finally caught up with him, war criminal Mir Quasem Ali in the last four decades was able to establish himself as a top businessman and entrepreneur in Bangladesh.
He emerged as one of the leading business tycoons of the very country, the birth of which he vehemently opposed in 1971.
Quasem not only dodged the trial for the crimes he committed during the nine-month-long Liberation War but also got the opportunities to reorganise anti-liberation elements, thanks to the political changeover following August 15, 1975.
Quasem was the general secretary of Islami Chhatra Sangha, the then student wing of Jamaat-e-Islami, in 1971. When the student body re-emerged as Islami Chhatra Shibir in 1977, he became its founding president.
Since its inception, Shibir was dreaded for its notoriety and earned the nickname "Rog Kata Shibir" over the last three decades for its unique style of torturing rivals by severing their tendons.
The Jamaat student wing was the third most active non-state armed group in the world in 2013, according to a US-based defence think-tank.
When the victims of his heinous crimes and their family members were crying for justice, they unfortunately had to see the dramatic rise of Quasem in the country's political and business arenas. He fully owns and has shares in a large number of organisations including business firms, media outlets, charities, and social organisations. Through these institutions, he allegedly financed Jamaat activities.
Quasem also represented several foreign charities in Bangladesh and allegedly channelled huge sums of money to his party instead of serving the stated purposes of the charities, sources in the prosecution and investigation agency said.
Finally in November 2014, the International Crimes Tribunal-2 sentenced the chief of Chittagong Al-Badr, an auxiliary force of the Pakistani army, for killing, torturing, confining pro-liberation people in Chittagong in 1971.
Though he filed an appeal against his conviction, the Supreme Court yesterday upheld the death penalty that might have brought some relief to the justice seekers.
Quasem, son of Mir Tayeb Ali and Rabeya Begum, was born in Munsidangi Sutalori of Manikganj on December 31, 1952.  He got involved in Chhatra Sangha in 1967 while studying at Chittagong Collegiate School.
Later, he became the president of Chhatra Sangha's Chittagong College and Chittagong town units and on November 6, 1971, he became the general secretary of its East Pakistan unit, according to prosecution documents. The defence didn't dispute these facts.
As a top leader of Chhatra Sangha that turned into Al-Badr force in 1971, Quasem became the chief of the infamous force in the port city and set up several torture camps there during the Liberation War, the prosecution said.
Quasem, along with his aides, abducted pro-liberation people and persecuted them inside torture camps like Dalim Hotel, Dowsta Mohammad Panjabee Building and Salma Manzil Torture Cell, before killing them, according to prosecution witnesses and documents.
Dalim Hotel was the headquarters of Chittagong Al-Badr, which had acted as the 'action section' of Jamaat during the War. The tribunal in its verdict said: "Accused Mir Quasem Ali had been in steering position of the Al-Badr detention and torture camp… The accused was an indispensable cog in the 'murdering machinery' implanted at Dalim Hotel."
Quasem went into hiding after the War. He not only averted arrest and trial but also pursued his education in the capital, just three years after independence. He appeared in his Bachelor of Arts examinations at a Dhaka college in 1974 and passed in third division. Later he did his masters from Dhaka University, according to the war crimes trial documents.
After the country's liberation on December 16, 1971, the government led by Bangabandhu Sheikh Mujibur Rahman banned five communal parties including Jamaat. This resulted in the halt to Islami Chhatra Sangha's operations as well.
But following the assassination of Bangabandhu on August 15, 1975, anti-liberation elements got a strong footing in the country. Thanks to the backing provided by the subsequent rulers, the infamous enemies of the country's independence got the chance to resurface even before their mother organisation, Jamaat-e-Islami. In 1977, Islami Chhatra Sangha started their operation in Bangladesh changing its name into Islami Chhatra Shibir.
And Quasem, being at its helm, shouldered the responsibility to reorganise his fellows under the new umbrella.
According to a book titled Ekattorer Ghatak O Dalalera Ke Kothay published in 1987, there was no difference between Islami Chhatra Shibir and Islami Chhatra Sangha except for the name. Everything else, including the flag and the monogram, remained the same. The prosecution used the book as evidence in many war crimes cases in the tribunals.
The word "Shibir" was also taken from the name of Chhatra Sangha's junior branch, Shaheen Shibir.
Condemned Al-Badr leader Muhammad Kamaruzzaman, the second president of Shibir, was a top leader of Chhatra Sangha in Mymensingh in 1971, the book adds.
Since its rebirth, Shibir started strengthening its organisation at mosques and education institutions. In the 1980s and 90s, Shibir became known for the ferocity of its attacks in turf wars on university campuses. Severing the tendons of rival activists is its signature torture style, according to media reports.
In February 2013, soon after the pronouncement of the war crimes verdict against Jamaat leader Delawar Hossain Sayedee, Shibir activists in association with Jamaat men unleashed terror across the country.
Throughout 2013, they hogged the headlines by beating up policemen, torching public vehicles and property and killing people, exploding bombs, felling trees on roads and uprooting railway tracks. In addition, they ran smear campaigns online against the war crimes trial and instigated religious violence.
Their violent activities were reflected in the IHS Jane's Global Terrorism & Insurgency Attack Index 2013 which said Shibir was the third most active non-state armed group in the world in 2013, just behind Barisan Revolusi Nasional of Thailand and the Taliban.
Quasem joined Jamaat-e-Islami in 1980 as an activist, when he was coordinator of Rabeta Al Alam Al Islami, an NGO. He became a member of Jamaat's Shura in 1985. Though he is in Jamaat's 18-member highest policymaking body -- Jamaat Central Executive Council -- now he is much known as a supplier of funds to his party, according to the defence and the prosecution documents.
According to a defence petition filed on July 19, 2013, Quasem is the chairman of Keari Ltd, a real estate and tourism company, chairman and director of Diganta Media Corporation Ltd, which owns Bangla daily Naya Diganta, and now off-the-air Diganta TV.
He is also the director (marketing) of Ibn Sina Pharmaceutical Industries, chairman of Agro Industrial Trust, member secretary of Fouad Al-Khateeb Charity Foundation, chairman of Association of Multipurpose Welfare Agencies of Bangladesh, an association of Bangladeshi NGOs, the petition said.
He also holds management positions in many other organisations including Industrialists and Businessmen Welfare Foundation, Allama Iqbal Sangsad, Islamic University of Chittagong, Darul Ihsan University, Centre for Strategy and Peace Studies, the petition mentioned.
He was the member secretary of Islami Bank Foundation, a sister concern of Islami Bank Bangladesh Ltd.
"As far as I know, he [Quasem] still holds the posts, which was mentioned in the petition," Tajul Islam, a senior member of Quasem's defence team, told The Daily Star on May 4, 2014, the day his trial concluded at the tribunal.
The Daily Star could not ascertain whether he still holds those posts.
The 63-year-old convict had been busy trying to save his party and its top-brass when the Awami League-led grand alliance government set up special tribunal in 2010 to try those who committed crimes against humanity in 1971, according to media reports.
Quasem had paid $25m to an American lobbyist firm to carry out smear campaign to make the war crimes trials questionable and controversial, the then law minister Shafique Ahmed told parliament in April 2013.