Russians complete Rooppur nuke power feasibility study; project design
Rooppur plant to be equipped with VVER 1200 reactors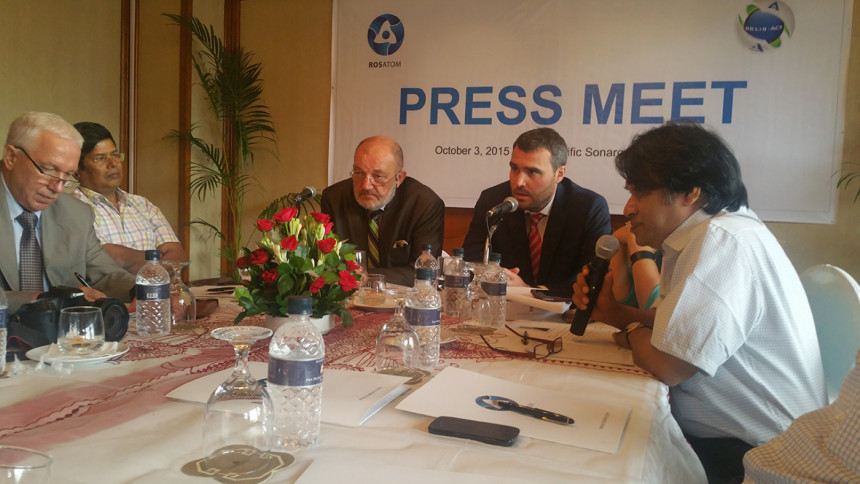 The Russians have completed the feasibility study and prepared the design for construction of the Rooppur 2400 megawatt nuclear power plant.
The study submitted in June found Rooppur to be a suitable site for such a large nuclear power plant. Issues such a geological fault around the plant site would be addressed by taking measures to make the soil stable and strong, said Maksim V Elchishchev in charge of Bangladesh project from NIAEP-- a sister concern of Russian state owned nuclear power company Rosatom.
Talking to the press he said that Russia and Bangladesh were now at the final stage of financial negotiation for the power project. Contract for Russian soft loan covering 90 percent of the project is expected within the next two months.
The first unit of the plant with 1200 megawatt capacity is expected to be launched from 2022. The physical construction is set to begin from early 2017.
The plant will have two "VVER 1200" nuclear reactors that have a long 60-year lifespan. The VVER 1200 is the "third generation plus" reactor.
Russia is working on the next generation reactor in its lab; while it commercially commissioned the first VVER 1200 reactor this year.
The NIAEP, which is currently working on 39 projects in Russia and other countries, is expected to undertake the project construction for Rosatom.
Bangladesh began materializing the dream of a nuclear power plant following Russia's formal proposal in March 2009. It was initially estimated that the Rooppur plant would cost $2 billion dollars—but now there are all indication that a plant of such size would cost no less than $10 billion.
Bangladesh signed a series of agreements with Russia for nuclear cooperation—including building a power plant or decommissioning it.
An intergovernmental agreement for provision of a $500 million Russian loan to finance engineering surveys on the site, project development and personnel training was signed in January 2013. The loan will be repaid in 12 years with five years grace period, and the final construction cost will be repaid in 28 years with 10 years grace period.
The International Atomic Energy Agency is closely involved with the project.