Bangladesh to raise Rohingya issue in UNGA
Foreign minister tells during a press briefing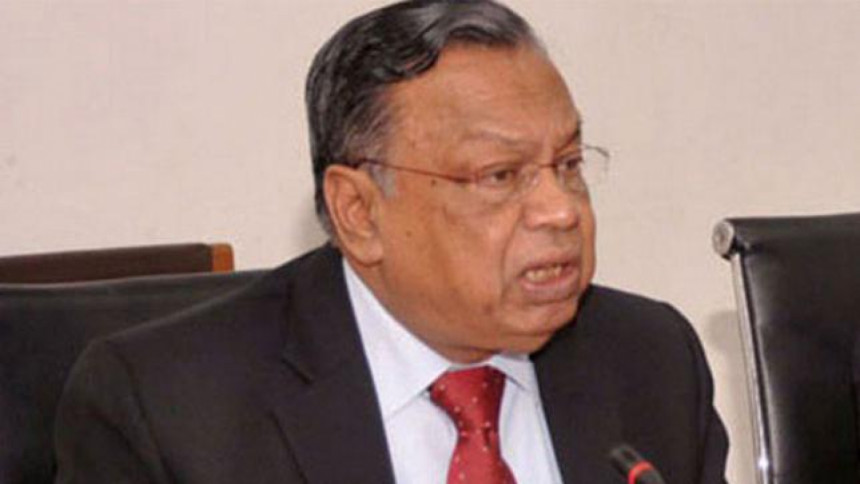 Bangladesh will raise the Rohingya issue in the 72nd United Nations General Assembly (UNGA) session highlighting the main causes of the longstanding crisis and will put forward some proposals for solving the problem as early as possible.
"The prime minister will deliver speech in the UNGA session on September 21 while she will place Bangladesh's demand on implementation of Kofi Annan Commission's recommendations to resolve the Rohingya crisis," Foreign Minister AH Mahmood Ali told a press briefing today.
The minister was addressing a media briefing at State Guest House Padma in Dhaka over the prime minister's upcoming New York, USA visit to attend the 72nd UNGA General Assembly.
Describing the "ethnic cleansing" operation launched by Myanmar authority on the Rohingya Muslims in Rakhine state as a total violation of human rights, the Bangladesh premier will urge the world leaders to play an effective role to end the crisis, he added.
He said Bangladesh apart from raising the issue in the UNGA session would continue its efforts to put international pressure on Myanmar government to ensure secured repatriation of the Rohingya refugees, who took shelter in Bangladesh.
"This year's the UN General Assembly would be a crucial one for Bangladesh as the assembly is being held at a time when thousands of innocent Rohingya people (Myanmar citizens) have been entering into Bangladesh crossing the border to save their lives," he added.
The foreign minister said nearly four lakhs Myanmar citizens have crossed the border and entered into Bangladesh in the last three weeks creating humanitarian crisis for the country.
The fresh influx of Rohingya refugees is a huge burden on Bangladesh as the country has been hosting another four lakhs unregistered Rohingya in different camps of Cox's Bazar for decades, he said.
Prime Minister Sheikh Hasina, in her speech, is also expected to highlight different contemporary issues like democracy and good governance, women empowerment, rights of migrant workers, poverty alleviation, climate change and Bangladesh's success in combating terrorism and religious extremism.
The theme of this year's general debate is- "Focusing on People: striving for peace and a decent life for all on a sustainable planet".
The prime minister will also attend separate high level meetings on the prevention of sexual exploitation and abuses, political declaration for UN reforms, follow-up meeting of global deal for decent work and inclusive growth, roundtable of the UN Secretary General's high-level panel on women's economic empowerment for leaving no one behind and high-level panel on water.
The prime minister, on the sidelines of the general debate and other high-level meetings, would hold bilateral talks with UN general secretary and heads of state and government of different countries, Minister Mahmood said.
The prime minister will also attend the OIC contact group meeting scheduled to be held on September 19 in New York on Rohingya issue.
Besides, Sheikh Hasina will attend two high-level meetings - SDG Implementation, Financing and Monitoring: Sharing Innovations through South-South and Triangular Cooperation and Creating a Policy Vision for SDG Finance: Facilitating Private Sector Investment in the SDGs" as the chief guest on September 20.
She will join a heads of state and government level open debate to be organised by Ethiopia, the current chair of the UN Security Council, on September 20 where reconstruction of UN peacekeeping operations and reforms would be discussed.
Foreign Secretary Md Shahidul Haque and other senior foreign ministry officials were present at the briefing.